Fantasy NASCAR: Hollywood Casino 400 Driver Picks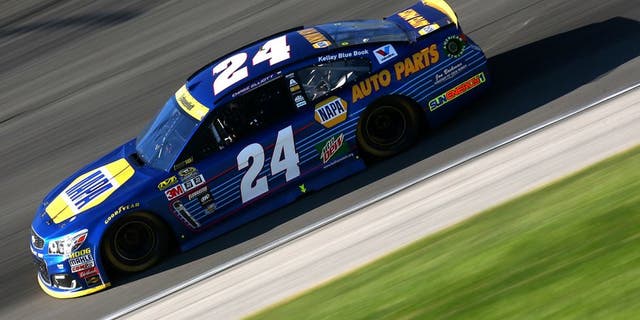 The NASCAR Sprint Cup Series travels to Kansas City, Kansas this week for the Hollywood Casino 400. This will be one of the most important races of the Chase since many of the playoff drivers need a solid run before the series travels to Talladega next week. Be sure to test your knowledge of NASCAR by competing in the Fox Sports Fantasy Auto Racing game.
The race at Charlotte did not go as planned for many of the Chase drivers. Five of the drivers (Denny Hamlin, Austin Dillon, Chase Elliott, Joey Logano and Kevin Harvick) finished 30th or worse last week. These drivers need a top-five finish at Kansas if they want any hope of advancing in the Chase. Fantasy teams should expect these teams to bring their best cars to the track this week.
Momentum is very important in NASCAR. The best way to choose your fantasy team this week is to look at the drivers who have been running well since the Chase began. Here is a list of the drivers with the best average finishing position in the four races in the Chase.
Average Finishing Position in 4 Chase Races
Driver
Wins
Top 5s
Top 10s
Laps Led
Avg. Finish
Matt Kenseth
0
3
4
110
4.5
Kyle Busch
0
2
4
127
4.7
Brad Keselowski
0
3
4
16
5
Martin Truex Jr.
2
2
3
360
5.5
Jimmie Johnson
1
1
3
363
7
Kasey Kahne
0
1
3
0
7.7
Kurt Busch
0
1
2
0
10.2
Carl Edwards
0
0
1
31
11.7
Chase Elliott
0
2
2
179
13
Joey Logano
0
1
2
0
13.7
It will still be important to select as many of the Chase drivers as possible. These drivers still have a lot to race for and will do everything possible to finish up front. The non-Chase drivers have a tendency to give up if anything happens with their car. A good example of this was with Alex Bowman last week. Instead of trying to fix the car they took it to the garage and went home.
Track position is important at Charlotte, but fantasy teams cannot select all of the drivers who start the race upfront and expect to score well Sunday. The scoring system for Fox Sports Fantasy Auto Racing game rewards drivers who improve their position in the race more than the drivers who lead the most laps. Fantasy teams must capitalize on the bonus points for position differential in order to finish at the top of their league standings.
Pick to Win
Martin Truex Jr. ($10,500) is still the driver to beat this week at Kansas. The No. 78 car has had the most speed on the 1.5-mile tracks and Truex has won three of the last five races on tracks this size. Truex won the pole, led the most laps (172) and had a series-best driver rating in the May race at Kansas. I expect Truex to lead the most laps and make another trip to Victory Lane Sunday.
Contenders
Kevin Harvick ($13,500) is in a familiar situation. For the third straight season Harvick has backed himself into a hole. In 2014 he had to win at Phoenix to advance in the Chase. In 2015 he had to win at Dover to advance. Harvick won both of those races and he should be a serious threat to win Sunday. I expect the No. 4 team to bring the best car they have in order to win the race this week. The last thing they want is to have another must win situation at Talladega.
Jimmie Johnson ($11,100) has had the fastest car since the Chase began. He led the most laps in both of the 1.5-mile races in the Chase (118 laps at Chicago and 155 laps at Charlotte). Johnson has a series-best three wins at Kansas, including his trip to Victory Lane last year. With his place in the third round secured, Johnson can relax and focus on adding another Kansas trophy to his collection Sunday.
Kyle Busch ($10,800) used to be the worst driver at Kansas. His average finishing position in his first 14 races at the track was 23rd. For some reason he has figured out the track the last two seasons and now Busch has a series-best average finishing position and the fourth-best driver rating at the track. He won the May race at Kansas and he is Joe Gibbs Racing's best bet to get to Victory Lane this week.
Chase Elliott ($9,500) will be one of the drivers to beat at Kansas. Hendrick Motorsports has found some speed. Six of the top 13 qualifiers at Charlotte had Hendrick Motorsports engines. The cars combined to lead 270 of the 334 laps last week. Elliott needs a win or a top-five finish to put him in a position to advance in the Chase. I would not be surprised to see the No. 24 car up front leading laps again Sunday.
Value Picks (Drivers under $9,500)
Ryan Newman ($9,400) is one of the underrated drivers when it comes to 1.5-mile tracks. He has finished six of the nine races on these tracks in the top 13. Last week he scored the second-most points (55) in Fox Sports Fantasy Auto Racing. Newman should qualify just inside the top 20 and finish near the top 10 this week.
Austin Dillon ($8,900) was having a good run until Martin Truex Jr. spun him out at Charlotte. Dillon was running in the top three and had a good chance to finish in the top five. Other than last week, the No. 3 team has been running well since the Chase began. Dillon finished 6th in the May race at Kansas. The team needs to finish at least that well this week if they want to advance in the Chase.
Clint Bowyer ($7,400) is a Kansas native and he puts a high priority on running well at his home track. The No. 15 car has not been that good this season, but they have shown some life on the 1.5-mile tracks. Bowyer started 31st and finished 17th at Charlotte. He scored the ninth-most points (39) in Fox Sports Fantasy Auto Racing last week. Bowyer is a good value pick for your fantasy team.
Alex Bowman ($5,000) is another driver in a Hendrick Motorsports car that should run well Sunday. He qualified second and was running in the top 10 when he had a tire go down. Earnhardt finished 15th in the May race at Kansas and I expect similar results for Bowman Sunday in the No. 88 car. Adding Bowman to your lineup will allow you to fill your team with the high priced drivers. That is a good strategy this week.
Here are my picks for the Hollywood Casino 400 for Fox Sports Fantasy Auto Racing:
Driver 1: Kevin Harvick $13,500
Driver 2: Martin Truex Jr. $10,500
Driver 3: Jimmie Johnson $11,100
Driver 4: Chase Elliott $9,500
Driver 5: Alex Bowman $5,000
FOX Fantasy Auto Resources
And don't forget - prizes are on the line each race of the fantasy season! First, second and third place each win a prize. Plus, each race builds your point total for larger segment and season prizes.
*Stats from Driveraverages.com and career stats from Racing-Reference.Info...
If you need any further advice with your team or want to see my updated picks after Happy Hour practice, look for me on Twitter (@MrFantasyNASCAR) or LIKE my Fantasy NASCAR Tips Page on Facebook.