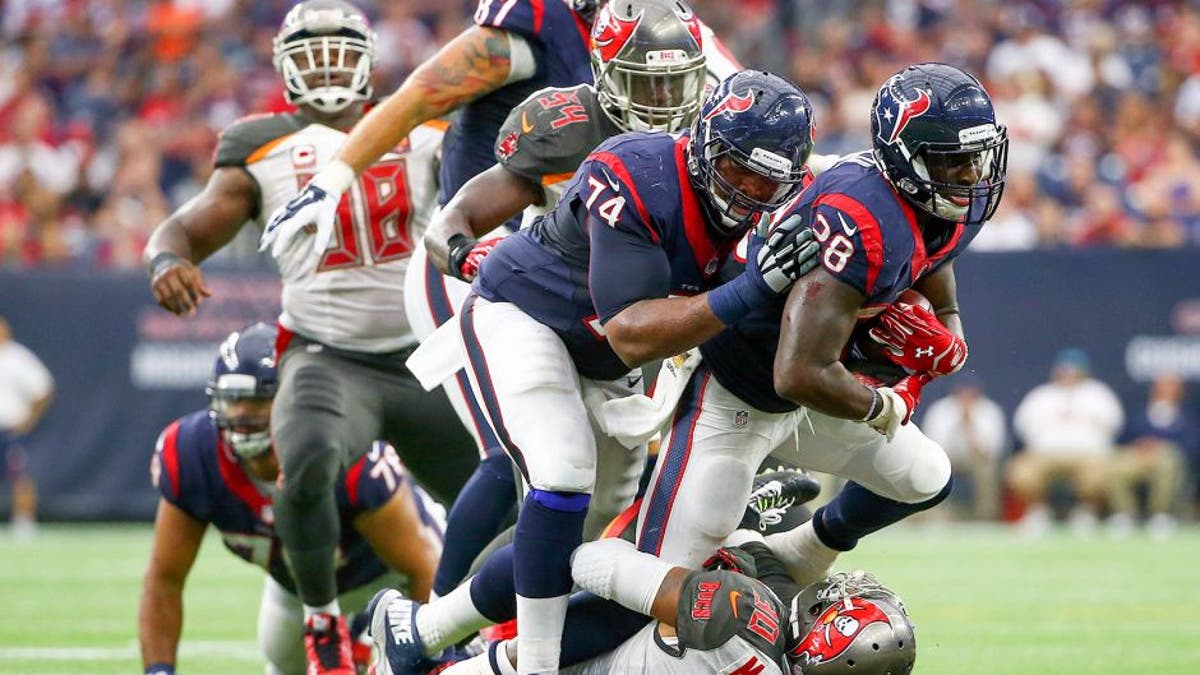 Each week during the 2015 season, we're going to take a look at five running-back-by committee (RBBC) situations that you should keep a close eye on. Some will have big questions, while others might be noted due to their circumstances becoming clearer. We'll usually focus more on the week immediately ahead than look down the road.
And now, in alphabetical order ...
Byes: Bills, Jaguars, Eagles, Redskins
Cleveland Browns
Week 7 snap count: Duke Johnson 29, Robert Turbin 27, Isaiah Crowell 19
Once again, Turbin and Crowell shared the early-down work, with Johnson handling passing-down duties. Also, Johnson has seven red-zone touches over his last four games. You don't want any part of Turbin or Crowell right now, but the Duke is close to RB2 territory in standard leagues, and firmly at that level in PPR formats with 31 receptions over his last five games.
Houston Texans
Week 7 snap count: Arian Foster 63, Chris Polk 11, Alfred Blue 7
Foster is done for the season thanks to a torn Achilles, so Blue is the logical successor, right? Um, not exactly. Blue, Polk and Jonathan Grimes divided snaps pretty equally in the three games prior to Foster's 2015 debut, while Blue had just about a 2:1 edge in touches over both his teammates. The problem is, Blue got the ball just 16 times in the Texans' first two games before a 31-carry, 139-yard performance in Week 3. That's not a trio of games that will help us predict anything.
If one of these three backs will have a busy workday, it's probably Blue. However, he might have them only some of the time. Blue should be on the RB2/flex cusp this week, with Polk in lower flexville. As I said to Ryan Fowler on today's podcast, I think I'd rather get Polk with a low FAAB bid than blow the budget on Blue, since I don't trust Blue.
New England Patriots
Week 7 snap count: James White 43, LeGarrette Blount 8
Dion Lewis missed Sunday's game against the Jets due to an abdominal injury, so even though I didn't think it would be a Blount game, I moved him into the top 20 of my weekly RB rankings. The Pats had two active backs, and one was White, so Blount would be used plenty. Or so I thought. Ugh.
It sounds like Lewis will be back on Thursday, but we'll need to keep an eye on his status. With the Dolphins clamping down against the run since changing coaches (3.1 ypc), this looks like a Lewis game. Or another White game.
New York Giants
Week 7 snap count: Shane Vereen 23, Orleans Darkwa 14, Rashad Jennings 11, Andre Williams 5
A FOUR-man committee? What the %$#@!, Giants? Tom Coughlin said Monday that the Giants planned all along to use Darkwa against the Cowboys, and Darkwa came through with eight carries for 48 yards and a touchdown. Unfortunately, Coughlin didn't shed any light on how his backs might be used moving forward. Stay away from Darkwa, Jennings and Williams, since this situation is a mess.
Oh, but maybe you can use Vereen in PPR leagues? BZZZZZZT! He's touched the ball 10 times in his last two games, and has either one or zero receptions in four of seven outings. Congrats to the Giants for creating fantasy's most annoying backfield.
Washington Redskins
Week 7 snap count: Matt Jones 45, Alfred Morris 10, Darrel Young 10
Reports surfaced last week that the Redskins were concerned with Morris' inability to break tackles, and no matter how many times Jay Gruden says things like, "we've got to get Alfred going," it's time to cut bait if you can grab a worthwhile player off the wire. After seven weeks, we can assume a lost season for Morris.
Jones (nine carries, 29 yards; three catches, 22 yards) wasn't effective against the Bucs, but at least his workload suggests possibilities. Chris Thompson should return after the bye.
Others of note:
Cincinnati Bengals: Hue Jackson last week on Jeremy Hill: "He scored a touchdown (against Buffalo), he had some good strong runs but I know the player he can be so I'm going to keep pushing him to get there. I mean, we need him. He's going to be a huge part down the stretch run once we get back here (after the bye)."
Hill carried 16 times against the Bills in Week 6, but 10 of those were when the Bengals were in clock-killing mode. He's in RB2 range this week, but I'd be lying if I said he didn't make me nervous.
Dallas Cowboys: With Joseph Randle nursing an oblique injury, Darren McFadden figures to start against the Seahawks, and slots as an RB2 as he'll probably catch some passes even if rushing the ball will be a struggle. Christine Michael's big game will come ... someday?
Detroit Lions: New offensive coordinator Jim Bob Cooter reportedly has a great relationship with Matthew Stafford, but nobody seems to know yet how he'll handle his backfield. Avoid this crowded mishmash for now.
San Diego Chargers: The reportedly injured Melvin Gordon (fumbleitis) didn't play much against the Raiders, carrying seven times for 29 yards. Branden Oliver got plenty of work, running nine times for 35 yards and catching six passes for 39 yards. Would the Bolts really bury their first-round pick in favor of Oliver? Not likely. Don't give up on Gordon.
Tennessee Titans: Eleven touches for Dexter McCluster, 10 for Antonio Andrews and a missing persons report for Bishop Sankey. Oh, and rookie David Cobb (calf) might be ready to go in a week or two. This bad situation might soon battle the Giants' for Most Annoying Fantasy Backfield.
(Snap counts courtesy of NFL.com's Game Books.)