Fantasy Football Week 5 Running Back Advice: Duke Johnson breaks out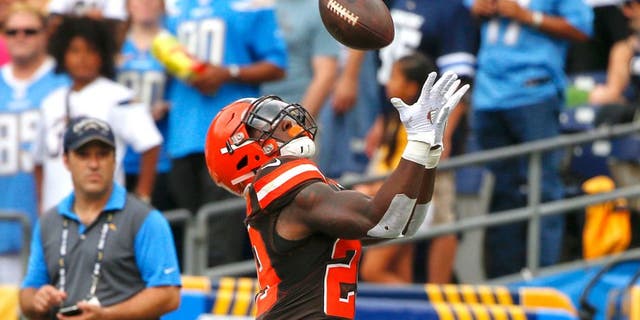 NEWYou can now listen to Fox News articles!
Each week during the 2015 season, we're going to take a look at five running-back-by committee (RBBC) situations that you should keep a close eye on. Some will have big questions, while others might be noted due to their circumstances becoming clearer. We'll focus more on the week immediately ahead than look down the road.
And now, in alphabetical order ...
Byes: Panthers, Dolphins, Vikings, Jets
Cincinnati Bengals
Week 4 snap count: Jeremy Hill 30, Gio Bernard 23
Hill is supposed to be the clock killer here, right? Oddly, Bernard got 10 of his 13 carries in the fourth quarter, when the Bengals were up by double digits. Ideally, they want Hill to be their lead back, and will probably lean toward him unless he starts fumbling again. I don't envision a regular 2:1 snap split, though. It'll be closer to the Week 4 numbers, probably.
In a tough matchup against the Seahawks this week, Hill looks to be a top-15 back, with Bernard 5-6 a low-end RB2.
Cleveland Browns
Week 4 snap count: Duke Johnson 43, Isaiah Crowell 26
Duuuuuuuuke! Here's head coach Mike Pettine on his emerging rookie:
"Anytime you have a back that can be a first or second down back between the tackles, and a guy that you can also split out your number one wide out and hit him on a vertical route, that puts a lot of stress on a defense ... He certainly will be a big part of our plans moving forward. That's a pretty good glimpse of how we'll be using him."
Does that sound like a third-down back to you? Crowell (125 yards in 15 touches) had a strong game as well, but Johnson is in charge here, even if he's not going to be a 20-carry guy. He's pushing himself into RB2 range, even in a tough road game versus the Ravens.
Denver Broncos
Week 4 snap count: C.J. Anderson 29, Ronnie Hillman 25
Twelve touches apiece on Sunday, and the yardage would have been close if it wasn't for that pesky 72-yard touchdown run from Hillman. Denver Post beat writer Troy Renck said in this Monday video that head coach Gary Kubiak considers Hillman and Anderson to be "co-starters," and added that he would not start Anderson on his fantasy team. Yikes! Hillman should be on the cusp of RB2/flex range at Oakland this week, with Anderson in lower flexville (RB30-35).
By the way, last week's headline to this article was, "Hang in there, C.J. Anderson owners!" I even suggested buying low on Anderson if possible. I hate to sound like I'm lurching from one position to another, but my opinion has changed. Anderson's chances at claiming this role for himself seem slim unless Hillman gets hurt, as he's just not running well. It's timeshare time until further notice. Mea culpa.
San Diego Chargers
Week 4 snap count: Danny Woodhead 36, Melvin Gordon 30
Two problems for those waiting on Gordon's breakout. First, his offensive line is both injury-plagued and bad. Second, according to the San Diego Union-Tribune, it "appeared he also missed an assignment in pass protection on the first of (Philip) Rivers' two sacks." That won't endear a rookie to his coaches.
Gordon will continue to get plenty of work in this timeshare, but it seems like we'll be sitting around waiting for him to break a long one. When he does that, it'll be great ... but when will it come? Gordon is flexy for me this week, with Woodhead a bit higher as a low-end RB2.
Washington Redskins
Week 4 snap count: Alfred Morris 35, Chris Thompson 33, Matt Jones 15
Head coach Jay Gruden said after Week 3 that he wanted to get back to Morris (17 carries, 62 yards) as his "lead dog," and he wasn't lying. Receiving specialist Thompson is eating into the workload of Jones, who fumbled in Weeks 2 and 3.
Morris is back in the circle of trust as a low-end RB2 this week; let's just hope the Falcons don't get ahead early and force the 'Skins to throw. It's hard to see starting Thompson outside of PPR leagues, and even that's dicey. Jones needs to sit for you until he starts getting more work, and if his invisibility continues, your strategy of stashing him for second-half glory might need to be adjusted.
Others of note:
Arizona Cardinals: Andre Ellington (knee) might be ready to play at Detroit in Week 5 after being a gametime decision on Sunday. Ellington might have an easy role to fill, as rookie David Johnson fumbled the opening kickoff, and dropped a potential TD pass. CJ2K is, amazingly, still the lead back here.
Atlanta Falcons: Tevin Coleman (ribs) might play in Week 5, with the Atlanta Journal Constitution reporting that they'll "split up the load at running back." The qualifier there is that if they split carries, Freeman will still be the busier back as the better receiver. It's hard to justify starting Coleman in fantasy right now.
Dallas Cowboys: So, the Cowboys are mad at Joseph Randle because he extended the ball over the goal line for a touchdown? I know he's not running all that well, and I didn't trust Randle in the preseason, but he's the best option they have, even if the Dallas Morning News says his role in the backfield committee is "under review."
Go ahead and stash Christine Michael if you want, but I'm still starting Randle and only Randle from the Cowboy trio right now. Darren McFadden ... I mean, if you're really desperate for a bench guy, fine.
New England Patriots: Will this be a Dion Lewis game or a LeGarrette Blount game? If the Pats blow out the Cowboys, it might be both (see: Week 3 vs. JAX).
New York Giants: The Giants troika (Rashad Jennings, Shane Vereen, Andre Williams) split the Week 4 snaps almost evenly, which doesn't help us forecast anything. This might sound weird, but I can see taking a shot at Andre Williams if you're in a bye-week pinch. He's had double-digit carries in the last two games.
Philadelphia Eagles: The Eagles didn't run many plays, but DeMarco Murray had 33 snaps, with Darren Sproles getting 25 and Ryan Mathews 16. I suspected that we'd see a 2:1 snap split between Murray and Mathews, and it'll probably continue. Murray can still be productive in that scenario, but he'd have to actually see open holes and gain yards and stuff.
Tennessee Titans: Are you in on Antonio Andrews this week? Come on, you're kidding me. Ken Whisenhunt said Friday that he'd take a "week to week"approach to the running game. Don't outsmart yourself here.
(Snap counts courtesy of NFL.com's Game Books.)