Fantasy Football Week 3 RB Advice: Hold on to the ball, Jeremy Hill!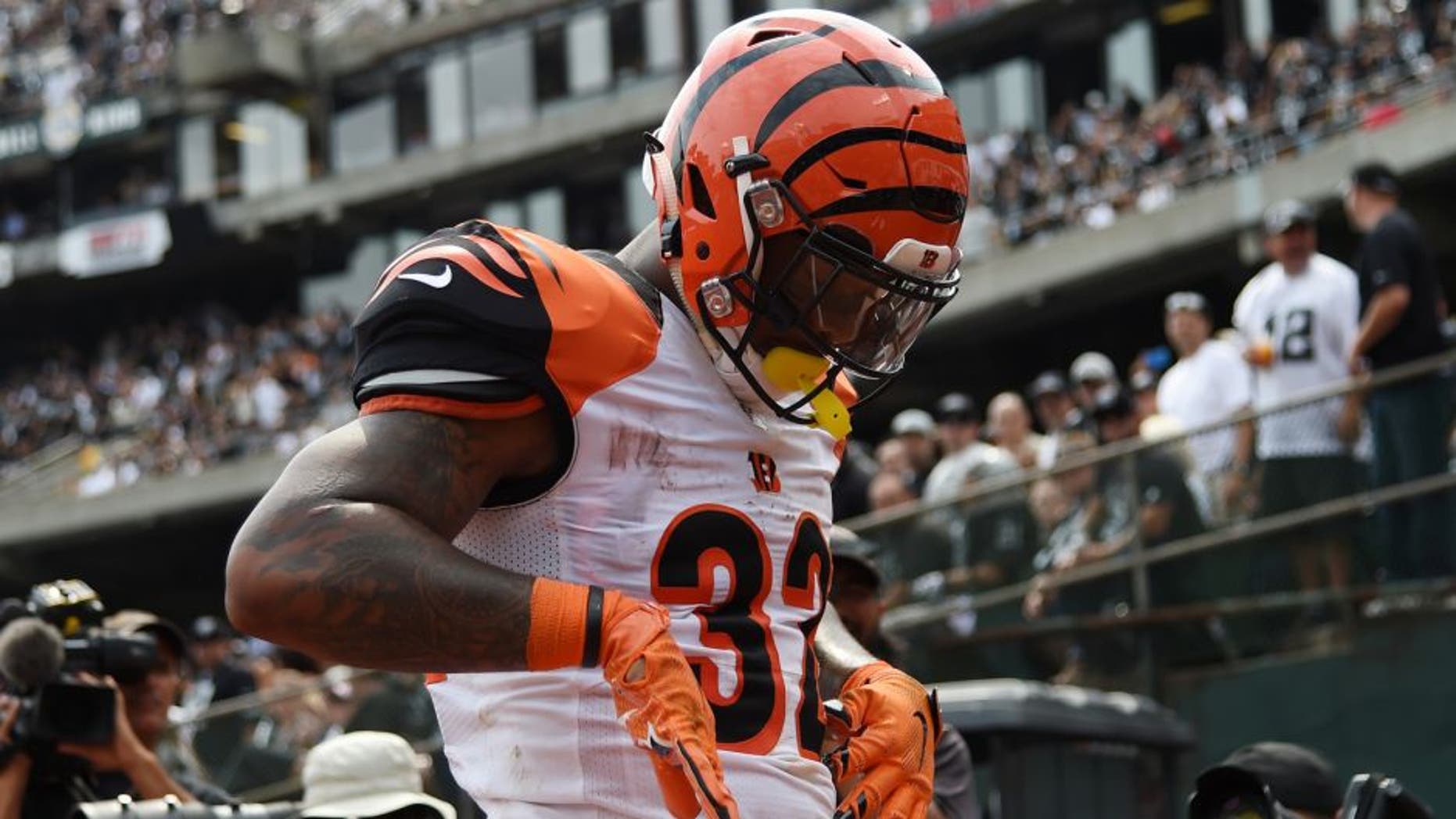 Each week during the 2015 season, we're going to take a look at five running-back-by committee (RBBC) situations that you should keep a close eye on. Some will have big questions, while others might be noted due to their circumstances becoming clearer. We'll focus more on the week immediately ahead than look down the road.
We won't talk about the Eagles, because anything to do with their Sunday offensive performance will probably make you throw up in your mouth a little bit.
And now, in alphabetical order ...
Cincinnati Bengals
Week 2 snap count: Gio Bernard 45, Jeremy Hill 20
Did you know that Googling "jeremy hill fumbles" returns 408,000 results? Hill was benched after losing his second fumble early in the third quarter, and finished the game with 39 yards on 10 carries. Hill's replacement, Gio Bernard, ran 20 times for 123 yards and caught three passes for 16 yards.
On Monday, the Bengals' coaches said they haven't lost faith in Hill, and they'll "get him in there." However, those of us that projected Hill to get the lion's share of the work in this backfield might need to scale back expectations, at least for a little while. I'd certainly be more apt to start Bernard than I was last week, and would keep Hill in my lineup if I owned him. Heck, I'd be happy to trade for Hill in a buy-low situation, too. But there could be a 50-50 split at Baltimore, and if Hill fumbles again, things could get messy.
Cleveland Browns
Week 2 snap count: Duke Johnson 26, Isaiah Crowell 24
Johnson (12 carries, 43 yards) had a worse fantasy game than Crowell (15 carries, 72 yards, TD), but it's important to note that he was on the field for a couple more snaps than his teammate. The Browns have been hinting since OTAs that they want Johnson to have a big role, and while he might not be destined for a lead-back role this season, he'll be useful for fantasy owners when the team starts using him in the passing game.
As for Crowell, he might have another nice game against the subpar Raider defense, but it's going to be difficult to start him after that.
San Diego Chargers
Week 2 snap count: Danny Woodhead 32, Melvin Gordon 29
Another split, which isn't surprising. Gordon got 17 touches to Woodhead's 13, gained 98 yards from scrimmage to Woodhead's 104, and had three carries of 20 or more yards. The Bolts ran just once inside the Bengals' 20-yard line, and it was a carry by Woodhead.
While Woodhead isn't just going to disappear, if this committee starts to lean one way at some point, it's going to be toward Gordon, with Woodhead being relegated to passing-down duties. I'd start Gordon with confidence against a Vikings' defense that has allowed 4.9 yards per carry so far. Big days are ahead, and soon.
Tennessee Titans
Week 2 snap count: Dexter McCluster 47, Bishop Sankey 32, Terrance West 5
What the ... ??? McCluster had 124 yards from scrimmage on 14 touches, while Sankey ran 12 times for 42 yards. On Monday, head coach Ken Whisenhunt said he liked the idea of opponents not knowing who to prepare for. Let's agree to avoid this situation in Week 3 if possible, OK? We don't know much here, but we do know that McCluster is nobody's idea of a lead back, or a fantasy starter.
Washington Redskins
Week 2 snap count: Alfred Morris 34, Matt Jones 31
Jones' anticipated (or is it feared?) breakout came early, as he ran 19 times for 123 yards and two scores against the Rams, and added three catches for 23 yards. Morris chipped in with 59 yards on 18 carries, along with a couple of receptions for 13 yards.
The 'Skins have said they're committed to running the ball, which makes sense when Kirk Cousins is your quarterback. Considering that both backs had 20 touches on Sunday, there's probably enough work to go around to make both Morris and Jones worthy of flex or even RB2 status in Week 3.
Others of note:
Atlanta Falcons: Tevin Coleman is expected to miss 2-3 weeks with a fractured rib. You're up, Devonta Freeman.
Denver Broncos: Denver Post beat writer Troy Renck said Monday that C.J. Anderson is likely to get one more "long look" this week. CJA had better play well, because Ronnie Hillman (nine carries, 34 yards) didn't look bad against the Chiefs despite the offensive line's bad play.
Detroit Lions: Theo Riddick (35 snaps) led Ameer Abdullah (31) and Joique Bell (18) in snaps, but the trio combined for 11 runs and eight receptions while Matthew Stafford threw the ball 53 times. I'm not buying Riddick's emergence, and Abdullah is the only one I'd consider for fantasy purposes against the Broncos.
Houston Texans: Chris Polk led the way with 38 yards on 14 carries against the Panthers. Can we get Arian Foster back? Please?
New England Patriots: Dion Lewis was on the field for 73 snaps compared to LeGarrette Blount's seven, because the Pats decided they wanted to throw against the Bills. Things will probably change against the Jaguars this week. Start Blount if you have him. No, I'm not kidding.
New York Giants: Shane Vereen (38 snaps) was on the field more than Rashad Jennings (20) and Andre Williams (10) combined, seemingly because Jennings and Williams couldn't get anything going on the ground. PPR owners should roll with Vereen this week, but those rostering Jennings are looking at a dicey matchup against the Redskins.
New York Jets: Bilal Powell and Chris Ivory each had 16 touches on Monday night, with Powell having a 37-33 edge in snaps. Ivory owners shouldn't be too annoyed, as keeping him limited offers a better chance of staying healthy.
Pittsburgh Steelers: Le'Veon Bell comes back this week. Rejoice!
St. Louis Rams: Todd Gurley might make his NFL debut against the Steelers on Sunday. Head coach Jeff Fisher said Monday that Gurley will be somewhat limited when he plays, but why activate him at all if you're not going to use him? I own Gurley in a couple of leagues, and plan to start him if he's active.
(Snap counts courtesy of NFL.com's Game Books.)