Fantasy Football Week 11 Running Back Advice: Can the Redskins keep running?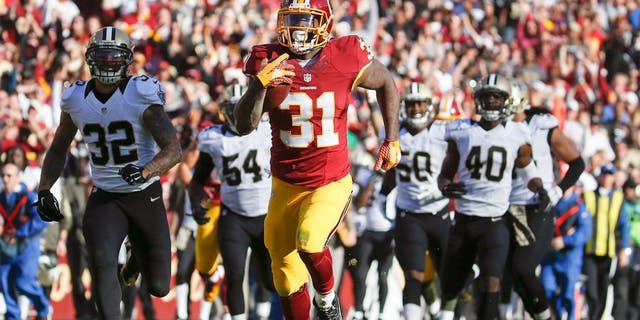 NEWYou can now listen to Fox News articles!
Each week during the 2015 season, we're going to take a look at five running-back-by committee (RBBC) situations that you should keep a close eye on. Some will have big questions, while others might be noted due to their circumstances becoming clearer. We'll usually focus more on the week immediately ahead than look down the road.
And now, in alphabetical order ...
Byes: Browns, Saints, Giants, Steelers
Cincinnati Bengals
Week 10 snap count: Gio Bernard 50, Jeremy Hill 22
Last week's entry said, "the timeshare continues," but it turned in a bad direction on Monday for Hill's fantasy owners. He's now averaging 3.2 yards on 111 carries, and has a matchup at Arizona on Sunday night. No thanks, even if he gets back to a 50-50 split.
Bernard's 79 yards on 13 touches keep him in RB2 range.
Detroit Lions
Week 10 snap count: Joique Bell 39, Theo Riddick 17, Ameer Abdullah 12
Bell wasn't exactly effective, but he did carry 14 times and catch two passes en route to 35 total yards at Green Bay. He figures to have a better day against a Raider defense that allows 4.7 yards per carry, but isn't more than a TD-dependent flex.
As for the other backs, Abdullah is talented and Riddick has had some strong PPR games, but their floors are low because the Lions haven't demonstrated a willingness to use them enough. Riddick - who has 17 touches in two games since Jim Bob Cooter was promoted to offensive coordinator - is worth more of a look than Abdullah, who has had double-digit touches once in his last five games.
Houston Texans
Week 10 snap count: Alfred Blue 33, Jonathan Grimes 22, Chris Polk 8
Grimes had 47 yards from scrimmage as the passing-down back, while Blue and Polk had no room to run on early downs. The Texans are about to face a Jets' defense that has allowed a league-low 88.1 yards per game, so Blue's volume doesn't move him above flex consideration. Sure, LeSean McCoy just racked up 159 yards from scrimmage on the Jets, but Blue ain't Shady.
San Diego Chargers
Week 9 snap count: Danny Woodhead 42, Melvin Gordon 27
We're not really arguing about Woodhead any more. He's an RB2 in standard formats, and an RB1 in PPR. All good, right?
The questions here come with Gordon. He's gotten the ball 39 times over his last two games, which is pretty good. He also had just 85 yards on 29 carries over that time, and cedes most red-zone work to Woodhead. I've got Gordon on the RB2/flex cusp, seeing the glass more half full than half empty. Maybe I'm stubborn.
Washington Redskins
Week 10 snap count: Alfred Morris 25, Matt Jones 23, Chris Thompson 10
Jones was Sunday's hero, amassing 223 yards on 15 carries and three receptions, and scoring on a terrific 78-yard TD catch. But ... did you notice that Morris led the team in snaps, carries (15) and rushing yards (92)? He had seven of his carries in the first quarter, so don't suspect garbage time for his production.
Unfortunately, part of Morris' and Jones' success was due to their opponent. You and 10 of your work colleagues could run all over the Saints. The 'Skins will probably continue with this committee, but its big Week 10 game might have been an aberration. I don't like Morris or Jones against the Panthers, but would flex Jones over the less-elusive Morris if forced to choose.
Others of note:
Buffalo Bills: Karlos Williams got it done again with just eight touches, but his volume makes him an awfully risky RB2. One of these weeks, I'll be right when I say that.
Denver Broncos: Ronnie Hillman outsnapped C.J. Anderson 34-27, but had 11 carries to Anderson's two. Both backs will probably get busier in Chicago in an effort to take pressure off new QB Brock Osweiler, but Anderson is just another "break glass in case of emergency" option for Week 11.
Jacksonville Jaguars: T.J. Yeldon (foot) didn't practice Tuesday. Denard Robinson is your backup option.
New Orleans Saints: "Tim Hightower had 11 carries for 46 yards??? OMG I NEED TO PICK HIM UP RIGHT NOW!!!." No, you don't. Mark Ingram left the game for awhile with a minor injury, and didn't play much down the stretch while the Saints were getting blown out. Nothing to see here.
New York Giants: For all the complaining I've done about this being a four-man mess, Rashad Jennings has gotten 12, 14 and 13 touches over his last three games. With 183 yards to show for it. Not terrible, right?
San Francisco 49ers: The Niners are still calling Carlos Hyde (foot) day-to-day, and Shaun Draughn is again the fallback option. Against the desperate Seahawks, in Seattle, where they'll be stacking the box because Blaine Gabbert doesn't scare them. Ugh.
(Snap counts courtesy of NFL.com's Game Books.)