Fantasy Football Team Preview: 2014 Oakland Raiders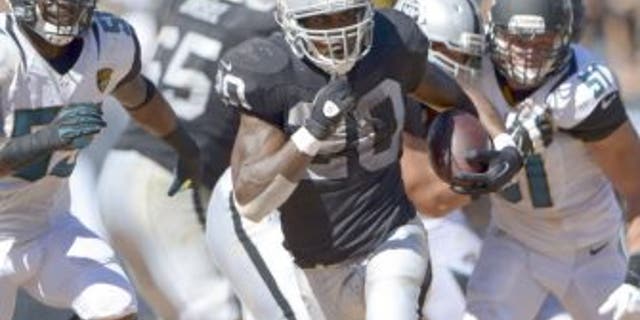 Team Outlook
It's easy to mock the Oakland Raiders. Winning eight games in the past two years lends itself to such ridicule.
Using their first two Draft picks on a player from Buffalo (#MACtion) and a Carr brother did little to rouse the Black Hole from their slumber. Ditto with the acquisition of Matt Schaub, who was ousted from Houston after a nightmarish 2013.
There's no doubting Oakland's position behind the eight ball in the highly-competitive AFC West. That doesn't mean the Silver and Black lack relevance in the roto world. As you'll see below, the Raiders offer interesting options for the upcoming fantasy football season:
BYE Week: 5
Quarterback – Matt Schaub
Any aspirations fantasy owners have of Schaub reviving his Pro Bowl form need to be thrown out the window. A quick glance at his stats illustrate the severity of his drop in production the past few years:
Not to say Schaub is a lost cause for fantasy purposes. Carson Palmer's short stint in Oakland gives hope that Schaub can rediscover some statistical magic. Granted, Palmer wasn't necessarily good with the Raiders. Rather, the team's ineffectiveness in the running game and on defense forced Palmer to the skies, explaining his average of 270.8 yards per contest with the Raiders (compared to a 216.5 mark in his previous three seasons with Cincinnati). As the 2014 iteration of the Raiders will face similar woes, expect Schaub to resort to the air and, as a corollary, decent numbers in his yards and touchdown columns.
He's not a week-to-week starter, but depending on the matchup, Schaub could be a viable option in deeper fantasy formats.
Running Backs – Maurice Jones-Drew, Darren McFadden
Did Jones-Drew hit a wall in 2013 or was his putrid output (3.4 yards per attempt) an upshot of Jacksonville's offensive line? While there's certainly merit to the latter perspective, it's hard to forecast Jones-Drew, entering his ninth season in the league, turning back the clock to 2011 (NFL-best 1,606 yards). MJD proved he can still be a force as a receiver, hauling in 43 grabs for the Jags. Unfortunately, owners should consider Jones-Drew a third-string fantasy back at best.
As for McFadden…you can derive more value out of drafting Brett Favre (Breaking news: the gunslinger was seen tossing with high schoolers!) than selecting Run DMC, who's started just 26 games in the past three seasons. Even when he's not on the sidelines, McFadden has done little of note, averaging 3.8 yards per carry with only 11 touchdowns in that span.
Best-case scenario, Jones-Drew and McFadden are able to spell each other to form an efficient, healthy backfield. Unfortunately, that provides little worth to fantasy owners. Only in deeper leagues should this duo warrant consideration.
Wide Receivers – James Jones, Denarius Moore, Rod Streater
I think everyone but James Jones looks at his league-high 14 touchdowns in 2012 as a bit of an aberration. Conversely, Jones is better than his three end-zone journeys from last season state. Unlike Green Bay, where he competed with a deep, talented group for touches, Jones will be the primary target in Oakland. Circle Jones as an underrated 1,000-yard candidate on draft day.
Streater's 6'3" frame and sound 2013 season (60 grabs, 888 yards) make him an intriguing add in the later rounds of the draft, mostly in the mindset of a WR4. Streater's also entering his free-agent year, providing more incentive to perform in 2014. He won't pile up scores (just seven touchdowns in 32 career games), but he definitely justifies a spot on your fantasy radar.
Moore may garner similar attention, yet it's unfounded. The organization is losing patience with Moore and his inconsistency, and there's a legitimate shot Moore could end up as the fourth or fifth receiver on the depth chart. Stay away on draft day, and even if he posts a few decent games to start the season, know the juice is likely not worth the squeeze.
Tight End - David Ausberry
Fantasy owners might be expecting Mychal Rivera in this spot, yet Ausberry has been running with the first-team unit in OTAs thanks to his run-blocking abilities. He won't provide much from a yardage and reception standpoint, but could be serviceable as a poor man's Scott Chandler. I swear that was a compliment.
Ausberry should be off your fantasy draft board, but could be a pick-up in a bye week or for owners in a tight-end pinch.
Rookie to Watch – Derek Carr
Oakland's intention is to keep Carr on the pine in 2014, with hopes the year of study and preparation will better serve the young arm versus a baptism by fire. However, Schaub has been far from durable in his career, and with Matt McGloin and Trent Edwards as the other quarterbacks in Oakland's arsenal, it's easy to envision Carr taking snaps this fall.
In dynasty leagues, I could see Carr as a mid-round investment, and do think he has a better environment than fellow rookie signal caller Blake Bortles. If he can translate his accuracy from Fresno State into the pros, Carr could eventually be a top-12 arm in the NFL.
Kicker – Sebastian Janikowski
Ready to feel old? Seabass is entering his 15th year in the league. Father Time, he is an undefeated foe.
While he's one of the more popular and famous kickers in the league, Janikowski clearly has little left in the tank, finishing last in the NFL in field-goal percentage (70 percent) and 28th in makes. On the bright side, he faces little competition for the job, but owners should avoid Janikowski this season.
Defense
I like the Justin Tuck signing, and I'm always going to support a fellow Mid-American Conference attendee, so thumbs-up on the Khalil Mack draft pick. Alas, LaMarr Woodley has not been much of a factor the past few seasons, and I doubt many non-Oakland fans can name any other defensive players on the Raiders.
Oakland gave up the most points in the AFC last season at a 28.3 clip per game. The resistance won't be that bad in 2014, but not good enough to draw the eye of fantasy owners.
Joel Beall is a writer for FOXSports.com and WhatIfSports.com. He lives with a Golden Tee machine and a jump shot that's broken. Reach Joel on Twitter @JoelMBeall