Fantasy Football NFL Preseason Week 3 AFC Takeaways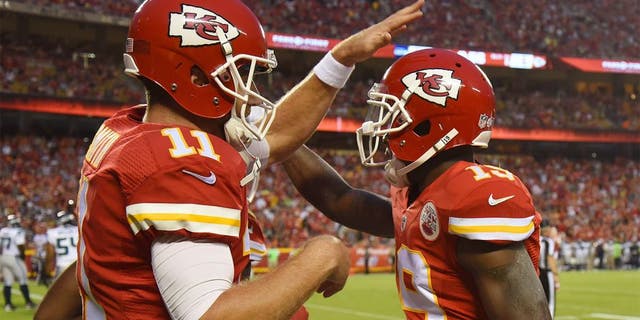 NEWYou can now listen to Fox News articles!
Week 3 of the NFL preseason is the most important for fantasy football players to watch. Consider it a dress rehearsal for the real deal, as the touches and opportunities given here are typically most in line with what will happen in Week 1.
With that in mind, let's break down the winners of some important position battles in the AFC based on what we've seen in Week 3 of the preseason.
AFC East
Buffalo Bills: Rex Ryan hasn't announced a starter yet, but Tyrod Taylor seems likely to get the nod, despite E.J. Manuel's big performance in Week 3. Taylor completed 77 percent of his passes in preseason and threw no interceptions, and his rushing ability adds a different dynamic to the offense. We'll know more there shortly, but Taylor is the only QB of the three that's a fantasy option worth monitoring. Fred Jackson made his return in Week 3, and he remains the handcuff option for Lesean McCoy, who is expected to be back by Week 1.
Miami Dolphins: DeVante Parker is sidelined and could start the season off slow. Jarvis Landry clearly remains Ryan Tannehill's top receiving option even with Kenny Stills in town. Damien Williams appears to be the handcuff for Lamar Miller, but it would almost certainly be an RBBC situation with Jay Ajayi if Miller missed time.
New England Patriots: LaGarrette Blount is the back to target in New England, although it looks like Brandon Bolden will get third-down work and the hoody could get crazy every now and then and roll with Jonas Gray. Blount's a much better bet in standard leagues than PPR. Brandon LaFell's mysterious foot injury leaves his status for the start of the season in doubt, and Julius Edelman didn't play in Week 3 of preseason, either. Reggie Wayne might be worth a flier, after all.
New York Jets: Chris Ivory surprisingly wasn't pushed by any of the other Jets backs, and he remains a great value for his ADP. He'll likely cede some third down work, but he's the workhorse back there. Jace Amaro is dealing with a shoulder injury, and that combined with his third place depth chart listing earlier in preseason has plummeted him down draft boards. Once he gets healthy, keep an eye on him in Chan Gailey's offense.
AFC North
Baltimore Ravens: The handcuff for Justin Forsett became a little clearer when Lorenzo Taliaferro went down with an MCL sprain. Buck Allen has a chance to solidify that job. Breshard Perriman has no timetable for his return from a PCL injury, which leaves the No. 2 WR job wide open at the start of the season. Kamar Aiken is the best bet there. Crockett Gilmore is likely the better fantasy option at tight end as opposed to Maxx Williams, as rookie tight ends very rarely produce. Gilmore is a backend TE2 option.
Cincinnati Bengals: There wasn't much interest here, except for the No. 2 WR spot. Marvin Jones remains a great sleeper after missing last year. He looked good in Cincy's third preseason game, and he scored 10 touchdowns in 2013. He's someone Andy Dalton clearly trusts, and Mohamed Sanu is a drop machine. Stash Jones and hope he earns a bigger role as the year goes on. Tyler Eifert played well in preseason, and remains a sneaky TE1 option.
Cleveland Browns: Josh McCown should have the starting job locked up, as Johnny Manziel is out with an elbow injury for the rest of the preseason. McCown completed 76 percent of his passes in preseason, but he's off the radar. Cleveland's running back situation remains a mess. Isaiah Crowell was awful (2.8 YPC), and Terrance West wasn't much better (3.5 YPC). Duke Johnson is receiving some hype by default, but he suffered a concussion in Week 3. Meanwhile, the Browns continue their cautious flirtation with the idea of adding Ray Rice. This is a situation to avoid like the plague. Brian Hartline seems like the best receiving bet in a similarily confusing receiver rotation. He was Cleveland's best receiver in preseason.
Pittsburgh Steelers: Le'Veon Bell had a quiet preseason, but he's still clearly a three-down back who can do everything at an elite level. Draft him with confidence. DFS players can target DeAngelo Williams in Week 1, who rushed for 4.8 YPC and a score in preseason. No one had a better preseason off the field than Markus Wheaton, who was hyped up by Big Ben as the clear No. 2 WR and then solidified that spot after Martavis Bryant's four-game suspension. Don't forget about Bryant in your draft, though: he had 7 catches for 205 yards and 2 TD in preseason.
AFC South
Houston Texans: Alfred Blue will fill in while Arian Foster misses time, which could end up being only the first four weeks or so. Blue averaged 5.3 YPC in preseason, but powerful back Chris Polk lurks as a goalline vulture and potential third down option until Foster gets back. Foster is clearly the guy you want here. DeAndre Hopkins didn't record a catch in preseason, but he's going to be a target hog this year, especially with no second receiver really standing out in preseason. No Texans tight end is on the redraft radar, as Garrett Graham and C.J. Fiedorowicz will likely split time.
Indianapolis Colts: Frank Gore is probably undervalued in drafts, as he's a clear cut three-down back in an explosive offense. The age (32) is scary, but Gore relies more on vision and power than speed anyway. Not much changed here in preseason, as T.Y. Hilton and Andre Johnson are locked in as the top receiving options, with Donte Moncrief and Phillip Dorsett likely splitting time as the third receiver. Dwayne Allen is the play in standard leagues, but Coby Fleener is probably better for PPR.
Jacksonville Jaguars: On a personal note, I've ended up with T.J. Yeldon in every single draft I've done this year. He was underwhelming in his lone preseason game, but he was subbed in for a goalline opportunity (which he converted) and stayed on the field for third-down chances. He's a clear-cut three down back going in the fifth or sixth round of drafts. Allen Robinson had a nice preseason (7/103), and Allen Hurns is locked in as the second receiver. Julius Thomas should be back for Week 1 after a hand injury.
Tennessee Titans: Marcus Mariota's rushing stats (5 carries, 17 yards) were a little disappointing, which is the main appeal of his fantasy value. Bishop Sankey (20) and David Cobb (19) received nearly the same amount of carries, but Sankey operated as the starter and should get the first crack at the majority of the touches in the regular season, especially if Cobb (calf injury) isn't ready to go. Like Cleveland, the Titans could potentially add a free agent, but Sankey is the guy to bet on for now. Kendall Wright is the clear top WR for Titans, but rookie Dorial Green-Beckham flashed some talent in preseason and should be able to overtake Hakeem Nicks and Justin Hunter later in the season, if not sooner. He's a red zone threat. Delanie Walker is in a good spot to produce TE1 numbers again.
AFC West
Denver Broncos: Ronnie Hillman solidified himself as a fantastic handcuff for C.J. Anderson after an electric preseason (21 carries, 155 yards) and Montee Ball's struggles (2.6YPC). The receiver rotation remains the same in Denver, and Emmanuel Sanders is becoming more and more valuable as he falls in drafts with the concerns about Peyton Manning's durability and Gary Kubiak's emphasis on running the ball. Owen Daniels worked with the starters in preseason, and Manning's tight ends always seem to produce big numbers. He's a great back-end TE1 option.
Kansas City Chiefs: Knile Davis remains the handcuff for Jamaal Charles, and he showed some value as a receiver (4 receptions) in preseason. Jeremy Maclin opened a lot of eyeballs in preseason (11/99/2) and is starting to erase the concern that no Chiefs receiver can be fantasy relevant after that group scored zero touchdowns last year. The Chiefs seem dedicated to getting Maclin the ball, and he has no competition for targets outside of Charles and Travis Kelce, who also put up some solid numbers (5/80/1) to spark his top-5 draft position.
Oakland Raiders: Roy Helu didn't record a carry in preseason due to a hamstring injury, which helped Latavius Murray nail down the lead back job (5.5 YPC, 1 TD). PPR players should take note that Murray didn't record a reception in preseason, which might not be emphasized in Bill Musgrave's offense. Amari Cooper (4/62) had some nice plays in preseason and should easily lead the Raiders in targets. Michael Crabtree is probably the only other receiver worth considering in standard leagues.
San Diego Chargers: No Chargers running back looked all that great, but Danny Woodhead is back and should steal some third down work from rookie Melvin Gordon. There's still plenty of value here, though, as the Chargers have a talented offense and Gordon should get the strong majority of early down work. Ladarius Green has a good chance to establish a role in the first four weeks with Antonio Gates suspended. Keenan Allen is still the top receiving option, and Stevie Johnson is the PPR play and Malcom Floyd is the standard league option if you're looking for another Chargers receiver.