Fantasy Football Draft Strategy: RB ADP Matchups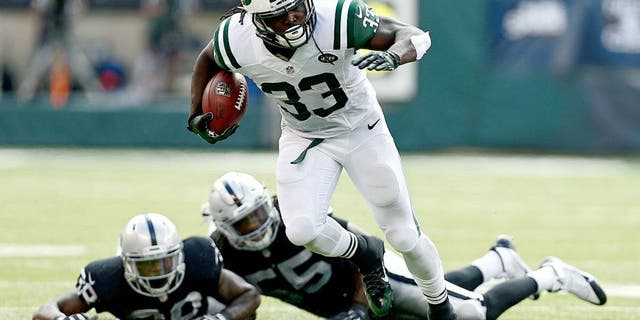 Throughout the course of your fantasy football draft, you'll be faced with a common decision: do I choose the player who is a better value based on ADP, or do I go with a guy I like who is getting drafted later?
It's not always easy on you're on the clock, but let's take a look at five close ADP matchups from the RB3 range and break down which way you should go if faced with the choice on draft day.
For the sake of this exercise, all ADP numbers come from FantasyFootballCalculator and are accurate as of 8/25.
Tevin Coleman (38th RB, 8.6) vs Shane Vereen (32nd, 7.3)
I understand the appeal of Vereen in PPR leagues. He caught 52 balls for the Patriots last year as their third down back, and he should assume a similar role for the Giants. Here's the problem: the Giants have a ton of other mouths to feed (Odell Beckham, Jr., Ruben Randle, Victor Cruz, Larry Donnell) and Vereen could be in a three-way RBBC with Rashad Jennings and Andre Williams.
How many chances for touchdowns is Vereen going to get? Is he going to get over 100 carries, which he has never done in his first four seasons?
Coleman is unknown since he's a rookie who hasn't played in preseason due to a hamstring injury, but his upside is significantly higher, even if he shares work with incumbent back Devonta Freeman.
The big reason? New offensive coordinator Kyle Shanahan. Last year with the Cleveland Browns, Shanahan's offense ran 477 times, ranking 6th in the league in attempts. In 2013 in Washington, his offense ranked 13th in rushing attempts, and in 2012, the Redskins ranked 3rd.
Point being, Shanahan wants to run. Coleman has big play ability, and the team didn't burn a 3rd round pick on him not to let him play. He's the better bet to be a lead back.
Verdict: Coleman
Todd Gurley (27th RB, 6.2) vs LeGarrette Blount (31st RB, 6.12)
This is a classic case of talent being valued over opportunity at a position that's proven the latter is more important.
The Rams may want to run the ball under Jeff Fisher, but their offensive line isn't good, and last season they were 26th in total rushing attempts.
A talent like Gurley can certainly change things, but he's highly unlikely to receive a heavy workload coming back from ACL surgery, and Tre Mason is a pretty capable backfield partner. Expecting Gurley to be Adrian Peterson, both in healing power and running prowess, is a little presumptive at this point.
Meanwhile, Blount is sitting pretty as the Patriots clear early down and goalline back, and should be in position to score plenty of touchdowns once again. In his last 16 games with the Patriots, Blount has a 209-1,053-15 line. Even with no receiving stats, he's a strong RB3, even if Belichick gets wonky with his backfield rotation.
Verdict: Blount
Bishop Sankey (44th RB, 10.1) vs Alfred Blue (33rd RB, 7.5)
The big gap in the ADP for these two backs should start to correct itself a bit, especially with news coming out that Arian Foster may only miss the first four or five games of the season.
Once Foster's back, it's hard to imagine Blue will get much play. While a starting running back for the first few weeks is great, it's tough to spend a 7th round pick on someone who isn't projected to have an impact during the fantasy playoffs.
As for Sankey? I think the hate has gone a little too far. Yes, the 3.7 YPC in his rookie year is hardly impressive, but running backs tend to benefit from the presence of mobile quarterbacks (Marcus Mariota), and Blue averaged 3.1 YPC in his rookie season. Both offenses should be pretty bad, and at least Sankey has a shot at being the lead back for the Titans the whole season.
Sankey has been pretty good in preseason so far as well (14 carries, 60 yards) and is clearly operating as the team's starting running back. For where he's being drafted, he's a great value right now.
Verdict: Sankey
Darren McFadden (43rd RB, 9.6) vs Reggie Bush (45th RB, 10.5)
Look, I get it. You think someone fresh off the couch could be an RB2 running behind the Cowboys line, which is probably the best in football. And you might not be wrong.
But, McFadden? The guy who is always hurt (and has been throughout preseason)? The guy who has averaged less than 3.4 YPC over his last three seasons? That guy?
It's a leap of faith, for sure, and you'd have to imagine that everyone in Dallas wants Joseph Randle to win that starting job. If he goes down, McFadden would undoubtedly have value, but how long would he hold up for? There's just so much risk here.
At least Bush has been productive in the same time frame. He rushed for 1,000 yards and 4.5 YPC with 54 catches in 2013, and although he isn't a picture of health himself, he's a little easier to trust than McFadden.
The logic behind taking Bush is that the 49ers will be down and passing quite a bit. Bush should get a lot of snaps in those situations, and may even lineup in the slot on occasion. The leap of faith is a much smaller one with Bush.
Verdict: Bush
Chris Ivory (26th RB, 5.12) vs Andre Ellington (19th RB, 4.6)
The Cardinals haven't shown a ton of faith in Ellington's ability to be a lead back this offseason. First, Arizona used a third-round pick in the draft on David Johnson, who could poach goalline touches or third down work at some point.
The Cardinals also signed former fantasy star Chris Johnson, who probably wouldn't be brought into the locker room unless the Cardinals had plans of playing him.
Ellington should bounce back from his dreadful 3.3 YPC last season, and he's still a receiving threat out of the backfield. I'm just concerned this is turning into a committee situation, as Ellington's stature (5-foot 9, 199 lbs) and performance between the tackles last year may have him ceding goalline or short-yardage opportunities.
Those aren't concerns with Ivory. It appears he's in line to be a workhorse for the Jets, and his big frame should allow him a lot more scoring opportunities in the red zone. The word is he'll get more involved in the passing game as well, which is obviously a concern when evaluating him against a proven receiver like Ellington.
Ivory feels like a safer pick given the lack of talent on the roster behind him, and his history of being a productive runner (4.7 YPC on his career) bodes well for his fantasy outlook. Ellington has the higher upside, but there are less variables at play with Ivory.
Verdict: Ivory