Fantasy Football Draft Strategy: 10 Bold Predictions For 2015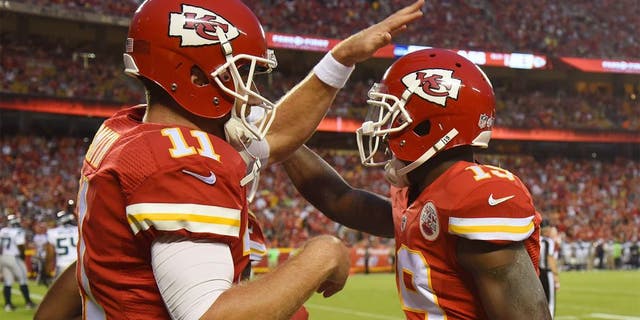 For your fantasy football draft prep, it's important to roll the dice at least once if you want your team to succeed. Don't look at these ten predictions as complete lunacy, but as gut instincts with supported data. If you believe that one, or more, of the following forecasts is plausible, then use it to your advantage and draft to that scenario. If you think I'm crazy, then just use this as entertainment for your bathroom reading.
1. Victor Cruz will lead the Giants in receptions and receiving yards
Exhibit A: Eli Manning has averaged 4,189 yards over the course of six seasons.
Exhibit B: Prior to his injury-shortened 2014 campaign, Cruz averaged 1,209 yards for the previous three seasons.
Exhibit C: Let's run down the list of best rookie WR seasons: Randy Moss is on the books as to having the best rookie season for a wide receiver (1,313 yards and 17 TD). Odell Beckham Jr. is second (1,305 yards and 12 TD). Anquan Boldin is third (1,377 yards and eight TD). Terry Glenn is fourth (1,132 yards and six TD). Moss, arguably a future Hall-of-Famer, was the only one to tally over 700 yards in his sophomore season from that group (Beckham pending, naturally).
2. Lamar Miller will conclude the season as a top-five running back
It seemed as though the only one who could stop Miller in 2014 was Bill Lazor, the Dolphins offensive coordinator. Last year, Miller finished tenth in yardage among his fellow RBs (1,099 rushing yards). He accomplished that total by only toting the rock 216 times. Miller's 5.1 yards per carry were tied for second-best when compared to other RBs in the top 10 of yard leaders. I'm hopeful that Lazor will see the error of his ways and pound the run game with Miller.
3. Teddy Bridgewater will throw for over 4,000 yards
He could be a huge steal for your fantasy draft. Bridgewater concluded his rookie season by amassing 2,919 passing yards and he did this without a true number one receiver...or running back. Greg Jennings caught 59 passes for 742 yards for the Vikings. Both of those stats led the team. Matt Asiata and Jerick McKinnon each rushed for over 500 yards as the co-RB1s. This year, Adrian Peterson is back and Minnesota added Mike Wallace to lead the receiving corps. With those two options in Bridgewater's arsenal, I see no reason why he can't add 1,100 yards to his rookie numbers. The combination of Matt Cassel and Christian Ponder combined for 3,455 passing yards in 2013, with a full season of AP.
4. Cam Newton will rush for over 1,000 yards
The news of Kelvin Benjamin's torn ACL is a crushing blow to Carolina's start to the season. One of two things will happen as a result of this: a) Newton will look apathetic and the Panthers will suffer or, b) Newton will play like a man possessed and the Panthers will be okay. I'm an optimist. I believe this wrench thrown in the Panthers offense will force Newton to actually put his Superman celebration to the test. In his National Championship-winning season at Auburn, Newton rushed for 1,473 yards. While the Falcons defense is better than Louisiana-Monroe (barely), Newton knows that it's on him to perform if the Panthers are going to defend their NFC South crown.
5. A Kansas City wide receiver will catch a touchdown
In case you didn't hear, the Chiefs WRs failed to score a TD in 2014. Enter Jeremy Maclin. With the Eagles, Maclin scored an average of 7.2 touchdowns per season (minus the 2013 injury-plagued year). Also, while the Redskins led the league with 23 TDs allowed to opposing receivers, the Packers (22) and Texans (21) were second and third, respectively. Kansas City will play Houston in Week 1 and Green Bay in Week 3.
6. Russell Wilson will throw at least 30 TD passes
He hasn't accomplished that goal in the NFL, but now Wilson will have an elite tight end (I'm not talking about Ciara) and some deep threats on the receiving corps. Last year, Marshawn Lynch led the Seahawks with four receiving TDs. Four. Yet, Seattle still threw the ball at the goal line. Sorry for the reminder. Do you think that play haunted the Seahawks much? They just happened to add one of, if not THE, best red zone target in football, Jimmy Graham. The TE has averaged 11.5 TDs in the past four seasons.
7. Brian Quick will emerge onto the fantasy scene in 2015
All of the fantasy world is abuzz with Todd Gurley news on a daily basis, but there is one more name you should be researching: Brian Quick. He tore his rotator cuff in October last year and it was considered to be career-threatening. However, he recovered quickly (pun intended) and could be cleared for practice soon. Nick Foles is now the quarterback in St. Louis. In 2013, Foles threw for 27 TD passes. Quick was on pace for over 850 receiving yards in 2014, which would've been near Malcom Floyd (856) and Mike Wallace (862).
8. The Baltimore Ravens will average 28 points per game
In 2014, only six teams averaged more than 28 points per game: Packers, Broncos, Eagles, Patriots, Cowboys, and Colts. The Ravens were eighth (25.6 ppg). In 2013, Baltimore was 25th (20 ppg). However, in that same season, the Chicago Bears were second (27.8 ppg). That year was also Marc Trestman's first as the Bears head coach. Trestman will be calling plays for Joe Flacco and the rest of the Ravens this season.
9. Andre Ellington will not lead the Cardinals in rushing
Take your pick: Chris Johnson, Stepfan Taylor, David Johnson, or Kerwynn Williams. All of those guys will be waiting for Ellington to slip up or, worse, get hurt. Ellington's 2014 season ended abruptly as he injured his hip. In the draft, Arizona added David Johnson from Northern Iowa. He rushed for over 1,500 yards and scored 17 rushing TDs during his senior season. Chris Johnson agreed to a $2 million contract for the 2015 season with the Cardinals. Both are signs that Arizona isn't thrilled with Ellington's 3.3 yards per carry in 2014 and that his durability is in question. I would avoid Ellington in this draft.
10. Nelson Agholor will be the best rookie wide receiver in 2015
This year's rookie receiving class has some big shoes to fill. Odell Beckham, Sammy Watkins, Mike Evans, Jordan Matthews, Brandin Cooks, and Davante Adams are just a fraction of the names that jumped onto the fantasy football radar in 2014. So, the question remains, "How will this year's class stack up to the previous season's?" Amari Cooper (fourth overall) was the first wide receiver off the board and was quickly followed by Kevin White (seventh overall). However, my eyes are on the 20th overall choice. Agholor joins a fast-paced Chip Kelly offense. As a rookie, Matthews tallied 872 receiving yards and eight touchdowns. With Jeremy Maclin (1,318 yards and 10 TD) in Kansas City, Matthews will likely get a boost. The competition will be tough (Miles Austin, Riley Cooper, and Josh Huff), but Agholor has potential to produce Matthews-esque numbers in 2015.