Fantasy Baseball Waiver Wire Additions (Apr. 6)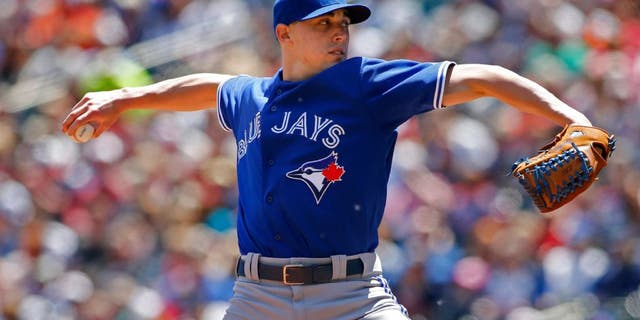 Fantasy baseball drafts are done and we're in the midst of opening week, so it's time for you to start dominating your league with some Week 1 waiver wire additions.
Here are the ground rules. No player in this space will be mentioned in back-to-back weeks, as we don't want to spam you with the same choices over and over again. We'll also limit the waiver wire suggestions to players owned in fewer than 40 percent of FOXSports.com leagues. Got it? Let's get to the Week 1 fantasy baseball waiver pickups:
Catcher
Francisco Cervelli, PIT (36% owned)
You'll have to deal with the single-digit homers, but Cervelli will consistently hit around .300 in an increasingly powerful lineup. For leagues that count both AVG and OBP, he's a killer option at catcher.
Digging deeper: J.T. Realmuto, MIA (25.5% owned)
It might not be pretty, but Realmuto can help you in a few categories. The Marlins catcher had 10 HR and 8 SB last season, and that's a tough combination to find at the position. If you can stomach the low OBP, he's useful.
First Base
Byung Ho Park, MIN (30.7% owned)
As far as fliers go, this is about as high upside as it gets. Byung Ho Park hit 53 homers last year in South Korea, and while those numbers are highly unlikely to transfer, it's worth a shot to find out just how much of it will.
Digging deeper: C.J. Cron, LAA (4.7% owned)
I've been pushing this bandwagon for a while, and I'm still on board with Cron playing a more regular role. Last season he hit 16 HR in 378 at-bats, so 20 HR isn't out of the question.
Second Base
Jonathan Schoop, BAL (18.8% owned)
He has two straight seasons of at least 15 HR, despite missing time in both. If he can stay healthy, Schoop could potentially lead all second baseman in long balls.
Digging deeper: Jedd Gyorko, STL (10.2% owned)
He's a temporary stopgap, but Gyorko has double-digit home runs in three straight seasons and is freed from the pitcher's park that is Petco Field. So long as he's a regular member of the starting lineup, Gyorko can provide surprising value given his dual 2B/SS eligibility.
Third Base
Danny Valencia, OAK (26.3% owned)
Third base is a deep position, but don't sleep on Valencia. He posted an .886 OPS with the A's last year and is currently batting cleanup for a lineup that may pack a little more punch than most seem to think.
Digging deeper: David Freese, PIT (2.4% owned)
At least while Jung Ho Kang remains on the DL, Freese is a viable option in deeper leagues. He has four hits through two games and may squeeze his way into playing time against left-handed pitching.
Shortstop
Marcus Semien, OAK (30.0% owned)
At just 25 years old, there could be some improvement on tap. Semien has double-digit HR and SB potential, and it's clear Oakland is committed to him.
Digging deeper: Eduardo Escobar, MIN (6.4% owned)
He won't help you with stolen bases, but Escobar was great after the All-Star break last year (8 of his 12 homers) and could keep that power surge going early on this year.
Outfield
Delino DeShields, TEX (39.1% owned)
He just barely qualifies, but he should still be owned in more leagues than this. DeShields stole 25 bases as a 22-year-old, and he gets on base at a pretty good clip.
Digging deeper: Brock Holt, BOS (17.9% owned)
Arrested Development references aside, Brock "Steve" Holt has three position eligibility and hits for a high average in a lineup that should put up a lot of runs. He's useful.
Starting Pitcher
Aaron Sanchez, TOR (39.3% owned)
Sanchez looked awesome in his first start, striking out 8 batters over 7 innings while regularly missing bats. His numbers were pretty solid last year, and at age 23, it's unlikely we've seen his best. Small sample size sure, but he looked like a real ace.
Digging deeper: Andrew Cashner, SD (13.3% owned)
Cashner had a rough season last year, but there's a strong chance the sub-3.00 ERA and 1.13 WHIP guy from 2013 and 2014 makes a comeback. Cashner has some decent strikeout power, and pitching in Petco never hurts. Just don't expect many wins.
Relief Pitcher
Arodys Vizcaino, ATL (27.5% owned)
Vizcaino may not always be used in save situations, but he's the preferred choice for Fredi Gonzalez. The Braves won't win many games, but Vizcaino should have first hack at most save situations.
Digging deeper: Fernando Rodney, SD (11.6% owned)
Believe me, I'm well aware of how bad the Padres are, but it's still worth having the closer for ANY team. The saves may not pour in, but you have to fight for the scraps in any legit league.