Fans, teammates stream pay tribute to elegant and beloved Montreal Canadien Jean Beliveau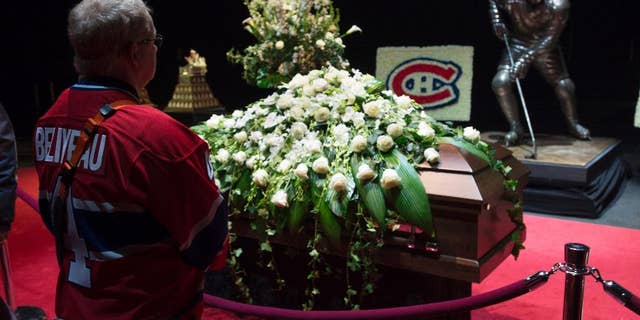 MONTREAL – Former teammates joined hundreds of fans and Quebec's premier at the Bell Centre on Sunday to pay tribute to Jean Beliveau, one of the greatest Montreal Canadiens players.
Beliveau, who died Tuesday at 83 after a long illness, lay in a closed casket at center ice. Fans stopped briefly to give their sympathies to Beliveau's wife, Elise — who shook every hand that passed — as well as his daughter and granddaughters Magalie and Mylene.
The casket lay between two giant posters of Beliveau in his prime as an imposing center on the powerhouse Canadiens teams of the 1950s and 1960s. Also on display were the Stanley Cup and three other trophies he won — Hart (MVP), Lady Byng (sportsmanship) and Conn Smythe (playoff MVP).
Fans began lining up in the early morning in frigid weather for the public viewing, the first for a Canadiens player since Maurice "Rocket" Richard died in 2000. Many were dressed in the Canadiens' red, white and blue jersey.
"It was wonderful," said former teammate Dickie Moore, who visited Beliveau often during his illness. "I think Jean would love to stand up and say thank you."
Quebec Premier Philippe Couillard recalled getting the autographs of Beliveau and other Canadiens when he was a teenager.
"To me he summarizes elegance, confidence, and the image of what we would like ourselves to be," Couillard said.
Asked what he felt Beliveau's life represented, Couillard said "confidence."
"It was at a time when Francophone Quebecers in particular needed much more confidence in themselves and I think he was one of the elements that created that confidence," he said. "For this, we are immensely grateful. He was not only a great athlete and player, he was a great man, a great Quebecer and a great Canadian."
Beliveau won 10 Stanley Cups as a player with the Canadiens from 1950 to 1971 and another seven as an executive. In 1,125 regular-season games, he had 507 goals and 712 assists. He is best remembered as an iconic team captain, and for his grace off the ice.
It was a difficult week for the Canadiens, who had lost speedy left wing Gilles Tremblay to an illness only days before Beliveau died.
Yvan Cournoyer played on a line with Beliveau and Tremblay, and Beliveau was his first captain with the Canadiens.
"I always called him not Jean, but my captain," he said. "I had a chance to win my first Stanley Cup with Jean. I had a chance to dress beside him and I roomed a lot with Jean. For me, he was like a father. He called me his son many times."