Fans sue Pacquiao over undisclosed injury, allege fraud in Mayweather fight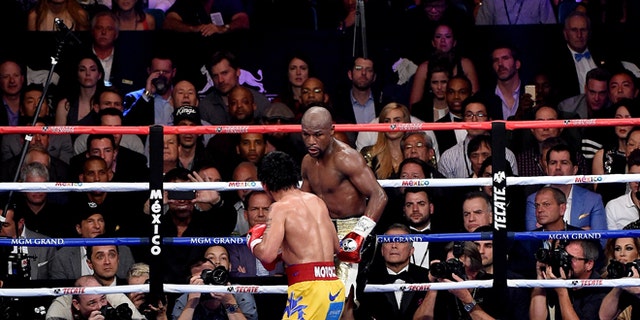 LAS VEGAS (AP) – It was supposed to be the fight of the century. One that determined the best pound-for-pound boxer of the generation.
Instead, Floyd Mayweather Jr. vs. Manny Pacquiao – despite the record-setting gate and purses – was a dull slog, with Mayweather dodging Pacquiao for long stretches and few hard punches that found their target.
Could the title bout, which Mayweather won in a unanimous decision, have been a better spectacle if one of the fighters hadn't had been hurt?
That's what a suit filed Tuesday in federal court in Las Vegas contends.
Pacquiao and his handlers have been hit with a lawsuit asking for damages for anyone who paid to watch his fight with Mayweather because he failed to disclose that his shoulder was injured.
The suit was brought on behalf of two plaintiffs, identified as Staphane Vanel and Kami Rahbaran. It alleges that the two were defrauded after paying to watch the fight, and seeks class-action status on behalf of anyone who bought tickets, pay-per-view or bet on the fight.
The suit comes as Nevada boxing regulators are looking into possible disciplinary action against Pacquiao for failing to disclose the injury suffered in training for the fight. Pacquiao, who would go on to lose a unanimous decision, is expected to undergo surgery this week for a rotator cuff tear.
In particular, members of the Nevada Athletic Commission want to know why Pacquiao checked "no" when filling out a state form the day before the fight that asked whether he had a shoulder injury.
"Our job is to protect the health and safety of fighters and the integrity of the sport," commission chairman Francisco Aguilar said. "We expect our fighters to be forthright."
Pacquiao's promoter, Bob Arum, said earlier the injury suffered four weeks before the fight appeared to have sufficiently healed, but Pacquiao's handlers still unsuccessfully sought to get a pain-killing shot in the shoulder in the dressing room before the fight.
Pacquiao said he reinjured the shoulder in the fourth round when he landed his best punches of the night against Mayweather.
Meanwhile, Mayweather said in a text to ESPN personality Stephen A. Smith that he would welcome a rematch with Pacquiao.
"I will fight him in a year after his surgery," the text read.
Based on reporting by the Associated Press.
Follow us on twitter.com/foxnewslatino
Like us at facebook.com/foxnewslatino