Fans rally for PSU players, hope they stay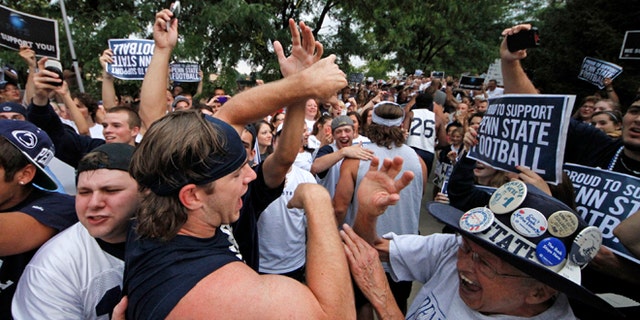 STATE COLLEGE, Pa. – Scandal tainted their school and the legacy of a Hall of Fame coach.
Now anguished Penn State football fans and a university community have found burly rallying points upon which to close ranks: the players themselves caught in the middle of one of the worst episodes ever in college athletics.
Serenaded by a pep band, at least 2,500 blue-and-white backers, alumni and local business owners rallied outside the football building Tuesday in support of the Nittany Lions as they arrived for early-morning offseason workouts.
Many aficionados also hoped their high-fives and supportive signs might be enough to entice star tailback Silas Redd and a handful of other players to stay in light of the strict NCAA sanctions imposed on Penn State last week for the Jerry Sandusky child sex abuse scandal. Among the penalties were a significant decline in scholarships and a four-year bowl ban, and the NCAA gave current players a window until Penn State practice opens Aug. 6 to decide if they want to transfer this year.
"These kids, they've been fighting an uphill battle for eight months, and it's nothing that they did," said former player Keith Conlin, a local businessman and online radio show host who helped organized the rousing event. "We want to let them know that we have their backs.
"We're not going to leave them and run away."
Redd visited Southern California over the weekend and could make a decision on his future as early as Tuesday. A 1,200-yard rusher with a potential NFL future, Redd would be a focal point of the offense -- whether he's a Nittany Lion or Trojan.
Khairi Fortt, a fellow junior from Connecticut and top reserve linebacker, has considered, Cal, Florida State and Kansas, his father, Guy confirmed in an email to The Associated Press. The Stamford Advocate first reported details of Fortt's recruitment. The younger Fortt liked his visit to Cal but loves his Penn State coaches, his father said. A decision could come by midweek.
Most players interviewed after the rally and voluntary workout said they hoped Redd, Fortt and others would stick around, but would honor their decisions regardless.
"Each player came here for different reasons and with different objectives," tight end Garry Gilliam said. "When it comes down to it, I'd like them to stay, but if they don't I'll respect their decisions."
Two players have already left. Former starting quarterback Rob Bolden was removed from the roster this week, though he was granted permission to look at other schools before the NCAA handed down its punishment July 23.
Backup safety Tim Buckley, a former walk-on, was the first departure in the aftermath of the sanctions after announcing Monday he was transferring to North Carolina State in his native state.
Losing Redd would be a blow to the new-look attack under coach Bill O'Brien, the former coordinator of the New England Patriots' high-powered offense. Still, it appears most of O'Brien's core players and the vast majority of the roster plan to remain in Happy Valley, allaying fears of a mass exodus in what has amounted to college football's version of NFL free agency.
The only NCAA restriction is that players considering a transfer cannot practice or play with Penn State this year and still play for another school this season, meaning the Penn State roster should finally be set once training camp starts in a week. Players have said the immediate week following the NCAA's announcement was frenzied with opposing coaches trying to convince them to jump ship, and media trying to figure out each player's every move.
An impromptu news conference Wednesday morning by fullback Michael Zordich and linebacker Mike Mauti began to soften the blow after the senior leaders -- flanked by about two dozen teammates -- pledged their commitments to Penn State. By Friday, O'Brien had said at Big Ten media days in Chicago that more than 50 players had said they would stay.
Tuesday's rally at dawn was part of an effort by agonized fans to back the players who have become bright spots in troubling times.
A pep band played while fans wearing blue-and-white attire lined the sidewalks to slap high-fives and shake hands with Nittany Lions as they snaked their way to their workouts. The scene resembled the team entrance to home games at Beaver Stadium on fall Saturdays.
Inspirational quotes from Winston Churchill, Thomas Paine and Vince Lombardi were posted in the windows of the building. "It isn't whether you get knocked down. It's whether you get back up," read one quote attributed to Lombardi, the Hall of Fame NFL coach.
"It was so cool. I couldn't believe how loud it was," Zordich said about Tuesday's turnout. "This just goes to show why we're still here and why we're going to fight this thing through."
Scandal has engulfed the program since November, when Sandusky was arrested.
The retired defensive coordinator is in jail awaiting sentencing after being convicted in June of 45 criminal counts of sexually abusing young boys. Some of the assaults took place in the football building.
Former FBI director Louis Freeh on July 12 released results of his investigation for Penn State and said that late coach Joe Paterno and three school officials concealed allegations against Sandusky, conclusions that Paterno's family and the officials have vehemently denied.
The coach's widow, Sue Paterno, was seen inside the football building early during the rally, but she did not speak to fans or media.
Penn State gave Freeh's findings to the NCAA, which levied the landmark sanctions on July 23 that have some players at least considering a transfer.
O'Brien has also called a team meeting for Tuesday evening, after which Conlin and more than 260 other former Penn State players are expected to meet with the current Nittany Lions in another show of support.
"This team is going to go down in history for sticking with the school and showing that loyalty," said former player and current school trustee Adam Taliaferro as vocal fans cheered over the din of rock music blaring from speakers.
"I've told everyone it's a personal decision, but I want all the players who are thinking about leaving to think about what you have here," Taliaferro said. "You're not going to have any other fans like this in the whole world."
Most downtown businesses are displaying "Proud to Support Penn State Football" signs on windows. Some stores have started selling shirts with the slogan "Billieve," playing off of O'Brien's first name.