Fans bid for 'Cyborg' Justino's UFC sneakers, cash to go towards documentary film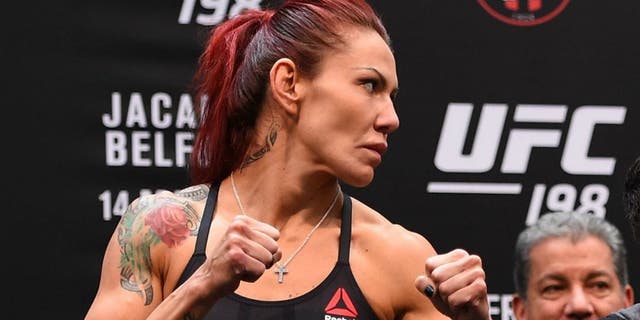 NEWYou can now listen to Fox News articles!
Featherweight world champion Cris "Cyborg" Justino made just $2,500 to wear only Reebok gear during fight week and her fight at UFC 198, last month. Now, she's made an additional $820 selling those same sneakers to a fan.
Online bidding for the shoes the Brazilian wore on her way out to her historic UFC debut fight ended Tuesday afternoon. In total, the sneakers netted 48 bids.
That amount for "Cyborg" shoes is telling in several ways. One positive way is that it is on par with or exceeding the bid-level of some NBA game-worn items currently being auctioned. Justino's camp tells us that proceeds from the auction are going to be used to continue to fund her in-progress documentary film project.
The champ's star power seems to be only increasing now that she's won in the UFC. Justino plans to defend her 145-pound title next, but her camp says she's still open to more "super fights" in the UFC against other champions.