Fangio's Ferrari race car a top seller at RM Sotheby's auction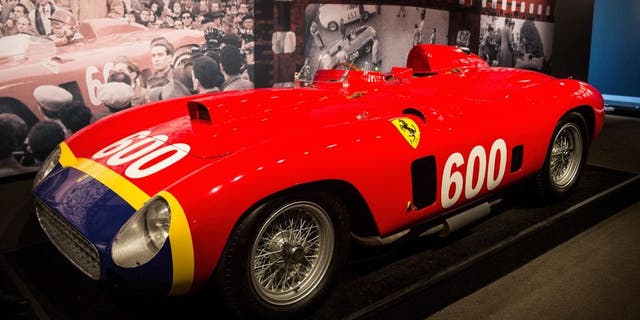 A 1956 Ferrari 290 MM was sold for $28.05 million at RM Sotheby's auction in New York City on Thursday.
The race car was originally built for Formula One racing legend Juan Manuel Fangio to compete in the Mille Miglia -" a 1,000-mile race through Italy.
Fangio's Ferrari led sales at Sotheby's auction - making it the most expensive car of 2015. Prior to the auction, it was estimated at $28 million to $32 million. It was part of the "Driven by Disruption" auction that featured 31 vehicles.
Although it was the top seller of the year, the Ferrari 290 MM fell short of the global record of $38.1 million price tag for a Ferrari 250 GTO Berlinetta set in 2014.
The car never crashed throughout a racing career that ended in 1964. Not only did Fangio drive it, but other drivers like Phil Hill and Wolfgang von Trips have also been behind the wheel.
Known as one of the greatest race car drivers in F1 history, Fangio is a five-time World Champion (1951, 1954-57), winning 24 of the 52 events he raced and setting the record for the oldest driver to win a World Championship at 46 years old -" a record he still holds today.
Fangio won championships with four different teams -" Alfa Romeo, Ferrari, Mercedes and Maserati. The Argentinian also competed other famous events, including the 24 Hours of Le Mans, 12 Hours of Sebring, 24 Hours of Spa, and the Indianapolis 500.
Janis Joplin's 1964 psychedelic Porsche 365 C 1600 SC Cabriolet also sold for $1.7 million at the auction, which surpassed the estimated $400,000 to $600,000 price range.
The Porsche features hand-painted Zodiac signs, California landscapes and a picture of the Big Brother and the Holding Company band members. Joplin's daily driver was loaned to the Rock and Roll Hall of Fame and Museum in Cleveland, OH before it was sold at the auction.