Family first for Cowboys RB Randle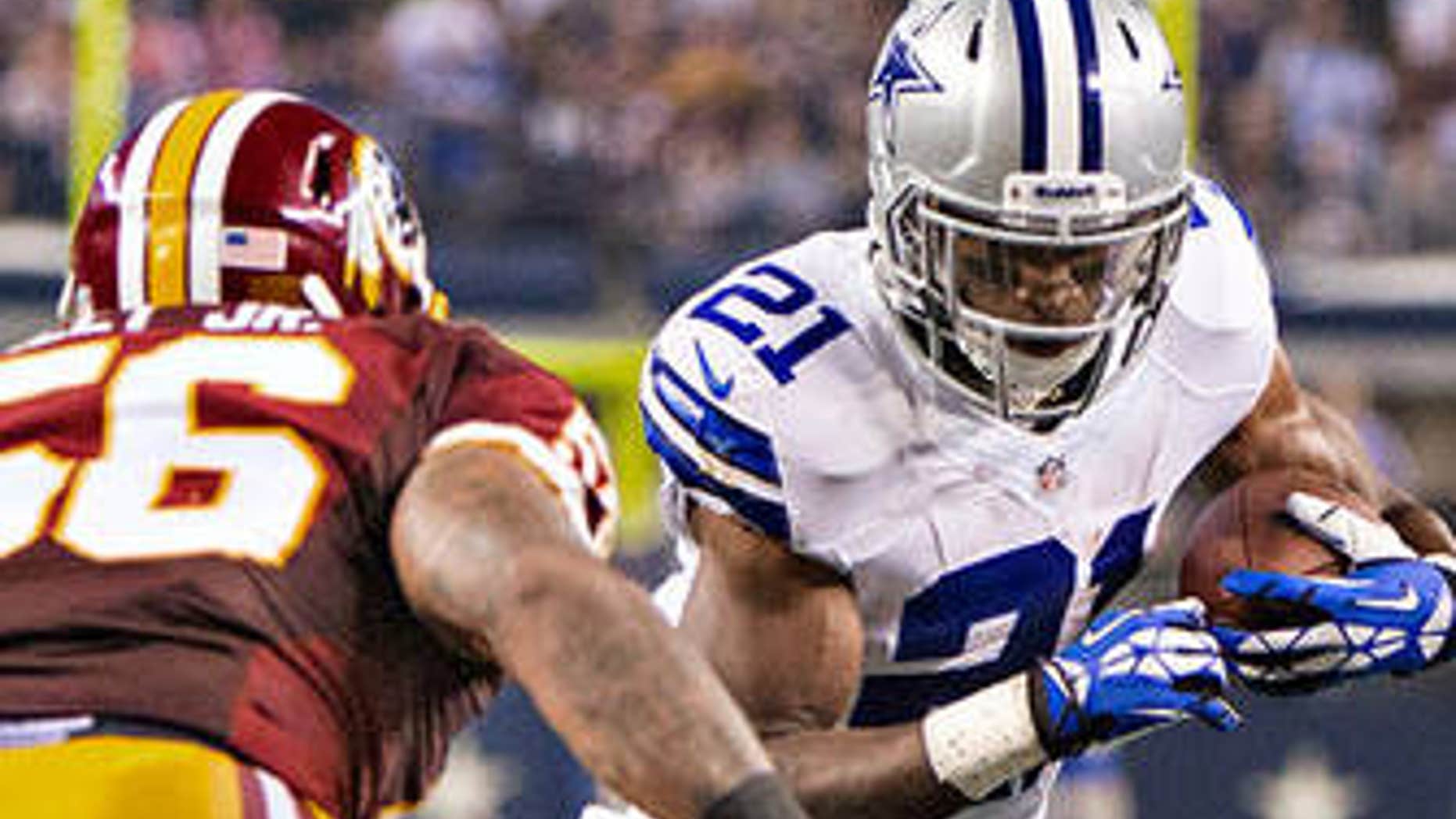 Joseph Randle began suiting up at the age of 3. By 5, he was playing safety for his dad's youth team. So starting in his first NFL game on Sunday when the Dallas Cowboys meet the Philadelphia Eagles will likely just be another game.
The spotlight, however, has never been bigger.
Randle, 21, is the son of a youth league football coach and comes from a football family. His two older brothers each played college football, but fell short of playing on Sundays.
That's why when he scored the first touchdown of his career in the fourth quarter of Sunday night's 31-16 win against the Redskins, it was extra sweet for his family, which was in attendance.
"I was just waiting to see if they were going to raise their hands up and say that he scored and then I went nuts myself," Larry Randle Jr., Joseph's oldest brother, told FOXSports.com in a telephone interview. "I was standing in the concession area where you can stand and watch the game and I was probably jumping all over the place. My dad was there and he said, 'Man, I was probably crying for 15 minutes.' Everybody was just super excited."
While Cowboys Stadium was erupting because they went up two scores on the Redskins, the Randle family saw their baby brother, achieve his dream. Perspective is everything, isn't it?
Randle grew up in Wichita, Kansas, the hometown of Barry Sanders. He spent most of his childhood watching his older brothers play. He looked up to Sanders and other great running backs.
Randle committed to play at Oklahoma State as soon as he could during his decorated high school career. Just like playing football, he was inspired by his older brother Larry, 31, and decided to major in engineering. It wasn't until after midway in his college career he realized that playing in the NFL could become a reality.
"I was still trying to be an engineer, then I had a pretty good sophomore season and I said, 'Man, I think I might be able to get into the NFL if I keep doing this,'" said Randle, who will likely step in for injured DeMarco Murray. "My brother had a lot of success and he liked it a lot and I figured that we're kind of similar so I would like it if he liked it. He makes a good living doing that, so it inspired me.
"[He's] the reason that I started playing football. I thought I'm going to go to school for four years and Oklahoma State has a good engineering program, so I'll just do that. That was always my main dream."
Randle's full workload consisted of Physics and Calculus, but his work ethic enabled him to balance his school life and football. He credits his father's blue-collar mentality when it comes to the way he goes about his business.
"Him being a construction worker his whole life, he would go to work at like 6 a.m," Randle said. "He'd leave and be up before everybody. Then he'd come home and take me to football practice and he'd coach his team. He'd stay at the field until 9 at night and get up and do it again the next day.
"He always had the energy to be supportive to us. I mean, construction ain't no walk in the park especially doing it as long as he did it. It beat his body up and it made me appreciate things.
That's something that Randle hopes to pass on to his nine-month old daughter. He admits that becoming a father has changed him. It even played a part in the decision of forgoing his final year of collegiate eligibility to play in the NFL.
"I can't say that it didn't but I just felt like I was ready," Randle said. Then at the end of the year, I had an injury to my hand so that made me think a little bit. It definitely makes you think much more responsibly. It slows your life down and your thought process. It makes you look at life differently."
After Randle had an impressive meeting with the Cowboys leading into the 2013 NFL Draft, owner Jerry Jones reportedly reached out to one of his closest friends and Oklahoma State's biggest athletic booster T. Boone Pickens.
The Cowboys had a third-round grade on Randle, but were able to scoop him up when he fell into the fifth round. It was an odd draft for running backs. For the first time in nearly 50 years a player at that premier position wasn't selected in the first round.
Randle hasn't really ever been the underdog on the football field, according to his brother. It's likely, though, teams will regret the decision overlooking him.
All of the long practices and two-a-days paid off when he got into the end zone. And how ironic was it that his family was there in person to witness it. Randle says it was special because he got to in front of his dad, who has some health challenges but made the heartfelt effort into the stadium.
"Scoring that touchdown, that was a very emotional moment for my family because they've coached football for so long. And they coach for free. That wasn't something [my dad] got paid to do and he spent a lot of time helping other kids play the sport.
"It's kind of nice that at least one of his kids got to play in the NFL and I owe it to him to have a good career."
The original article can be found at FOXSports.com: Family first for Cowboys RB Randle.