Familiarity not breeding contempt for 49ers' Smith versus former team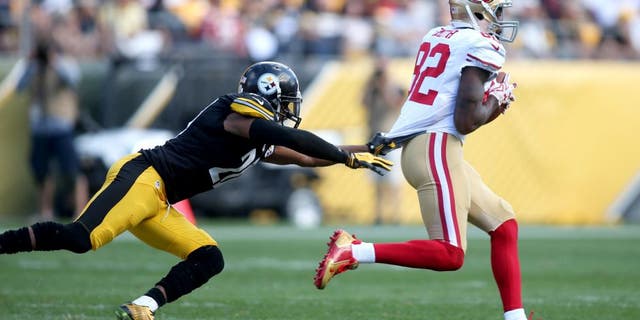 NEWYou can now listen to Fox News articles!
Torrey Smith spent his first four seasons with the Ravens. Charles LeClaire USA TODAY Sports
Torrey Smith figures he can get away with spending less time studying his opponent this week.
When the San Francisco 49ers take the field Sunday afternoon, Smith will be staring at a pair of familiar faces in Baltimore Ravens cornerbacks Jimmy Smith and Lardarius Webb, two players he tangled with regularly during his four seasons on the East Coast.
"I know them both very well, and they both know me very well," Smith said. "There are no surprises. They are two great corners."
Smith won a Super Bowl ring with the Ravens - beating the 49ers - following the 2012 season and had 213 receptions and 30 touchdown catches with the team before leaving as a free agent to sign a five-year, $40 million contract with San Francisco in the offseason.
While Smith offered a standard "just another game" response when asked if he had any added motivation for Sunday's game, he admitted it would be "weird" to be facing his former teammates so soon after his departure.
"I know exactly what kind of talk goes on in the meetings. So I know what they're thinking. I know how they approach games," Smith said. "It's going to be weird knowing you're on the other side of that, and they're trying to shut you down. But we have a job to do here."
Both teams have seen their fortunes take a dramatic dip since the showdown in Super Bowl XLVII. The 49ers and Ravens are each 1-4 and bringing up the rear in their respective divisions, but Smith still remains a dangerous deep threat despite hauling in only 11 catches in the five games.
"He looks like a very good player on tape," Ravens coach John Harbaugh said of Smith. "All the things he does well, he still does well. Yeah, Torrey is still a very good player."
MORE NEWS: Want stories delivered to you? Sign up for our NFL newsletters.