Falcons can't finish against Giants as road woes continue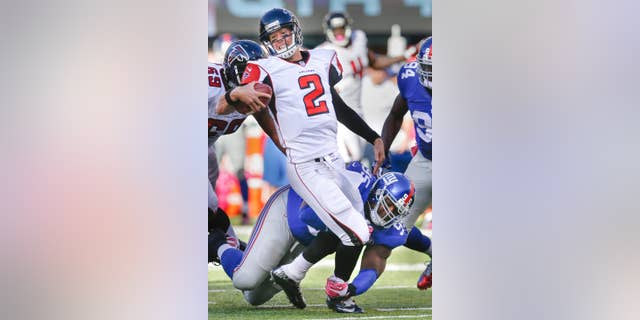 EAST RUTHERFORD, N.J. – The Atlanta Falcons had everything in place to end their woes away from home.
Matt Ryan and his makeshift offensive line had a 10-point third-quarter lead after Antone Smith scored, the defense was holding Eli Manning and the Giants in check and the special teams even contributed a few points.
Then it all went wrong in the final 20 minutes.
Andre Williams scored on a 3-yard run and fellow rookie Odell Beckham caught a go-ahead 15-yard touchdown pass from Manning as the Giants scored the final 20 points in a 30-20 win over the Falcons on Sunday.
"We didn't do a good job of sustaining the momentum of the first half of the game," Falcons coach Mike Smith said after his team lost for the third time in as many road games this season and for the 10th time in 11 going back to the start of last season.
"We played OK in spurts in the first half, but I'm extremely disappointed in the way the game finished."
Ryan threw for 316 yards and a touchdown playing behind a banged-up line that held up until the end. The loss was Atlanta's second straight since dominating Tampa Bay 56-14 on Sept. 18.
Smith, who finished with three catches for 83 yards, gave the Falcons a 20-10 lead when he turned a short sideline pass into a 74-yard touchdown when Giants safety Antrel Rolle missed a tackle just short of the first down marker. Smith outran the rest of the secondary to reach the end zone untouched.
But that was the last time the Falcons threatened. The Giants answered Smith's score with an 81-yard drive, capped by Williams' 3-yard touchdown run that pulled the Giants within 20-17.
Cornerback Robert Alford was flagged for a 26-yard pass interference call on Beckham on the drive. Williams then caught a 14-yard pass from Manning (19 of 30 for 200 yards) before powering his way in from the 3 with 2:05 remaining.
From that point, the Falcons went three consecutive series without a first down, the third ending with Johnathan Hankins' sack on fourth-and-1 from the Atlanta 29.
"We just got out of rhythm across the board in the second half," Ryan said. "It's very tough when you have a 10-point lead and momentum. It's difficult. We just have to learn from it."
The failed fourth down play, coming with 4:24 remaining and the Falcons trailing 27-20 on Josh Brown's 50-yard field goal, was designed to go to Devin Hester. But Hankins dropped Ryan.
Going for it while deep in their territory was never a question in Smith's mind.
"We talked about it all week that if it came up in the ballgame that we would go for it," Smith said. "We felt like we had a good play, we just didn't execute it. To me, it was a very makeable fourth down."
"We had an opportunity to convert," Ryan said. "We're still in the game at that point."
The Falcons' inability to finish two second-quarter drives for touchdowns from in close kept the Giants within range. Instead, they had to settle for two 20-yard Matt Bryant field goals.
Still, a line that lost starting center Joe Hawley and right tackle Lamar Holmes to season-ending injuries and left guard Justin Blalock to a back problem protected Ryan well with replacements Peter Konz, Gabe Carimi, and Harland Gunn. Ryan went 17 of 23 in leading the Falcons to a 13-10 halftime lead.
Smith wants the road skid to end.
"It's very ... it's a concern," Smith said. "We've hit a stretch where we've not been as efficient as we need to be on the road. To get where our expectations are, as a football team, an organization, you've got to hold serve on the road and we've not done that."
NOTES: Williams finished with 65 yards on 20 carries. New York gained 124 yards on 34 carries. The Falcons had 90 yards on 21 carries. ...Atlanta outgained New York 397-317. ...Safety Kemal Ishmael and linebackers Paul Worrilow and Prince Shembo each had 14 tackles for Atlanta. Giants linebacker Jacquian Williams had a team-high 13. Giants LB Spencer Paysinger left the game with a hamstring injury.
___
AP NFL website: www.pro32.ap.org and http://twitter.com/AP_NFL