Facing a familiar foe, NFL style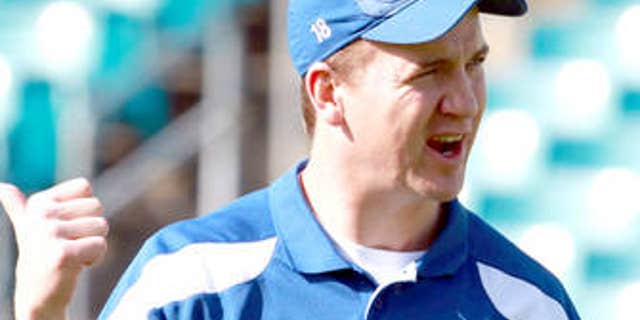 This weekend, Peyton Manning will make his return to Lucas Oil Stadium for the first time since being released by the Indianapolis Colts, the team that he gave 14 seasons, two Super Bowl appearances, and one ring, prior to the 2012 season.
The narrative of Manning is, by this point, pretty familiar to anyone with knowledge of the NFL, or American culture in general: one of the greatest quarterbacks in NFL history despite a sub-.500 playoff record misses an entire season due to injury at the age of 35; his team, dismal without him, lands in the position to draft one of the rarest of prospects, a guy viewed almost unanimously as can't miss; Manning grants his team permission to do so; and, released, he migrates to the Denver Broncos to become the team's first truly great passer since the retirement of John Elway.
The 6-0 Broncos' visit to the 4-2 Colts isn't only a nice little chapter in Manning's narrative; it's also an important battle for primacy in the AFC, which is increasingly looking like it's the Broncos' and the Kansas City Chiefs' to lose.
As such, it provided plenty of fodder for Colts owner Jim Irsay to drop in a possibly snide remark, depending on how you read it, about Manning's struggles in the playoffs as a Colt, and for Manning's coach, John Fox, to fire back in his defense.
Unsurprisingly, Manning declined to get involved, meaning that his play on Sunday will be able to stand on its own as a comment on the situation -- that, and how his replacement, Andrew Luck, performs against a defense that, two weeks ago, surrendered 506 yards and five touchdown passes to Tony Romo.
That raises an interesting question: How have some other homecomings played out for well-known NFL players who switched squads? Manning's is sort of singular, because few have ever performed at such a high level for two separate teams -- if Manning were to win the MVP this year, he'd be the first to do so for multiple franchises -- but he's not the only (future) Hall of Famer to be in this situation.
In his final season, 1994, Joe Montana's Kansas City Chiefs -- that just looks weird -- played host to the San Francisco 49ers. Montana outdueled his replacement, Steve Young, going 19-31 for 203 yards and two touchdowns. Young went 24-34 for 288 yards, a touchdown and two interceptions, and the Chiefs won, 24-17.
Emmitt Smith played running back until he was 35 years old, which is insane considering how few backs make it past 30 in today's NFL. And the last two of those years were for the Cardinals.
In Week 5 of the 2003 season, Smith went back to Dallas and turned in an absolutely dismal performance, rushing for a grand total of minus-1 yard on six carries, catching two passes for 2 yards, and losing the game, 24-7, though that last part's hardly all on him. (The two quarterbacks in that game? Jeff Blake and Quincy Carter, who remarkably led the Cowboys to a 10-6 record that year.)
Jerry Rice didn't face San Francisco until his second season with the Raiders, in 2002, when he was 40(!) years old. Rice went for 1,211 yards on 92 catches that season -- as a 40-year-old! -- so his performance against the 49ers was actually a supbar one, considering the rest of his games. But on it's own, it doesn't look bad at all: six catches for 74 yards, although the Raiders lost, 23-20. (His best game that season? Seven catches for 144 yards and a touchdown.)
Joe Namath never faced the Jets after joining the Los Angeles Rams, unfortunately. Did you know he played for the Rams? He sort of played for the Rams.
In hindsight, Terrell Owens' two-season stint with the Philadelphia Eagles occupies a shockingly large place in his narrative -- and he was remarkably effective with the Cowboys after that, going for over 1,000 yards and 10 touchdowns in each of his three seasons -- but it was with the 49ers that he really established his career.
He didn't get a shot at San Francisco until his second season with the Eagles, but he made it count: Philly won 42-3 against a 49ers team that would eventually go 4-12, and T.O. had five receptions for 143 yards and two touchdowns.
One more: Brett Favre didn't play against the Packers during his first season away from the team as a New York Jet, but when he joined Green Bay's division rival the Vikings at 39 years old, he played host to them in Week 4.
It went well: the Packers won, 30-23; Favre went 24-31 for 271 yards, three touchdowns and no interceptions, enough to beat out Aaron Rodgers' 26-for-37, 384-yard, two-touchdown-and-an-interception day.
When he finally went back to Lambeau, this time a 40-year-old, in Week 8, he was even better: 244 yards, four touchdowns, no interceptions, and another Minnesota win. (Once again, Rodgers was good, but not as good: 287 yards, three touchdowns, no interceptions.)
Both Montana and Favre had tremendous games when they had to take on their old squads, and neither was as good at the time as Manning is now. Sunday should be fun.
The original article can be found at FOXSports.com: Facing a familiar foe, NFL style.