Ezekiel Elliott loses appeal, set to begin six-game suspension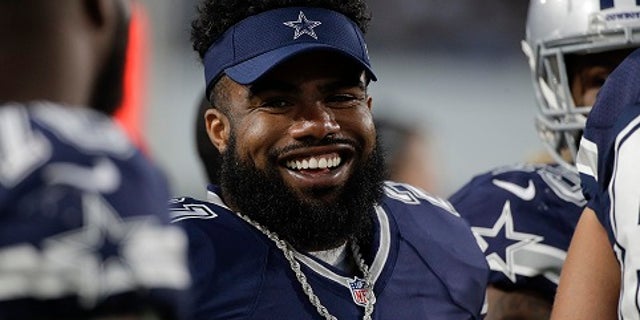 NEW YORK – Dallas Cowboys running back Ezekiel Elliott's half-season run from his six-game suspension ended Thursday when a federal appeals court refused to let him play while it considered his appeal.
Elliott sat directly in front of a three-judge panel that considered his request to be allowed to play, but the court issued an order in less than an hour disqualifying him from Sunday's game at Atlanta. The suspension was ordered in August as discipline after the league investigated allegations he used force against his girlfriend in the summer of 2016. Elliott vehemently denied the allegations as recently as last week, saying he was not an abuser.
By the time the ruling came Thursday, he had already left the courthouse without speaking to reporters, though he shook the hand of a person who shouted that he was a "huge fan" as Elliott raced down steps to a sport utility vehicle.
Although the league won the battle, the appeals judges took a few shots at the NFL for its handling of the suspension of a 22-year-old athlete who will be sidelined while he's second in the league with 783 yards rushing and tied for the league lead with seven rushing touchdowns.
Circuit Judge Dennis Jacobs told Paul Clement, the NFL's lawyer, that he found it odd that the issue was "such a frantic emergency that it can't wait another couple months."
"This is not just about Elliott and the Cowboys," Clement responded, noting that 100 players across the league had been suspended for a total of 500 games over the last two seasons.
"Unfortunately, discipline is a fact of life in the NFL," the lawyer said. "They all have an interest in seeing the same basic rules applied to them."
Clement said it was important that players not be able to "game the system" by using the courts to delay suspensions until it is convenient for them or their teams.
Still, he noted, Elliott would start his suspension as the Cowboys enter the "easy part" of their schedule.
"This is the ideal time for him to serve the suspension," Clement said.
The NFL did not comment on the court's order, though it affirmed that the suspension was in place.
Elliott's attorneys did not immediately respond to a request for comment.
Elliott arrived at the hearing just minutes before it began. He was smiling and greeting his lawyers before he moved his chair to face the judges more directly.
In short order, the 2nd Circuit said Elliott didn't meet the standards to continue blocking the suspension, but ordered a hearing as soon as it could be scheduled.
Elliott had received three different legal reprieves as he played the season's first eight games. It wasn't immediately clear how soon the court would rule on Elliott's claim that he was treated unfairly by the NFL.