Experience the difference between Bolts, Caps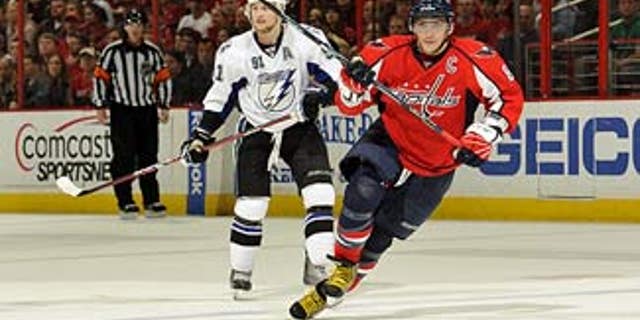 WASHINGTON -- Four points separated the Washington Capitals and Tampa Bay Lightning in the Southeast Division standings this season.
That's why many were taken by surprise Thursday when Lightning coach Guy Boucher dubbed this Eastern Conference semifinal as "Goliath against David." After all, the Bolts finished with just two fewer wins during the regular season than the Caps, who needed a tremendous second half just to surpass Tampa Bay in the division standings.
But despite the fact his team racked up 103 points during the regular season and just rallied from a 3-1 deficit to oust the Pittsburgh Penguins in the opening round, Boucher wasn't about to retract any comments made 24 hours ago.
"This organization hasn't won a series -- expect for the last one -- in seven years," Boucher said after the Lightning skated Friday afternoon in preparation for the evening's Game 1 at Verizon Center (7 p.m., Versus, TSN, RDS). "We hadn't made a series in four years. Everything has to build up. We have a lot of guys who hadn't played in playoffs.
"We knew we had a lot to learn. Washington is in Year 5 of their plan, we're in Year 1. We're aware of that. To be able to compete against those teams that are on a mission and had the experience of last year and the previous year to build on and know what they need, whereas we have to learn it all right now. That's why, for us, it's clear it's David against Goliath.
"We know these guys are going to be flying and coming with a lot of energy. They're on a mission … not that we're not on a mission, it's just we're learning how to make this a mission. You don't buy experience. You have to go through it, and we're going through it right now. We have to be aware of where we are and what we are in this series, or else we'll get lost in what we've got to do."
Washington is playing Friday night for the first time in six days, as it needed only five games to bounce the New York Rangers from the opening round of the Stanley Cup Playoffs. The Caps will certainly be fresh and raring to go against their rival, which reeled off victories in Games 5, 6 and 7 against the Pens just to advance to Round 2. The Lightning completed the comeback with a 1-0 victory at the Consol Energy Center on Wednesday.
Star center Steven Stamkos agrees with his coach that the Caps are the favorite to win this series, but is hopeful the Bolts are eager to go toe to toe with the top seed in the East.
"They're the No. 1-ranked team in the conference," Stamkos said. "We had a good battle throughout the year, especially the last four games, when both teams had their rosters set. I think we're the underdogs coming in, and we're fine with that. We had a pretty emotional series win over Pittsburgh and (we had) a lot of energy spent, but we're ready. We've still got our legs going. We've got to come out really hard. We can't afford to use anything as an excuse. We're ready, and we've got to show it tonight."
And if the Lightning are going to pull this off and advance to the Eastern Conference Finals, they'll require more phenomenal performances from 41-year-old goaltender Dwayne Roloson, who improved to 6-0 in elimination games with Wednesday's victory. Roloson enters Game 1 with a .949 save percentage, tops in the postseason. His 1.77 goals-against average ranks second only behind his opponent, Washington's Michal Neuvirth (1.38).
"That's one heck of a team," Roloson said of the Caps. "We've got to play 120 percent our best hockey to have a chance to win this series."
Follow Brian Compton on Twitter: @BComptonNHL