Exclusive: Rick Hendrick believes Chase Elliott is a unique NASCAR talent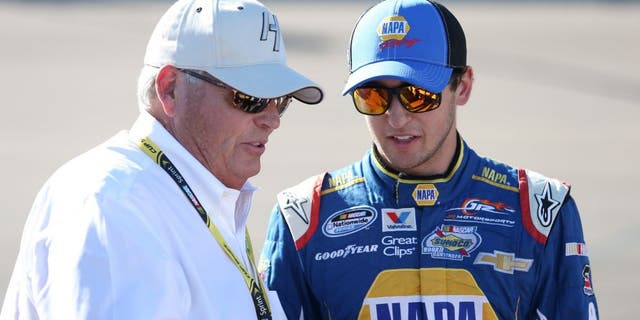 NEWYou can now listen to Fox News articles!
Rick Hendrick is a pretty astute judge of driving talent.
Hendrick Motorsports drivers Jeff Gordon, Jimmie Johnson, Dale Earnhardt and Kasey Kahne have won 10 NASCAR Sprint Cup Series championships and 208 races among them.
And before they came on the scene, Hendrick employed guys like Terry Labonte, Darrell Waltrip, Tim Richmond and Geoff Bodine.
So when Hendrick uses the word "special" to describe a driver, well, chances are pretty damned strong that driver is, in fact, special. And in an exclusive interview with FOXSports.com, Hendrick praised 19-year-old Chase Elliott, who next year will take over the No. 24 Hendrick Motorsports Chevrolet from the retiring Jeff Gordon.
Elliott, the son of NASCAR legend Bill Elliott, won a NASCAR XFINITY Series title in his first full-time season last year and is second in points now. And his boss firmly believes he's the real deal.
"There's something really special about him," Hendrick says of Elliott. "And I could see it in Jeff and Jimmie. With Jeff, it was pure talent, and he had to mature a little bit. Jimmie was a super well-rounded guy. I didn't realize how talented he was. He was really good, but he was even better than I thought he was.
"With Chase, I've been able to see him race with the veterans, and more than anything, how he handles himself with the sponsors and just out of the car. He doesn't do things that 18- and 19-year-old kids do," Hendrick said. "He's really unique in a lot of different ways. I can't really explain it. The maturity level and the poise that he has in the car -- he never gets rattled. He reminds me a lot of Jimmie Johnson. He never gets excited and is very precise about detailing what he's feeling in the car."
Hendrick said he doesn't think of Elliott as Gordon's replacement.
"It's almost better to start fresh than try to 'replace' Jeff," Hendrick said. "I almost think it's a good break. I get to keep the 24 and the team alive. He's got an advantage over what Jeff had and what Jimmie had. He's going into a veteran team, with a pit crew that has worked together. But yet he's younger than they were."
For his part, Elliott said his aim in 2016 is simple: "Just to fire off strong and do my job first and foremost." And that includes making the Chase for the NASCAR Sprint Cup Series as a rookie.
"I don't there's any reason we can't make the top 16 come next fall," Elliott said. "There's just no excuse to not. I think I'll be the weakest link in the chain, and I think if I can do my part for them, I don't think there's any excuse for us not to make the top 16."
Still, Elliott knows he has an awful lot to learn.
"That jump is hard," Elliott said of moving from the XFINITY Series to the Sprint Cup level. "Those guys are there for a reason. The competition level is so high. Even watching it on TV, and people that follow it, you just don't realize how difficult it is -- especially the guys that are so dominant right now. Just how hard that is to do is so hard to explain. (Sprint Cup) just isn't comparable to the XFINITY Series. It's on a completely different level, to be completely honest."
For his part, Hendrick is trying to be realistic in his initial expectations.
"With Chase, I'm not worried about putting too much pressure on him," Hendrick said. "I'm more concerned about him putting pressure on himself. He expects so much out of himself that he's going to be disappointed if he doesn't run as good as Gordon right now and that's just not going to happen. He's got to learn Alan (Gustafson, crew chief). Alan's got to learn him. They've got to go to tracks together, all these damned rule changes that NASCAR throws at you."
Hendrick said he will be patient.
"I'm not going to measure Chase by what Jeff has done," said the team owner. "I didn't measure Jimmie by what Jeff has done. I'm not going to measure Chase by what Jimmie has done. I don't want him to have that kind of pressure. I want it to be, this is a fresh start for the 24."