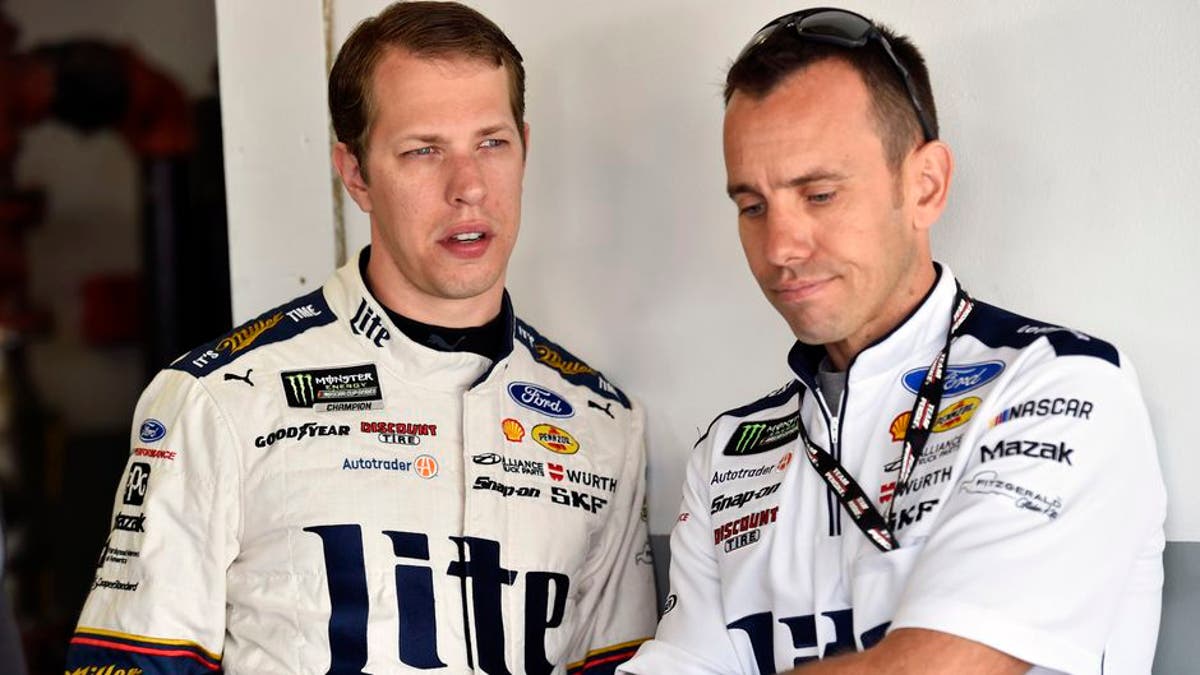 On Tuesday, Team Penske failed in their final appeal to the National Motorsports Appeals Panel of penalties suffered after Brad Keselowskis No. 2 Ford was found to have too much skew in the rear suspension in post-race inspection at Phoenix Raceway in March.
As a result, Keselowski will lose crew chief Paul Wolfe for this weekends race at Kansas Speedway the final race of his three-race suspension. Wolfe was also fined $65,000 for the violation. After finishing fifth in the race, Keselowski and the No. 2 team were also docked 35 points.
Keselowski still remains third in standings despite the points loss, seven points behind Martin Truex Jr. and 14 points ahead of Chase Elliott.
Before making an appearance on Tuesdays edition of NASCAR Race Hub at 6 p.m. ET on FS1, Keselowski spoke with FOXSports.com about the news.
Its not anything that we didnt expect, said Keselowski. The penalty was already there. I would say there is a range of emotions, which go from being glad its over to frustration. It is what it is.
Team Penske XFINITY Series crew chief Brian Wilson will serve as Keselowskis interim crew chief once again for Saturday nights Go Bowling 400 (7 p.m. ET, FS1). Wilson also filled in during the first two races of Wolfes suspension at Auto Club Speedway (March 27) and Talladega Superspeedway (May 7).
Despite the outcome, Keselowski didnt completely place the blame on NASCAR regarding the situation as a whole.
We felt like both sides were a little bit wrong between NASCAR and the team, Keselowski said. There was a process with an appeals board to really get a third-party in. I thought it was maybe worthy of some type of a compromise to back the penalty down at the very least, if not complete rescind it. That didnt happen.
In the first appeal on April 12, a three-member board decided that NASCARs penalty was warranted. The final appeal by Team Penske that was originally scheduled for April 26 until appeals officer Bryan Moss fell ill and was ultimately replaced by television executive Roger Werner.
Overall, with two wins on the year at Atlanta and Martinsville, Keselowski was hoping for a different outcome but also ready to move forward.
A little disappointed and frustrated by that, but also respectful of the entire process, Keselowski said.
Team Penske also released a statement following the final appeal decision:
We are disappointed in the outcome of todays final appeal hearing.While we appreciate the process that NASCAR and the National Motorsports Appeals Panel has put in place to resolve issues like this, we felt like the penalties received following the March event at Phoenix were unjust.Brian Wilson will once again serve as Brad Keselowskis crew chief this weekend at Kansas Speedway. Were happy to finally have this behind us as the No. 2 team focuses its efforts on another Monster Energy NASCAR Cup Series Championship.