Exclusive: NASCAR VP Scott Miller says no aero package changes for the Chase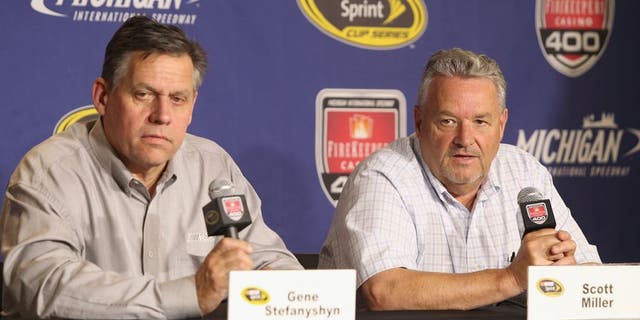 NEWYou can now listen to Fox News articles!
There will not be a change in the aerodynamic package for this year's Chase for the Sprint Cup, NASCAR Senior Vice President Scott Miller told FOXSports.com in an exclusive interview Friday morning.
This weekend at Kentucky Speedway, NASCAR is testing a new low-downforce package that was also used four weeks ago at Michigan International Speedway. If this test is successful, the Michigan/Kentucky specs will form the basis of the 2017 rules package.
But won't be used in NASCAR's playoffs this season.
"I don't believe we'll get to changing the Chase around," Miller told FOXSports.com. "The 2016 (aero) package as it is has raced really good, provided really good racing, and I don't think that there will be any industry momentum to change the Chase around."
Miller said it was possible the package could be run again before the regular season ended, just not in the Chase.
Several drivers have called for another test, but nothing's been decided, Miller said.
"My initial thought is I would like to see it back at Michigan with just a few subtle changes that can be ascertained from what we've learned over this weekend and the previous Michigan weekend," said 2012 series champion Brad Keselowski. "Maybe a small tweak from what we've learned and go again at Michigan in the second race would kind of be my initial thought, so I would say yes."
"I'm all for trying less and less downforce," added Carl Edwards. "Any amount or any aero dependency we can take away from the cars, I'm fine trying it at any time."
That remains a possibility, though nothing is set in stone yet.
"Between now and the Chase, we have some options and nobody's really sure what we'll do just yet," Miller said.
Miller said NASCAR officials were very pleased with the results they've gotten so far this year, when the quality of racing for the most part has been exceptional.
"The drivers are certainly onboard with that," Miller said of the 2016 aero rules. "It's a better package for them to race than what we raced in 2015.
"It gives them more options," Miller said. "It allows them to be closer to one another and it gives everybody a better opportunity to put on a good show."
Miller told FOXSports.com that the Sprint Cup Drivers Council has been beneficial in providing input so far.
"One of the things that I think has helped immensely is a little bit more unified communication with the drivers," said Miller.
"Those guys on the Drivers Council are being forced to talk to one another and -- not that they can speak in a unified voice -- but it's quite a bit more unified than it's ever been because they all have to be in the same room when we have those meetings and talk about serious subjects. There is kind of a little bit more accountability. It's helped tremendously, actually."