Exclusive: Hendrick engineer shares journey to NASCAR, working with Dale Earnhardt Jr.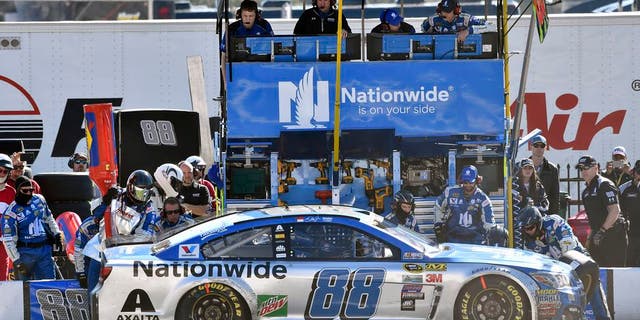 If you put in the work and put yourself in the right position, you can make your dreams a reality.
Thats exactly what Travis Peterson did. He went from being a young kid in Wisconsin who rooted for Dale Earnhardt Sr. to one of the main people in charge of setting up the No. 88 Chevrolet as a race engineer for Dale Earnhardt Jr. at Hendrick Motorsports.
After graduating from the University of North Carolina at Charlotte, Peterson made a connection with Greg Ives and became his race engineer on the No. 7 JR Motorsports Chevrolet driven by Regan Smith in 2013.
That was the first time he met his new boss, Dale Jr.
It was really funny (the first time meeting Dale Jr.), Peterson told FOXSports.com. I was at JR Motorsports, a few days into working there and I was in the shop. He walked up to talk to someone I was working with and he goes hey man, I dont know you yet. I introduced myself and he says, well, Im Dale. And I thought, I appreciate you giving me a full-blown introduction, but I know who you are. Your name is on the door.
Since entering the sport in 2013, Peterson has worked with Ives and Earnhardt, winning the XFINITY Series championship with Chase Elliott in 2014 and then moving up to the Monster Energy NASCAR Cup Series in 2015.
Through that time, Peterson has learned what it is that makes Earnhardt such a fan favorite.
Hes just so normal. I think thats what people see in him and why hes a fan favorite and so many people like him, Peterson told FOXSports.com Hes a normal every day you and me type of guy. Thats the way he lives his life. He walks around the shop in a t-shirt every day and talks to people and sees how they are. Thats the way it still is. We cut up in the lounge and have a good time and hes a fun guy to be around.
Peterson always had aspirations to work in NASCAR but has to pinch himself sometimes when hes working at Hendrick Motorsports with Dale Earnhardt Jr. and so many of NASCARs most well-respected people.
Its funny because my dad was a Dale Earnhardt fan and watching races with dad, I grew up a Dale Sr. fan, Peterson told FOXSports.com. Its funny now to sit back and look at it in perspective. Its kind of comical in a how far weve come from a small town in Wisconsin to working with Dale Earnhardt Jr.
Travis dad, Tom, works at Joe Gibbs Racing as a manual machinist and is a driving force behind Travis working in the sport.
My dad was trying to get into the sport for a long time, Peterson told FOXSports.com He knew people at Richard Childress Racing and was trying to get a job there. That never panned out. We would travel to the races at least twice a year and go to the race and hang out. He was meeting people and trying to get in the door. When I was going into 8th grade, he got a job with Joe Gibbs Racing and moved to Charlotte.
Peterson cheered when he got the news that his family was moving because his dad got a job in NASCAR and realized he had the chance to make his dream a reality, too.
At age 26, Peterson has accomplished a lot at a young age but feels like he belongs after slowly working his way into the industry with his dad.
I slowly trickled into doing it all, Peterson told FOXSports.com I went from being a fan as a kid, then I went with my dad when I turned 18 and went to Darlington with him into the garage. He was on the No. 18 car (Kyle Busch) at the time and they won Darlington in the Indiana Jones paint scheme (2008) and I got to be in the pits and experience Victory Lane and go with him as often as I could. Then, doing internships and it slowly progressed to where it is now and it all seems so natural.