Exclusive: Dale Earnhardt Jr. 'blown away' by UFC 196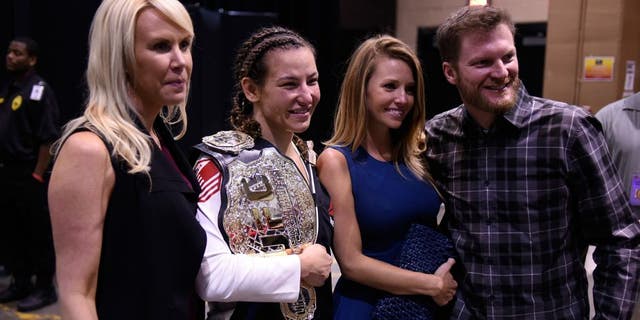 In an exclusive interview with FOXSports.com, Dale Earnhardt Jr. said he was blown away by UFC 196 in Las Vegas on Saturday night, where he had a second-row seat to the fights and afterward met new UFC woman's bantamweight champion Miesha Tate.
Tate defeated Holly Holm with a fifth-round choke hold and Nick Diaz got Conor McGregor to tap out in the second round, both big upsets.
Earnhardt was impressed.
"I had fortunate seats and so I could see the fighters real up close as they were walking into the ring," said Earnhardt, who witnessed his first live UFC event. "The intensity and the energy in their eyes was incredible. Just the way they were so amped up for the moment.
"And I think when they walk into the ring -- they're back there preparing themselves mentally, and then they walk in there and the crowd energy, they feel that for the first time," said Earnhardt. "They feel that for the first time and they begin to shake. Literally, you could see their skin shaking. Their whole bodies were shaking, just the nerves."
Earnhardt said he saw differences in the fighters.
"Some were super ready and knew exactly how the fight was going to end even before it started, and some of them, you could see some nerves, anxiety or whatever," said Earnhardt. "But it was incredible to see it up close like that."
After the event, Earnhardt met Tate, who is a client of KHI Management, the agency run by Kevin and DeLana Harvick.
"DeLana and her (Tate) embraced and there was just a lot of emotion," said Earnhardt. "That was just a great moment to capture a picture with her. I was thrilled to have been there to see that."