Exciting finishes highlight thrilling UFC Fight Night FS1 prelims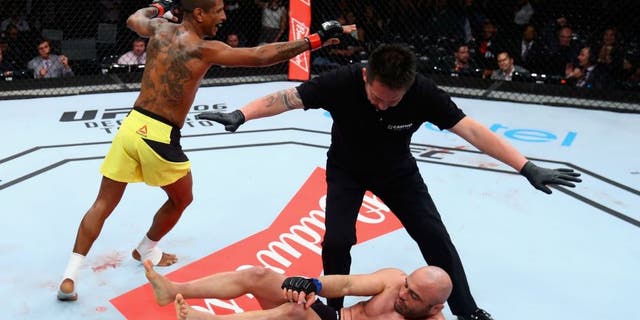 The FS1 prelims portion of UFC Fight Night: Bader vs. Nogueira 2 did not disappoint as all four fights ended in a finish, much to the delight of the Brazilian fans in attendance.
Heavyweight Luis Henrique got the action started with a smothering win over Christian Colombo for his second straight submission win. Henrique dominated the opening two rounds, completing all five of his takedowns and hurting his opponent from the top, before locking in a deep guillotine midway through the third round.
Henrique improves to 9-2 overall with the win while Colombo drops to 8-2-1 and will look to regroup as he seeks that elusive first UFC win.
In the second fight of the FS1 prelims, 13th-ranked bantamweight Johnny Eduardo proved he's ready to take on the top 10 after finishing veteran Manny Gamburyan. Eduardo got the best of Gamburyan in exchanges during the opening round and continued that trend in the second when he dropped the "Ultimate Fighter" alum on the chin with a counter left hand.
Eduardo smelled blood with a downed Gamburyan and went in for the kill. The referee called a stop to the fight at the 4:15 mark of round two. After the fight, Gamburyan announced his retirement from the sport of mixed martial arts.
Next up on the docket was a light heavyweight tilt that ended faster than you can say Gadzhimurad Antigulov. Antigulov was able to take his opponent, Marcos Rogerio de Lima, to the ground but de Lima was able to work his way into top position. From there, Antigulov showed just how good he is off his back, locking in a title guillotine that forced de Lima to tap shortly thereafter.
The win was Antigulov's 13th by submission and a huge statement in his UFC debut.
And finally, middleweights Cezar Ferreira and Jack Hermansson gave the crowd one final treat before the main card with their high-paced scrap in the FS1 prelims featured bout.
After feeling each other out for the first five minutes, Hermansson came out aggressive in the second round. Ferreira used that aggressiveness against his opponent, scoring a nice takedown that helped him eventually win via arm triangle.
Hermansson, who tried his hardest to fight off the submission, falls to 14-2 while Ferreira wins his third straight fight after going 1-3 in his previous four.