Ex-US Olympic swimming coach's home raided following allegations of sexual abuse, explicit photography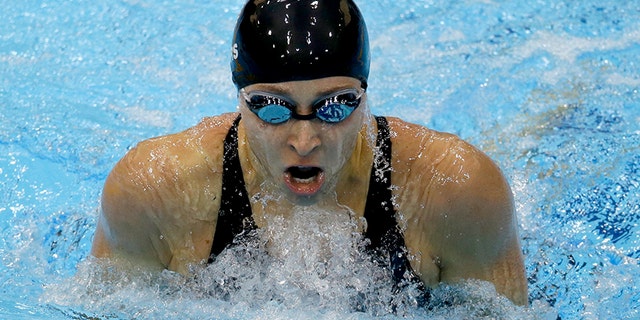 NEWYou can now listen to Fox News articles!
Homeland Security investigators raided the Seattle home of a former U.S. Olympic team swimming coach following allegations that he sexually abused and took nude, explicit photos of a female swimmer when she was 17 years old.
The search warrant executed Tuesday at 46-year-old Sean Hutchison's apartment -- in which police and investigators recovered electronic devices they say may contain evidence – comes only weeks after the sentencing of serial sex abuser Larry Nassar, a former USA Gymnastics doctor convicted of molesting hundreds of young girls at a training center.
"I never thought I would share my story because, in so many ways, just surviving was enough," Ariana Kukors, now 28, said in a statement Wednesday. "But in time, I've realized that stories like my own are too important to go unwritten. Not for the sake of you knowing my story, but for the little girls and boys whose lives and future hangs in the grasp of a horribly powerful and manipulative person."
Homeland Security launched an investigation on Jan. 30 following a report from Kukors, according to the court documents.
Kukors, the 2009 world champion in the 200-meter individual medley and a fifth place-finisher in that event in the 2012 Olympics, said she went to police to report that Hutchison sexually assaulted her on trips and while training at Seattle-area pools. She told investigators that Hutchison used his position as her longtime coach to "groom her" for sexual abuse, beginning at age 13 when he became her coach at King Aquatic Club, a series of Seattle-area swim facilities.
Kukors said she hopes others will "not have to go through the same pain, trauma, horror, and abuse."
"That their parents, mentors, and guardians are better able to spot the signs of grooming and realize its tragic consequences before it's too late," she added.
Hutchison, who was an assistant coach on the 2008 U.S. Olympic team, didn't immediately respond to an email from the Associated Press seeking comment Wednesday. He is currently listed as the CEO of King Aquatic Club.
"Last night's news broke our collective hearts," Michael Brooks, head coach at King Aquatic Club, told Fox News. "Ariana Kukors is part of the King Aquatic family and we only want the best for her. Our staff is meeting to review this devastating news. Sean Hutchison is an executive with King but has had no direct interaction with our swimmers for a very long time."
In a search warrant affidavit, a Homeland Security Investigations special agent said investigators responded to claims that Hutchison took sexually explicit photos of Kukors more than a decade ago. Hutchison was a U.S. Olympic swimming coach in California at the time, a position from which he resigned in 2010 amid speculation that he was romantically involved with Kukors, which he was later cleared of, according to the OC Register.
Hutchison denied it at the time, saying "there is no truth to that," and insisting his departure was a long-planned move to form his own professional team.
Kukors retired from competitive swimming in 2013 and has worked as a TV co-host for a show covering the 2016 U.S. Olympic Trials, the Seattle Post-Intelligencer reported.
"If this organization had immediately reported what it knew to authorities, Hutchison likely would have been stopped, Ariana would have been spared years of abuse, and countless other young girls would have been protected from this sexual predator."
Homeland Security spokeswoman Lori Haley told the newspaper that anyone with information or concerns regarding Hutchison should contact an investigation phone line at 206-442-1469 or through email at hsiseattletips@ice.dhs.gov.
"We are still in the very preliminary stages of this investigation, but obviously a top priority in all cases involving alleged online child exploitation is identifying any possible minor victims," Haley said. "The phone line and email box will be closely monitored by HSI agents and all calls will receive a prompt response."
The allegations against Hutchison follow news of an ongoing investigation of USA Swimming, which oversees the U.S. Olympic swimming program, by the House Committee on Energy and Commerce.
"The abhorrent abuses associated with USA Gymnastics, as well as allegations in 2014, when 19 former swimmers said they were sexually abused by their coaches, may raise concerns about whether your organization has sufficient mechanisms to protect your athletes from abuse and mistreatment," the committee said in a letter to USA Swimming President and CEO Tim Hinchey, dated Jan. 26.
The letter asks USA Swimming to respond to numerous questions by Friday. The questions ask the organization to explain how they handled past allegations of sexual abuse and if they are "aware of any other sexual abuse or misconduct allegations within the swimming community.
One of Kukors' attorneys, Robert Allard, is also accusing USA Swimming of not acting on her allegations.
"Much like the (U.S. Olympic Committee) knew about Larry Nassar years before his arrest and did nothing, USA Swimming had notice in 2010 that Sean Hutchison was involved in an inappropriate coach-athlete relationship with Ariana and took no actions to protect her or other swimmers from this pedophile," he said in a statement, according to the Seattle Post-Intelligencer.
"If this organization had immediately reported what it knew to authorities, Hutchison likely would have been stopped, Ariana would have been spared years of abuse, and countless other young girls would have been protected from this sexual predator," he added.
But USA Swimming said Thursday that "Ariana Kukors' recent public statement marked the first time USA Swimming learned of the allegations that Sean Hutchison sexually abused Ariana when she was a minor."
"In 2010, USA Swimming became aware of a rumored relationship between Hutchison and then 21-year-old Ariana via a third-party," the organization said in a statement obtained by Fox News. "Based on the information, USA Swimming retained an independent private investigator and conducted a full investigation into the rumor and the possible Code of Conduct violation."
"During the USA Swimming investigation, both Ariana and Hutchison, as well as Ariana's sister, Emily, unequivocally denied the existence of a romantic or sexual relationship," it added.
"We stand by her, and all other victims, in their quest to break their silence and confront their horrific experiences."
The Associated Press contributed to this report.