Ex-UNC defensive lineman who died homeless had CTE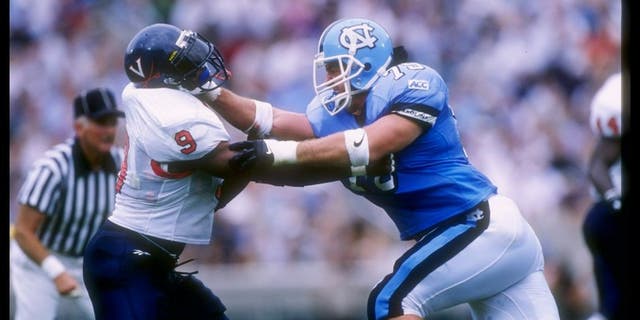 Former University of North Carolina football player Ryan Hoffman had evidence of chronic traumatic encephalopathy (CTE), the degenerative brain disease thought to be caused by repeated hits to the head, the New York Times reported.
The former UNC defensive lineman, who was unable to get his life on track after a promising college football career, died last November homeless and dependent on drugs and alcohol. He once told NYT reporter Juliet Macur, "Something is wrong with my brain."
On Friday, researchers at Boston University and the Concussion Legacy Foundation confirmed a brain analysis showed evidence of CTE, Hoffman's family confirmed to Macur.
For the Hoffmans, it was the answer to the mystery of Ryan Hoffman's continuing problems, which included jail time and joblessness -- troubles that defined his life after a successful college career on a team ranked in the top 10.
"I wanted to know exactly what happened to my brother, and I just knew football did it," his sister, Kira Soto, told me Monday in a phone call as she began to cry. "I've been looking into this for 15 years and defended him when people said it was just the drugs and judged him for something he couldn't help, something that he struggled with. Well, we know now. We know."
In a March 2015 profile of Hoffman, Macur wrote of a football standout who said he started noticing something wasn't right in his head in his last year at school.
Hoffman recalled having only one concussion, during his junior year, but couldn't remember the details. He said he might have had others, too, but never complained because he feared losing his starting position.
He never thought about the possible consequences. Yet by his final season, Hoffman said, he noticed that his mind had begun to warp, and that antisocial thoughts -- punching strangers, drinking and driving -- had begun to creep in.
The symptoms got worse after college, and Hoffman was unable to hold on to a job, and his marriage ended in divorce. Last year, Macur found him panhandling and plagued with short-term memory problems.
"It's my brain that keeps me from being a productive member of society. I'm physically very strong, but I'm mentally so weak. Something is wrong with me. I don't know what it is, but I used to be normal, you know?" Hoffman said at the time.
"I'm confident -- well, I'm pretty sure -- that football had something to do with it."
In November, Hoffman was hit head-on by a car after riding his bike onto oncoming traffic in Haines City, Fla. He died on the way to the hospital.