Ex-Seattle Mariners official accuses team's top brass of making racist comments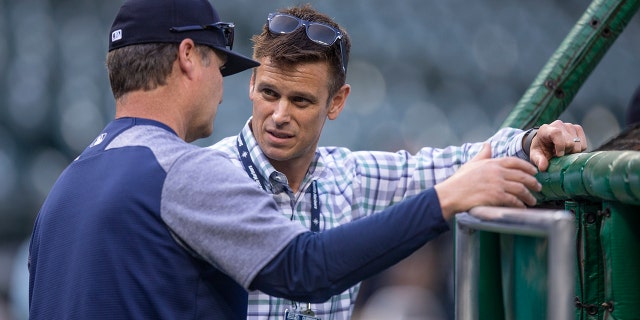 The former director of high performance for the Seattle Mariners on Monday accused top leaders of the organization of making racist comments about Dominican players.
Lorena Martin, who was reportedly fired last month, accused Mariners general manager Jerry Dipoto, manager Scott Servais and director of player development Andy McKay of lacking quality leadership and making the comments. Martin levied the accusations in an Instagram post.
"The Mariners organization has major issues. The things I've witnessed and heard first hand have left me shocked," Martin wrote in the social media post, according to the Seattle Times. "How can their GM Jerry Dipoto, manager Scott Servais and director of player development Andy McKay speak about their players like this. … Calling LATINOS LAZY, DUMB, and STUPID, especially the DOMINICANS."
She then ranted against Dipoto and questioned the Mariners leadership.
"And then they wondered why they didn't make it to the playoffs. Leadership is to blame, under Jerry Dipoto's leadership no team has made it to the playoffs and they will continue to miss the playoffs with him in his position. Poor leadership. It's come to the point where I have to speak out because they are firing innocent trainers for trying to do the right thing and because of their color/race," she wrote.
Martin continued to make accusations against the organization in an interview with the Tacoma News Tribune. She recalled a meeting she had in January with Dipoto about McKay taking over mental skills development and she insisted that mental skills training fell underneath her and not McKay.
"And [Dipoto] said, 'You know what you are? You're a cocky Latina," Martin told the News Tribune.
"I said, 'No, I'm a confident person who is competent at what I do and I've been trained to do that. And later Andy said, 'Well, you know, sometimes you're just plain stupid.' He loves to use that phrase - plain stupid,'" she said.
Martin also claimed she was discriminated against by Servais because of her gender. She said she wasn't allowed to attend a meeting with players in the clubhouse during spring training.
"He (Servais) said, 'No,'" Martin said. "I asked if he could tell me why and he said, 'Honestly, it's because you are a woman,'" she said.
The Mariners have denied the accusations, calling Martin's claims "outrageous."
"While it is our policy to not comment on personnel issues, we do feel it is important to respond to the outrageous, false claims made by her today on social media," the team said in a statement. "And to note that Martin did not make any of these false allegations until after she was relieved of her duties.
"The Mariners categorically deny that any member of our management or coaching staff made racist remarks regarding any of our players or staff. Additionally, we have not terminated (or threatened to terminate) any trainers during the offseason," the statement said.
Martin originally signed a three-year contract with the club and was highly praised upon entering the organization, according to the Seattle Times. She is pursuing a wrongful termination case against Seattle.