Ex-NFL players eye $765M settlement, even if they haven't signed on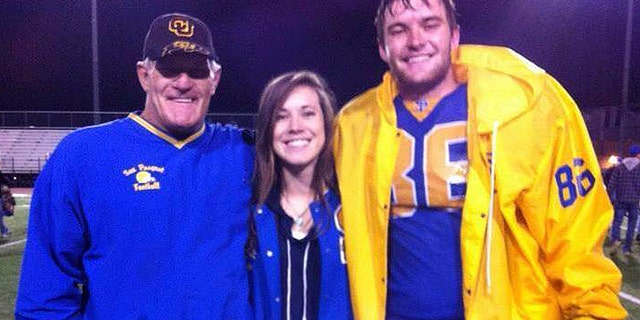 NEWYou can now listen to Fox News articles!
As a fearless, hard-hitting NFL linebacker, Steve Hendrickson won a Super Bowl ring in 1990, but these days the former San Francisco 49er whose addled brain suffered at least 12 concussions struggles to get by and hopes for a piece of the $765 million pie being offered to former pro football players.
Hendrickson, 47, now has trouble remembering what he had for dinner a day ago and often needs to use a calculator for basic math. The University of California graduate, once quick to find the precise word, now struggles with his vocabulary and has been unable to maintain steady employment since leaving the league in 1995.
"My short-term memory – I swear to God I wasn't somewhere on Monday and then I look back at my notes and see that I was," Hendrickson told FoxNews.com from Escondido, Calif. "I also have a hard time remembering what I had for dinner last night. My short-term memory is just terrible."
When a federal judge warned on Tuesday that the settlement agreed to by NFL team owners and some 4,800 former players may not be enough, she was likely thinking of men like Hendrickson. The divorced father of two is not currently part of the agreement, but if he agrees to be tested and can show he suffered cognitive damage from his career, he'll be due a check.
Henrickson – whose 18-year-old son also plays linebacker and has received interest from major college programs – said he now receives $50,000 annually from the league's pension plan, which is provided to any player with at least three seasons in the league. But Hendrickson said he remains classified as disabled from "non-football causes," making him ineligible for higher payments despite being diagnosed in 2007 with trauma-related brain damage. As a result, Hendrickson said he struggles to make ends meet.
"Especially if you went through a divorce, like most of us," he said. "The ex-wife gets half of that, so trying to live off of that and raise two kids is really difficult."
U.S. District Judge Anita B. Brody denied a motion on Tuesday intended to serve as a preliminary approval for the settlement, seeking more information from the parties. Brody noted that the class of approximately 20,000 could overwhelm the fund, even if only 10 percent of its members file claims against the $675 million set aside to pay claims, working out to $337,500 per player. The maximum payments in the settlement include $5 million for a younger retiree with Lou Gehrig's disease, $3 million for serious dementia, and $25,000 for an 80-year-old with early dementia, The Associated Press reports.
Attorneys for the former players, in a statement to FoxNews.com, said they're confident the settlement will be approved after Brody conducts "due diligence" on its fairness and adequacy.
"Analysis from economists, actuaries and medical experts will confirm that the programs established by the settlement will be sufficiently funded to meet their obligations for all eligible retired players," the statement read. " … We believe this is an extraordinary settlement for retired NFL players and their families, and have received overwhelming support as they have learned about its benefits. We look forward to finalizing this agreement so they can soon begin taking advantage of its benefits."
Hendrickson said he has "no idea" as to what to expect once the dust settles, but he did offer suggestions on how to make the game he still loves safer for those who play, including his son Kyle.
"I would've made sure that I had a better helmet," he said. "Helmets have come a long way in the last couple of years, and I probably wouldn't have led with my head so much. But back then, when you had your bell rung, you were told, 'No big deal, get back in there.' It wasn't until I started having blackouts that it started to concern me."
Those blackouts began in just Hendrickson's third year in the league, he said. Still, he has zero regrets about devoting his life to the game.
"It's a double-edged sword," he said. "I love the game, but there's so much risk involved, risk we all took. But now you knowingly take the risk. Before, we didn't know that the problems were going to be there down the road."
Despite that risk, Hendrickson said he's not overly frightened that his only son likely has a violent career ahead of him as well.
"It concerns me a lot, but like I said, they have a lot better equipment now and they're changing the rules a bit," he said. "You don't see as many concussions as you did before and they're aware of it now."
Kyle Hendrickson, who has drawn interest from major programs like Alabama, said his father's plight has not dampened his outlook on the game.
"I still want to play football," he told FoxNews.com. "I still love the sport; I'm an inside linebacker, just like my Dad."