Ex-Giant Umenyiora reacts to Brady decision with funny Instagram post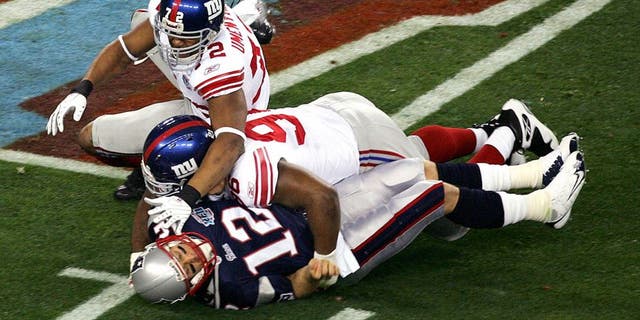 NEWYou can now listen to Fox News articles!
Everyone who surrounds themselves with the NFL news cycle on a daily basis have reacted differently to the court's ruling that Tom Brady's four-game suspension should be overturned. Former New York Giants defensive end Osi Umenyiora believes that the NFL may have simply hired the wrong team to take down Brady.
He suggested another crew instead, via his Instagram account:
Umenyiora is referring to the Giants' three-man combination at defense end during the 2007-2008 NFL season. The Giants met up with Brady in Super Bowl XLII, and at the time, the Patriots were 18-0 in the standings. Thanks to Umenyiora, Justin Tuck and Michael Strahan, the Giants held one of the most prolific offenses in NFL history to just 14 points. Umenyiora is joined by Tuck and Strahan in the photo.
(h/t @osi_umenyiora)