Ex-cheerleaders sue Houston Texans, alleging they were underpaid and body-shamed by NFL franchise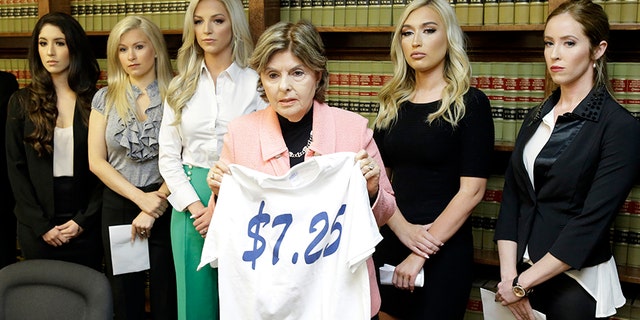 NEWYou can now listen to Fox News articles!
The Houston Texans have come under fire from five former cheerleaders who accused the NFL franchise of "a systemic pattern of disparity" that included a hostile work environment in which they were underpaid, harassed and body-shamed.
The five -- Ashley Rodriguez, Morgan Wiederhold, Kelly Neuner, Hannah Turnbow and Ainsley Parish -- filed a lawsuit in Houston federal court on Friday. The ex-cheerleaders claim they were paid less than the $7.25 per hour that they were promised, and that they were not compensated at all for public appearances or other tasks related to their job.
"I and my fellow cheerleaders were treated as the lowest of the low," Turnbow said at a news conference on Friday. "The Houston Texans were paid thousands of dollars to have us show up at appearances at locations all over Texas with no security, no transportation, and where our safety was not guaranteed."
"We were harassed, bullied and body shamed for $7.25 an hour," Parish added.
NFL TEAMS USE 'ALTERNATE CHEERLEADERS' TO MINGLE WITH MALE FANS ON GAME DAY, REPORT SAYS
The women said that they were subject to "intense scrutiny" and "cyberbullying" by the coach and staff. This, they claim, included being measured regularly and "inspected" after workouts, where they were closely criticized by the program's manager, Coach Altovise Gary, over cellulite and "jiggle."
The lawsuit also alleges that the women were threatened with termination for voicing any complaints. The suit said: "Today, these women say 'enough' is 'enough'. Today, these women come before this court to hold the Houston Texans and the NFL at large accountable."
Amy Palcic, a spokeswoman for the Texans, said that the team is constantly evaluating its program and making the changes that need to be made to make the cheerleading program "enjoyable for everyone."
"We are proud of the cheerleader program and have had hundreds of women participate and enjoy their experience while making a positive impact in the local community," Palcic said in a brief statement.
This is the second such lawsuit filed against the Texans.
FORMER HOUSTON TEXANS CHEERLEADERS FILE LAWSUIT ALLEGING HARASSMENT
Last month, three ex-cheerleaders also filed suit in Houston federal court, accusing the Texans of not paying them minimum wage or overtime, and accusing a cheerleading supervisor of body-shaming.
These lawsuits are part of a series of recent complaints that have been made by cheerleaders against NFL teams across the country.
The women in this latest case are seeking unspecified damages.
The Associated Press contributed to this report.