Ex-A&M QB says culture from Manziel era was 'big part' of why he left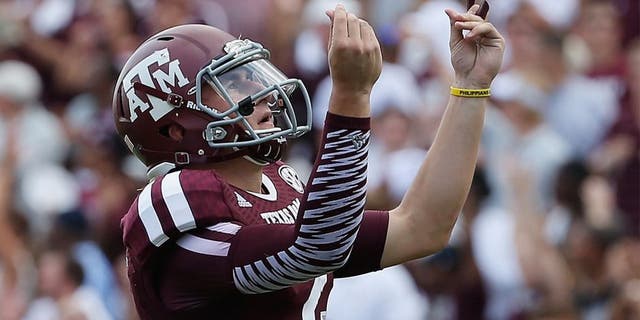 Kyle Allen was one of two former 5-star quarterbacks to leave Texas A&M in December, and he says the culture in College Station stemming from when Johnny Manziel was QB is a "big part" of why he bolted.
In an interview published by CBS Sports Tuesday, Allen shed light on why he decided he needed a change of scenery:
"I think the culture was a big part of it, and I think that stems from Johnny's era there -- the way that they let Johnny and [others] act there," said Allen, the No. 1-rated pro-style quarterback in the 247Sports Composite for 2014. "They [could] do that and still win games because they had Johnny … and five offensive linemen playing in the NFL right now."
Allen added: "A lot of people were riding off that, 'I can do whatever the hell I want and win on Saturday.'"
Allen played the past two seasons under head coach Kevin Sumlin, throwing 33 touchdowns and 14 interceptions while running for three more scores. As a sophomore in 2015, he split time with true freshman Kyler Murray. Murray, the other aforementioned 5-star recruit, transferred to Oklahoma where he will sit out 2016 as well.
Allen eventually settled on Houston for his new school and told FOX Sports' Bruce Feldman that the Cougars' Peach Bowl win over Florida State was "icing on the cake" in his decision.
Manziel led Texas A&M to 20 wins in two seasons and became the first freshman to win the Heisman Trophy in 2012, but he also made headlines off the field, whether it was for his partying or being investigated for allegedly getting paid for autographs. The NCAA and Texas A&M said there was no evidence the latter happened, but Manziel was suspended for one half for an "inadvertent" violation of NCAA rules.
Once the Aggies lost talented players like Manziel, Allen said the Aggies needed to work as one to win consistently, but he claimed that didn't happen.
"When you don't have players like Johnny and [others] there anymore, you have to really come together as a team and scrap for wins," Allen said.
"We had a lot of people who were talking about the same goal but weren't all committed and on the same page to get to that goal," Allen said.
...
"Everyone wasn't in a straight line. Everyone was going this way, this way, this way. We had a ton of talent there. I think that, once you get all the right coaches there and get the vision right, you can do a lot of things."