Everything you need to know about the Can-Am 500 at Phoenix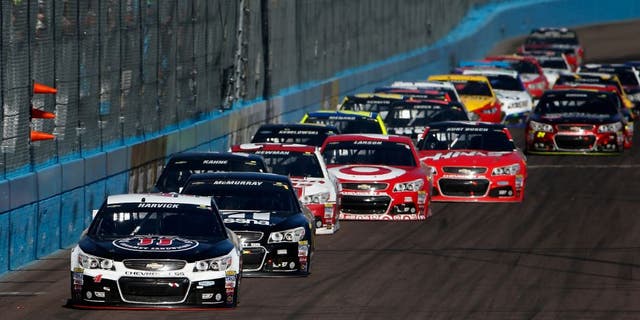 The NASCAR season has wound down to the penultimate race at Phoenix International Raceway where the Championship 4 will be decided in Sunday's Can-Am 500.
Jimmie Johnson and Carl Edwards already have their spots locked up in the season finale at Homestead-Miami Speedway and two drivers will join them at the conclusion of the race at the low-banked desert track.
Joey Logano, Kyle Busch, Matt Kenseth, and Denny Hamlin are all separated by two points in the Round of 8, with Stewart-Haas Racing teammates Kevin Harvick and Kurt Busch, 16 and 18 points behind the cutoff, respectively.
Harvick has won five of the last six races at PIR and has a total of eight victories at the track.
Here's everything you need to know for Sunday's Can-Am 500, the ninth of 10 races in NASCAR's Chase for the Sprint Cup.
Green flag: 2:45 p.m. ET
Tune-in:
12:30 p.m. ET: "NASCAR RaceDay" (FS1)
2:30 p.m. ET: Sprint Cup Series Can-Am 500
11:30 p.m. ET: "NASCAR Victory Lane" (FS1)
Race distance: 312 miles / 500 kilometers
Track size: 1.022 miles
Grid size: 40 cars
Forecast: Mostly sunny, 84 degrees, zero percent chance of rain
Grand Marshal: Vinny Paz, boxer
National Anthem: SFC Dana J. Fischl, US Army Military Intelligence Corps Band, Fort Huachuca
Flyover: 2 F-16's and F-35's, Luke Air Force Base
Command to start engines: Vinny Paz, boxer
Defending race winner: Dale Earnhardt, Jr.
Front row: Alex Bowman and Kyle Larson
Starting lineup: