Everything you need to know about Sunday's Chase elimination race at Dover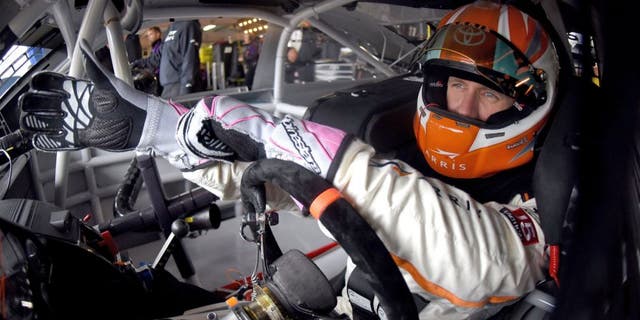 NEWYou can now listen to Fox News articles!
The final race of the Challenger Round of the Chase for the Sprint Cup is here and at the end of the day four drivers' title hopes will have come to an end.
The weekend has not been kind to teams at Dover International Speedway, as wet weather put a damper on most on-track activity. Qualifying was rained out Friday afternoon, setting the field according to points. Teams were able to get on track Saturday for two practice sessions, but they totaled roughly 40 minutes combined.
There are plenty of unknowns heading into Sunday's AAA 400, but here is everything you need to know:
Tune-in:
11:30 a.m. ET: "NASCAR RaceDay" on FS1
11:30 p.m. ET: "FOX Sports Live" on FS1
12:30 a.m. ET: "NASCAR Victory Lane" on FS1
Green flag:
2:45 p.m. ET
Forecast:
Rain has dominated the conversation much of the weekend at Dover, and it could be a factor Sunday as well. According to weather.com, the forecast for Sunday is cloudy with gusty winds and a high of 63 degrees. There is a slight chance of a rain shower with winds to the Northeast at 20 to 30 miles per hour. There is a 20 percent chance of precipitation.
Grand marshal:
Academy Award-nominee actress Rosie Perez
Honorary starter:
AAA Mid-Atlantic Executive VP, Diane Remy
National anthem:
Sam Harris, lead singer of X Ambassadors
Defending race winner:
Jeff Gordon. Full recap here.
May 2015 winner:
Jimmie Johnson. Full recap here.
Fastest in Practice 1:
Kasey Kahne. Full recap here.
Fastest in Final Practice:
Kevin Harvick. Full recap here.
Chase standings:
1. Matt Kenseth: Locked into Contender Round
2. Denny Hamlin: Locked into Contender Round
3. Carl Edwards: +33
4. Joey Logano: +33
5. Jimmie Johnson: +27
6. Ryan Newman: +18
7. Kurt Busch: +17
8. Brad Keselowski: +16
9. Martin Truex Jr.: +15
10. Jeff Gordon: +12
11. Jamie McMurray: +2
12. Dale Earnhardt Jr.: +1
13. Kyle Busch: -1
14. Paul Menard: -1
15. Kevin Harvick: -23
16. Clint Bowyer: -39
Front row:
Matt Kenseth and Denny Hamlin
Starting lineup: