Everything you need to know about Saturday night's race at Charlotte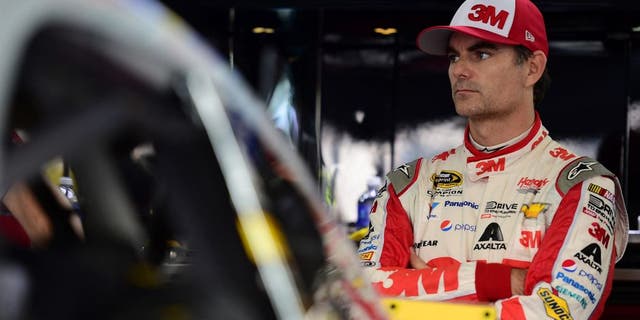 NEWYou can now listen to Fox News articles!
The first race of the Contender Round of the Chase for the Sprint Cup kicks off Saturday night at Charlotte Motor Speedway. The 12 remaining Chase drivers will be searching for an all-important win, which will automatically qualify them for the Eliminator Round consisting of eight drivers.

Teams practiced primarily through the daylight hours, with the race taking place in the evening hours Saturday night. Rain is in the Charlotte area Saturday, cleaning the racing surface of any rubber build-up and giving drivers a green racetrack for Saturday night's race.
Five-time Charlotte winner Jeff Gordon will be making his final start at the 1.5-mile track, the track where he earned his first Sprint Cup Series win in the 1994 Coca-Cola 600. Gordon has yet to win a race this season and knows it would be something special if he can go to Victory Lane at the end of the night.
"If we walk out of here Saturday night with a win, that would be extremely emotional," he said.
With that, here is everything you need to know about Saturday's Bank of America 500:
Green flag:
7:21 p.m. ET
Tune-in:
4 p.m. ET: "NASCAR RaceDay" (FS2)
7 p.m. ET: Sprint Cup Series Bank of America 500
11:30 p.m. ET: "FOX Sports Live" (FS1)
12:30 a.m. ET: "NASCAR Victory Lane" (FS1)
Forecast:
According to weather.com, Saturday night will be cloudy with periods of rains early. The low will be 52 degrees with winds from the NNE at five to 10 mph. There is a 70 percent chance of rain. Sunset is scheduled for 6:56 p.m. ET.
Color guard:
Charlotte Fire Department Honor Guard
Invocation:
Jim Daly, president and CEO of Focus on the Family
God Bless America:
Danielle Johnson
National anthem:
Natalie Weiss, Brodway and Youtube sensation
Flyover:
Team Bandit
Honorary starter:
Rick Groesbeck
Grand marshal:
Kyle White
Defending race winner:
Kevin Harvick. Full recap here.
2015 Coca-Cola 600 winner:
Carl Edwards. Full recap here.
Fastest in Practice 1:
Kevin Harvick. Full recap here.
Fastest in Practice 2:
Kurt Busch. Full recap here.
Fastest in Final Practice:
Kyle Busch. Full recap here.
Chase standings:
1. Matt Kenseth: 3,000
2. Joey Logano: 3,000
3. Denny Hamlin: 3,000
4. Carl Edwards: 3,000
5. Martin Truex Jr.: 3,000
6. Kurt Busch: 3,000
7. Jeff Gordon: 3,000
8. Brad Keselowski: 3,000
9. Kyle Busch: 3,000
10. Ryan Newman: 3,000
11. Dale Earnhardt Jr. 3,000
12. Kevin Harvick: 3,000
Front row:
Matt Kenseth and Kyle Busch. Full qualifying recap here.
Starting lineup: