Even with loss, Gators show they are for real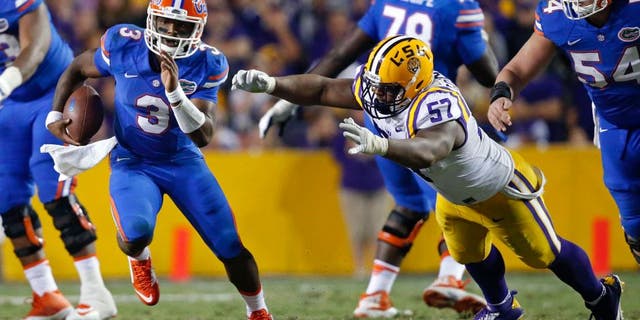 NEWYou can now listen to Fox News articles!
BATON ROUGE, La. -- It became official late Saturday night here in a place they call Death Valley.
The Gators' perfect record died.
An incomplete pass on the game's final play flat-lined that unimaginable thought -- Florida undefeated after midseason -- a few short weeks ago. So, the Gators won't run the table in their first year under head coach Jim McElwain. They won't be able to say they won a game at LSU for the first time since Tim Tebow was UF's quarterback.
But guess what? They can say they are definitely for real after a 35-28 loss at LSU in front of more than 102,000 screaming souls.
"It's not like we were playing Joe's Smoke Shop," McElwain said.
Beyond their status as one the SEC's best teams in 2015, the Gators can say they are the most entertaining Florida team since Tebow's final season six years ago. And most importantly, they can say they can win whether Will Grier is the quarterback or Treon Harris.
The No. 8-ranked Gators entered the week as an underdog to the No. 6 Tigers, who usually chew up and spit out opponents in night games at Tiger Stadium.
When news broke Monday that Grier was suspended for a year for testing positive for a performance-enhancing substance banned by the NCAA, a cloud of doom and gloom seemed to hover over arguably the country's most surprising team this season.
Outsiders said they had no chance to knock off LSU. Many predicted a possible blowout. The Gators regrouped, went to work with Harris back as the starting quarterback, and nearly pulled off an improbable win after LSU scored 28 points in the second quarter.
"There could have been a lot of reasons for everybody to say, 'Oh, these guys will fall apart.' We didn't," McElwain said. "And I didn't expect we would."
Instead of falling apart, the Gators battled until the end.
They overcame a 14-point halftime deficit with two scores in the third quarter, the last a 72-yard punt return for a touchdown by freshman Antonio Callaway that quieted the sellout crowd.
In the end, a trick play did the Gators in.
"We knew we were going to get something," Florida safety Marcus Maye said. "We just didn't know when it was going to come."
On fourth-and-13 from Florida's 16-yard line, LSU head coach Les Miles sent his field-goal unit onto the field. Holder Brad Kragthorpe took the snap, but instead of placing the ball on the ground for kicker Trent Domingue to swing at with his right foot, Kragthorpe tossed an overhand lateral to Domingue.
Domingue bobbled the toss, hauled it in and outraced Vernon Hargreaves III to the end zone for the decisive score with 10:40 left in the game.
Death Valley shook.
"I felt like Tiger Stadium tonight was the finest stadium I have ever been in my life," Miles said. "It was a great, rocking place."
The Gators had their chances after the Mad Hatter pulled another trick from his bag, driving to LSU's 23-yard line when Harris connected with Demarcus Robinson for a 38-yard gain on their ensuing possession.
Three plays later, for a brief moment, it appeared the Gators had answered when Callaway jumped high in the end zone to catch a pass from Harris. Callaway caught the ball but before he could land to the turf, LSU defensive back Dwayne Thomas swatted the ball from his grip.
The Gators punted and on their final two possessions, Harris completed only two of 10 passes, his final throw landing out of bounds on the game's final play.
In his first start since the season opener against New Mexico State, Harris finished 17 of 32 for a career-high 271 yards and two touchdowns. He did not throw an interception as the Gators turned in a turnover-free performance.
"I thought Treon played his tail off," McElwain said.
As Grier distanced himself as the clear-cut starter over the past five games, Harris seemed destined to ride out the season on the bench other than for situational snaps.
But on Saturday, while not always pretty, he played well enough to give the Gators a chance to win in one of the most hostile environments in college football. LSU improved to 47-4 in night games at Tiger Stadium under Miles.
"We just kept fighting and kept believing," junior running back Kelvin Taylor said. "I feel like Treon played great. He managed the game. He read the coverage and he was also a leader out the field and took care of the ball. We believe in Treon."
Despite their first loss of the season, the Gators still own a one-game lead in the SEC East over Georgia, a 9-6 winner against Missouri on Saturday. The Gators (6-1, 4-1) and Bulldogs (5-2, 3-2) meet in Jacksonville in two weeks in their annual clash.
All things considered, the Gators are in a position they would have taken gladly prior to the season.
Still, there's more proof than conference standings that Florida football is back faster than anyone had a right to expect.
Saturday's loss at LSU shined a spotlight in the dark corners of doubt about this team and the Gators responded.
They are more fun to watch. They are more resilient. And they are more confident by a ton.
"Everybody thinks we can win every game we're in," said tight end Jake McGee, who caught both of Harris' touchdown passes. "That guy's been in a lot of big situations."
So has McElwain. Four years and two national championships as Alabama's offensive coordinator taught him all he needs to know about what an SEC contender looks like.
As the Gators walked off the field Saturday, McElwain greeted them one-by-one with a word of encouragement.
The Gators lost. But they look nothing like the consistent losers of the last two seasons when they lost more games (13) than they won (11).
Still, McElwain wasn't handing out participation ribbons as the dejected players walked to the locker room.
"We're better than that. And our guys know it," he said. "I'm not mad at them. They played hard. The reason you do this is to go win. We're disappointed. We expected to come in and win. That's who we are.
"I expect us to win on Monday. I expect us to win next week in practice. I expect us to win when we take next Saturday off and get better during a bye. I expect us to come back on Sunday at family dinner and win the family dinner."
The players appear to have received that message. Seven games into McElwain's tenure, the attitude adjustment is in full bloom.
No Grier, no problem. There is only one direction to move, and that's forward.
"We're in great shape," said Taylor. "It's a tough spill to swallow tonight, but we'll be ready tomorrow."
Time to win that family dinner.
"If you are going to cry over spilled milk all day long then you're not going to be worth a heck doing anything," added McElwain. "This Gator football team is a good football team. Don't forget."