Even with East's best record, reigning NBA champion Heat searching for rebounds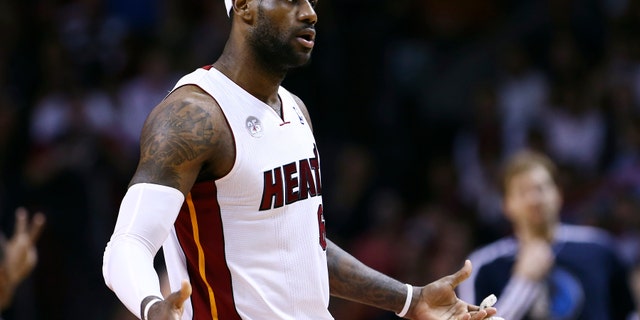 NEWYou can now listen to Fox News articles!
MIAMI – Most wins in the Eastern Conference, fewest rebounds in the NBA.
It might not sound like a winning formula, but it's working for Miami.
The Heat (22-8) are on pace for the second-worst rebounding season in franchise history, better than only the 2007-08 campaign where Miami won just 15 games in what was Pat Riley's final season on the sideline as coach. And even though it was Riley who once said "no rebounds, no rings," the Heat are clearly not the type of team that will dominate on the backboards.
Only reigning MVP LeBron James is currently ranked among the NBA's top 30 rebounders in terms of average per game, and the Heat have a lineup that's outsized in nearly every game — sometimes by a significant amount.
"Rebounding is not something that you work on," James said. "It's a knack."
Countered Heat coach Erik Spoelstra: "It's interesting how sometimes we have the knack."
What they're doing is simply defying logic on some nights. The Heat have been outrebounded by margins this season of 15, 17, 19 and 29 — and somehow, they went 4-0 in those games.
Rebounds, schmebounds? Not exactly.
Miami, which plays host to Chicago on Friday night, has been searching for answers pretty much all season.
"It's something that has been a concern for some time now," said Heat center Chris Bosh, who isn't exactly a post-up-every-play big man. "Guys are getting second-chance points on us. Teams are bigger than we are and a lot of time we're rotating, bringing our bigs away from the basket and teams are taking advantage of that, plain and simple. We need to figure out a way to fix it."
Case in point: Wednesday's win over Dallas.
Over the first 10:52 of that game, the Heat were getting outrebounded by 11 and outscored by 12 — against a Mavericks team that had trailed Miami by as many as 36 points two weeks earlier.
The game changed when Miami starting closing that rebounding gap
In the final 42 minutes of play, Miami outrebounded the Mavericks by 10 boards and outscored them by 22 points, eventually pulling off a 119-109 win in overtime. Shooting guard Ray Allen had five rebounds in the fourth quarter alone, something James pointed to as a key part of Miami's win.
With good reason: The last time Allen had more than five rebounds in a quarter was April 2005.
"If we win the rebounding by two, we'll be in much, much, much better shape," Bosh said. "I don't think that's a secret."
Of course, sometimes the Heat can get outrebounded more than 2-to-1 and still be just fine.
Minnesota outrebounded Miami 53-24 in a Heat victory, Denver outrebounded the Heat by big margins twice and earlier this week Orlando held a 50-33 edge over the reigning champions.
Still, the Heat averaged 110.5 points in those contests.
"We don't have a dominant rebounder," James said. "Collectively we've got to try to help rebound with one another, but right now we don't have the size and the athleticism to go up there and dominate a rebounding game. We're trying to collectively do it together, when teams get offensive rebounds try not to give them second-chance points — we're getting killed in that, too. It puts a lot of pressure on our offense."
There were things the Heat did last season that weren't exactly typical, of course.
That list includes the "positionless" lineup where a true power forward like Bosh or an undersized power forward like Udonis Haslem would find themselves playing center, or point guard Mario Chalmers would handle the ball far less than James — who's probably closest to a small forward but typically plays power forward and defends everyone from guards to centers.
All the uniqueness paid off for Miami last year, with the franchise's second NBA title.
But even the Heat don't want to consider the odds of being able of successfully defending that title if the rebounding woes continue.
"I don't want to say we're not good at it," Haslem said. "That's a part of this team and as a captain it's hard for me to say that it's something we're not good at or something we're not exceptional at. I think we can be exceptional in all areas. We just have to continue to make the effort. We have guys who can rebound the ball. Who knows why it's not happening the way we want it to."