Evaluating Young Non-Superstars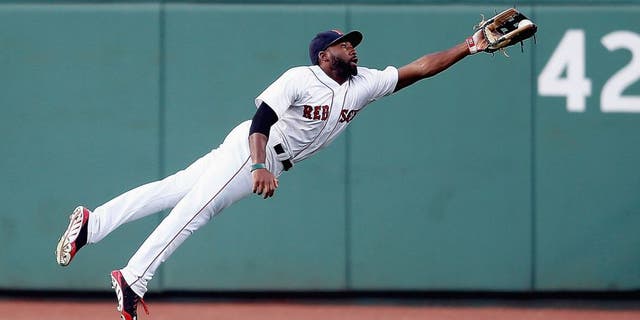 NEWYou can now listen to Fox News articles!
It's been called "the year of the rookie," as current and future studs such as Carlos Correa, Kris Bryant, Byron Buxton, Noah Syndergaard, and Corey Seager have made their big league debuts in 2015. There are however a number of less high-profile young players currently settling into regular playing time as their teams take a look towards 2016. Let's take a look at some of them.
Darnell Sweeney, 2B/OF, PHI
As a Dodgers fan, I've followed Sweeney's career pretty closely and will continue to do so post-trade. With the Dodgers having a full infield and Jose Peraza close to a regular starting gig, Sweeney was expendable and it's good to see him land in a place where he should have a far clearer path to playing time. He actually took a step back this year:
2014 (Double-A): .288/.387/.463, 14 HR, 15 SB
2015 (Triple-A): .271/.332/.409, 9 HR, 32 SB
Sweeney swiped 48 bases in 2013, so the improvement in that category over 2014 was encouraging, but discouragingly his BB-rate dropped from 13.1 percent to 8.0 percent. He absolutely needs to get that number over 10 percent to stick as a regular player as his power is projected to be below average, particularly if he winds up in the outfield. He's off to a nice start with the Phillies (5-for-19, 2 HR) and he's reportedly in line for increased playing time going forward. I think he'll wind up as a regular somewhere for the Phillies next year.
2016 projection: 135 games, 530 at-bats, .270/.335/.400, 7 HR, 25 SB
Domingo Santana, OF, MIL
Santana's most recent MLB stint is sure going better than his first one last year (0-for-17, 14 K's), as he is batting .217/.299/.478 this time around, including five home runs in 69 at-bats. That said, his 28:4 K:BB equates to a 5.2 percent BB-rate and a 36.4 percent K-rate, the latter of which in particular is not encouraging. Santana has homered once per 23.7 minor league at-bats, so the power is real and could continue to grow considering he's six-foot-five and still just 22 years of age. Since 2012, his strikeout rate has hovered in the 28-29 percent range each year in the minors, so he's probably not ready. Santana has talent and tools, but he likely needs additional seasoning. If you need home runs in deeper formats this month, he could be your guy, but you'll take a BA hit.
2016 projection: 40 games, 170 at-bats, .230/.300/.440, 7 HR, 4 SB
Jackie Bradley Jr., OF, BOS
It was his Gold Glove-caliber defense that allowed Bradley to net 423 PA for the Red Sox last year while batting a paltry .198/.265/.266. He posted a BB-rate of 7.3 percent while striking out in 28.5 percent of his PA, numbers that have improved to 10.7 percent and 27.1 percent respectively this year in 140 major league PA. The strikeout rate is of course far from ideal, but considering he posted a 13.8 percent mark in Triple-A this year, he could just need a little more adjustment time before he starts making better contact and improving his OBP. The results in August were certainly improved, as Bradley batted .354/.429/.734 with five home runs, a 12.1 percent BB-rate and a 26.4 percent K-rate. Still too many strikeouts, but certainly an improvement. He also boasts some interesting reverse platoon splits (he hits left-handed):
vs. LHP: 38 at-bats, .421/.500/.737
vs. RHP: 78 at-bats, .179/.267/.436
Much of that is likely sample-size driven, but it's encouraging to see that he's proven so far to be more than competent against southpaws, lessening the need for any sort of platoon. He's going to continue to be part of a dynamic young outfield with Mookie Betts and Rusney Castillo, but I'd like to see the strikeouts continue to come down and of course his .378 BABIP won't be sustainable. I see him as a solid, perhaps slightly below-average offensive player in his prime, but with a great glove.
2016 projections: 150 games, 610 at-bats, .270/.345/.430, 12 HR, 10 SB
Kaleb Cowart, 3B, LAA
The most recent product of a fairly barren Angels minor league system, Cowart has a little four-game hitting streak, but he's still sitting at .205/.295/.333 in 39 at-bats with the Angels. With David Freese fresh off the DL, Cowart is probably going to see his playing time cut drastically this month, at least until the Angels feel it's time to turn the page on 2015. He has gone a long way in reviving his dormant prospect status this year, batting .323/.395/.491 for Triple-A Salt Lake City, though six home runs in 220 PCL at-bats is a pretty low number. He still strikes out too much, but Cowart has improved his walk rate over last year and he's still just 23, but 12-15 HR from your third baseman on a contending team just isn't going to cut it. He'll probably open 2016 back in Triple-A, be traded to a 3B-needy team, or make the Angels as a utility player.
2016 projections: 60 games, 230 at-bats, .220/.280/.380, 6 HR
Alex Guerrero, UT, LAD
Was anyone else other than me patting themselves on the back in April after drafting Guerrero? Hitting .370/.407/.815 in 54 at-bats back on May 13, Guerrero appeared poised to grab more playing time, but after hitting his ninth HR on May 27, Guerrero has gone deep just once since while batting .167 in 36 at-bats since the All-Star break. He's owed a reasonable $10 million from 2016-2017 with some unusual contract provisions that provide for an opt-out in the event of a trade or a demotion to the minors, but those things can be negotiated away. Guerrero will most certainly be part of another organization next year, but what can we expect from the Cuban enigma should he be given regular playing time? Defensively, he probably belongs as a LF or DH, so look for a team like the A's to take a long look at trading for him. Guerrero is a .333/.373/.621 hitter in 77 minor league games, including 17 home runs. He's a hacker, but he also struck out in just 17.1 percent of his Triple-A PA last year. Given regular playing time, I think he can be a successful, if somewhat flawed, hitter. Look for him to get a fresh start in 2016.
2016 projections: 120 games, 475 at-bats, .280/.310/.470, 20 HR
Taylor Jungmann, SP, MIL
Anyone else have the "Y.M.C.A." song pop in their head when hearing this guy's name? [Ed. note: Jungmann, there's no need to feel down... great, now it's stuck in my head too. Thanks, Regan] Anyway, Jungmann was a former first-round pick out of college (Texas) back in 2011, and though his ascent to a regular rotation spot has taken a bit longer than expected, he's here now and doing well at the age of 25. In 15 big league starts, he has a 2.48 ERA, 1.17 WHIP, 8.2 K/9, and 3.2 BB/9. His control can be a bit inconsistent at times, but it's been better in the big leagues than in Triple-A and his 1.9 GB/FB rate has allowed Jungmann to surrender just three home runs on the season. With a FIP of 3.06, he isn't pitching too far over his head right now, though I'd expect the ERA to trend up a bit as the season winds down. What he's shown this year should lock Jungmann into a 2016 rotation spot, where I'd expect results in line with a solid No. 4 level starter.
2016 projections: 30 starts, 180 innings, 4.15 ERA, 140:55 K:BB
Justin Nicolino, SP, MIA
With a career minor league K/9 of 6.3 to go with an excellent 2.81 ERA in over 600 innings, we didn't expect Nicolino to come in and start blowing away MLB hitters, and that expectation has held true. He's notched an excellent 3.07 ERA in seven starts, but with a 15:13 K:BB in 44 innings that equates to a 3.1 K/9, making us wonder how long he can maintain a sub-4.00 ERA, much less push it under 3.00. Nicolino has now notched four consecutive quality starts despite a fastball that averages just 88.8 mph, but then again, guys like Mark Buehrle, Dan Haren, and Bartolo Colon don't even throw that hard and they've had success. Of course they also have thousands of big league innings between them, but with experience, Nicolino can have a long career. I'd expect some bumps along the way, but he should be locked into a 2016 rotation spot.
2016 projections: 29 starts, 170 innings, 4.25 ERA, 90:50 K:BB
Henry Owens, SP, BOS
Owens got off to a brutal start in Triple-A this year, as his command appeared to want to take more time off than the rest of him. Through the end of May, he had a 5.8 BB/9 and saw his stock as one of baseball's top pitching prospects start to disintegrate. He recovered somewhat in June, but in July, Owens posted a 2.84 ERA and 34:8 K:BB in 31.2 innings, ultimately getting the call to Boston. He's been extremely inconsistent with the big league club, posting a 2.35 ERA in four of his six starts, but a 16.43 ERA in the other two. His 29:13 K:BB in 30.2 innings isn't awful, but it could certainly use improvement. I've only seen him a couple times, but I did come away impressed. He's not a hard thrower (upper-80s/low-90s), but I saw an advanced changeup and pretty good breaking stuff. I'm not seeing a top-of-the-rotation guy here, but if Owens were Boston's third or fourth best starter in 2016, I'd nod my head.
2016 projections: 29 starts, 170 innings, 4.15 ERA, 140:70 K:BB
Jake Lamb, 3B, ARI
Lamb took a big step forward in his development a year ago, batting .327/.407/.566 mostly at the Double-A level with a late-season stint in Triple-A Reno. He posted an 11.4 percent BB-rate and reasonable 22.6 percent K-rate, but the results have yet to translate at the big league level for the 24 year-old. A foot injury has limited him to 82 games with Arizona this year, where he's batting .270/.329/.399 with five homers, a 7.9 percent BB-rate and 24.7 percent K-rate. The lefty-swinging Lamb has also been limited to 32 at-bats versus southpaws, against whom he's batting just .219, but last year in Double-A he was actually better versus LHP than RHP (.340/.414/.557), leaving the very real possibility he won't need to be platooned at the big league level. I'm not yet convinced he's their guy at third in 2016 though. The Yasmany Tomas as a 3B experiment may be over but Brandon Drury was just recalled from Triple-A Reno, where he had hit .331/.384/.458 in 63 games. Drury somehow managed to hit just two HR in extremely hitter-friendly parks of the PCL, so perhaps he's not a huge threat to Lamb's 2016 job security. Either way, I've yet to be convinced that the Diamondbacks' 3B of the future is currently in the organization.
2016 projections: 104 games, 415 at-bats, .260/.330/.425, 9 HR
Regan is a five-time Fantasy Sports Writers Association award winner. Follow @vtadave on Twitter.
Get a FREE RotoWire 10-day trial (no credit card required) at RotoWire.com