ESPN commentator apologizes for calling RGIII 'cornball brother'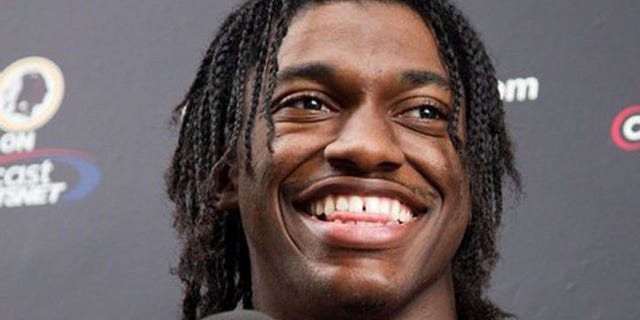 NEWYou can now listen to Fox News articles!
The ESPN analyst who called Washington Redskins quarterback Robert Griffin III a "cornball brother" has apologized — a full week after his comments drew widespread condemnation.
Rob Parker, a veteran newspaper columnist who appears regularly on several ESPN television and radio shows, played the race card on ESPN's First Take on Dec. 13, claiming that Griffin was "not really down with the cause" due to reports that he has a white fiancée and possible Republican leanings.
"I blew it and I'm sincerely sorry," Parker wrote six days after the controversy. "I completely understand how the issue of race in sports is a sensitive one and needs to be handled with great care. This past Thursday I failed to do that. I believe the intended topic is a worthy one."
In his statement, Parker, who has been suspended by ESPN, also praised the rookie quarterback as among the "best and brightest" in all of sports.
"Perhaps most importantly, the attention my words have brought to one of the best and brightest stars in all of sports is an unintended and troubling result," Parker wrote. "Robert Griffin III is a talented athlete who not only can do great things on the field, but off the field handles himself in a way we are all taught — with dignity, respect and pride."
Parker has contacted Griffin's agent in hopes of apologizing directly to the former Heisman Trophy winner who has since captured Washington Redskins (8-6) fans along Capitol Hill with his quick feet, rocket arm and sound decision-making.
"As I reflect on this and move forward, I will take the time to consider how I can continue to tackle difficult, important topics in a much more thoughtful manner," Parker's statement concluded.
ESPN spokesman Mike Soltys told FoxNews.com last week that Parker's comments were "inappropriate" and that the network was conducting a full review. On Thursday, ESPN officials announced that Parker would be suspended from the network for 30 days.
"ESPN has decided to suspend Rob Parker for 30 days for his comments made on last Thursday's episode of First Take," a statement read. "Our review of the preparation for the show and the re-air has established that mistakes both in judgment and communication were made. As a direct result, clearly inappropriate content was aired and then re-aired without editing. Both were errors on our part."
The network will continue to discuss topics like race on First Take, as it remains an "integral part" of sports, the statement continued.
"Is he a brother, or is he a cornball brother?" Parker wondered last week. "He's not real. Okay, he's black, he kind of does the thing, but he's not really down with the cause. He's not one of us. He's kind of black, but he's not really, like, the you want to hang out with because he's off to something else.
"We all know he has a white fiancée. There was all this talk about how he's a Republican … Tiger Woods was like, 'I've got black skin but don't call me black.'"
Following Parker's comments, Griffin's father told USA Today that the scribe needed to define what "one of us" meant.
"That guy needs to define that," Griffin II said. "I wouldn't say it's racism. I would just say some people put things out there about people so they can stir things up. Robert is in really good shape on who he is, where he needs to get to in order to seek the goals he has in life ... so I don't take offense."
Griffin, for his part, refused to be drawn into the melee, instead thanking his fans on Twitter.
"I'm thankful for a lot of things in life and one of those things is your support," Griffin III wrote to more than 575,000 followers. "Thank you."
Parker's comments led to a firestorm of online criticism, with most postings calling for the outspoken analyst to be fired.
"Rob Parker may have had worst commentary I have ever heard concerning Robert Griffin III," read a Twitter post by former NFL coach Tony Dungy. "Not sure how ESPN can defend it!"