Erik Jones puts RIR fiasco in rear view, looks for solid 'Dega finish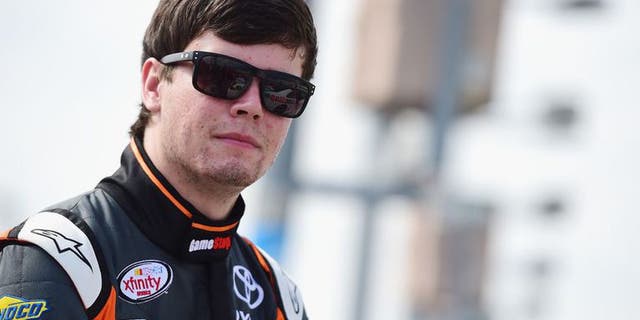 Erik Jones may be a rookie in the Monster Energy NASCAR Cup Series, but he already knows what it feels like to get up in the kind of wreck that can end your day in a hurry.
Unfortunately for him, he knows because of what happened to him on the very first lap of last Sundays race at Richmond International Raceway.
The No. 5 Hendrick Motorsports Chevrolet of Kasey Kahne made contact with the No. 77 Furniture Row Racing Toyota of Jones on the opening lap at the short track, leading to a cut tire that sent Jones car into the wall two laps later and ended his day.
Now Jones has to brace himself for this Sundays GEICO 500 at Talladega Superspeedway, where he also knows absolutely anything can happen at any time. The key to preparing himself for it, he said Friday in the media center at Dega, is to have a very short memory and forget about last week.
A guy told me a long time ago that I don't remember where I was -- but I was really frustrated about a race and was kind of beating myself up. And he said, If you're going to be a race-car driver for a long time you're going to have to have a short memory, Jones said. I've always tried to remember that, as much as it kind of eats at you and burns away.
Jones said he has no hard feelings toward Kahne, who talked to him immediately following the Richmond race, took the blame for the Lap 1 incident, and apologized.
It's not a situation that's comfortable for either driver, Jones said. You don't want to really have to have that discussion, but it was nice and very forward of Kasey to do that. It's just unfortunate. He said that he made a mistake, and it's going to happen. It's racing.
But it's just frustrating it was Lap 1. It's still kind of frustrating to think about that. You know, it's a 400lap race. We've got plenty of time, and just to get taken out on Lap 1 is really the most frustrating thing you can have in a race. It's kind of the first time I've had that, especially at this level, and it's just bummer. You've just kind of got to move on at this point."
Jones has now crashed out of two of the first nine races in his first full-time Cup season, finishing 39th in the season-opening Daytona 500 and then 38th at Richmond last Sunday.
So hes hoping for a good finish at Talladega to keep him in the top 16 in points. He enters the race in 16th, realizing all too well that if he doesnt win a race this season to qualify for the NASCAR playoffs, hell likely have to be 16th or better in the standings to make it in.
You've just got to focus on the positives and know that we've had a fast race car pretty much every week that we've come to the track, Jones said. We just need to go out and just keep doing what we're doing and the finishes will eventually start to come with that."
Spoken like a veteran, not a rookie. But then again, Jones does not appear to be your average rookie.
Talladega is a tough place to it around. It doesn't take a veteran driver to recognize that.
You always want to have a good rebound after a bad weekend, especially like we had at Richmond, Jones said. I thought we had a good car and a good shot to go right up front once the race started. Unfortunately we didn't get the opportunity to even try, so it's not the way we wanted it to go.
But coming back to Talladega, it's a little bit tough. It's kind of a wild-card track. It's tough at times to really get a good result. But hopefully this will be a good weekend for us and we'll get a strong finish and get the season heading back in a positive direction."