Emotional reunion for Twins exec Falvey, Indians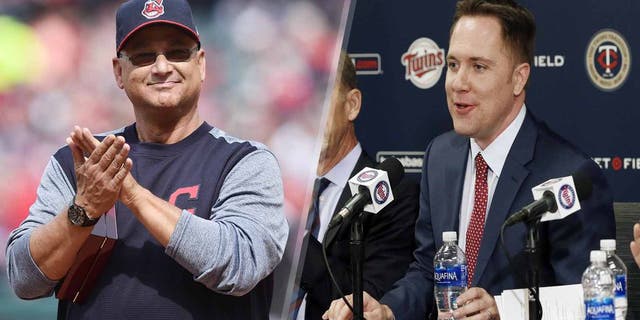 NEWYou can now listen to Fox News articles!
MINNEAPOLIS -- With Cleveland in town to begin a four-game series, Minnesota Twins chief baseball officer Derek Falvey sure had his hands full.
So many friends to greet. So many hugs to exchange. Even some inside information on the Indians to share with his current team, less than six months after he left his post as Cleveland's assistant general manager for the top front office job with Minnesota.
"You're competitive at heart, but it's been family for a long time so it's hard not to feel that side of it, too," said the 34-year-old Falvey, who spent nine seasons working his way up the Indians organization after starting as a baseball operations intern.
During that time, he became a confidant of Indians manager Terry Francona, helping him with everything from scouting reports to printer repair.
"There's nothing that's beneath him," Francona said.
When the two reunited on Monday, Falvey said he was almost moved to tears.
"It's just that kind of relationship," he said.
Francona is 23 years older than Falvey, but he considered themselves peers.
"He's very special, and it's not just me," Francona said. "Everybody wanted to get a piece of him today. That's because he was so important to everything we did around here, and he's such a good guy."
Falvey stayed with Cleveland all the way through Game 7 of the World Series, losing the clincher to the Chicago Cubs. That was the last time he saw most of the Indians players and staff, prior to their arrival at Target Field.
"He found a way to connect with everybody here," Francona said. "Whether it was in the office or with the players or coaches, he crossed over every line there was. He was a favorite."
Francona good-naturedly prodded Falvey for tips about how to get Twins hitters out, one request he could finally turn down.
"You certainly don't forget where you came from, and a lot of the people on that side there are responsible for the things I've learned in my life in baseball so far," Falvey said. "So I feel very fortunate, but once you compete and the game's on, it's on full tilt."
The insight, of course, was saved for Twins manager Paul Molitor.
"We've had chats about their personnel a little bit, some things that might not jump out at you in terms of numbers," Molitor said. "Whether they'll be game-changers or not, we'll have to see. But we'll take all the information and inside trading, if you will, and try to use it the best way we can."
How about Francona's signs?
"I've known Tito's for a couple years," Molitor said jokingly, with a wry smile about one of his former teammates.
The Indians surely stayed a step ahead of Falvey on this anyway.
"I did know them, I'll say that," he said, "but I would be shocked if they have the same signs."