'Emotional moment' as blind USC long snapper steals spring game show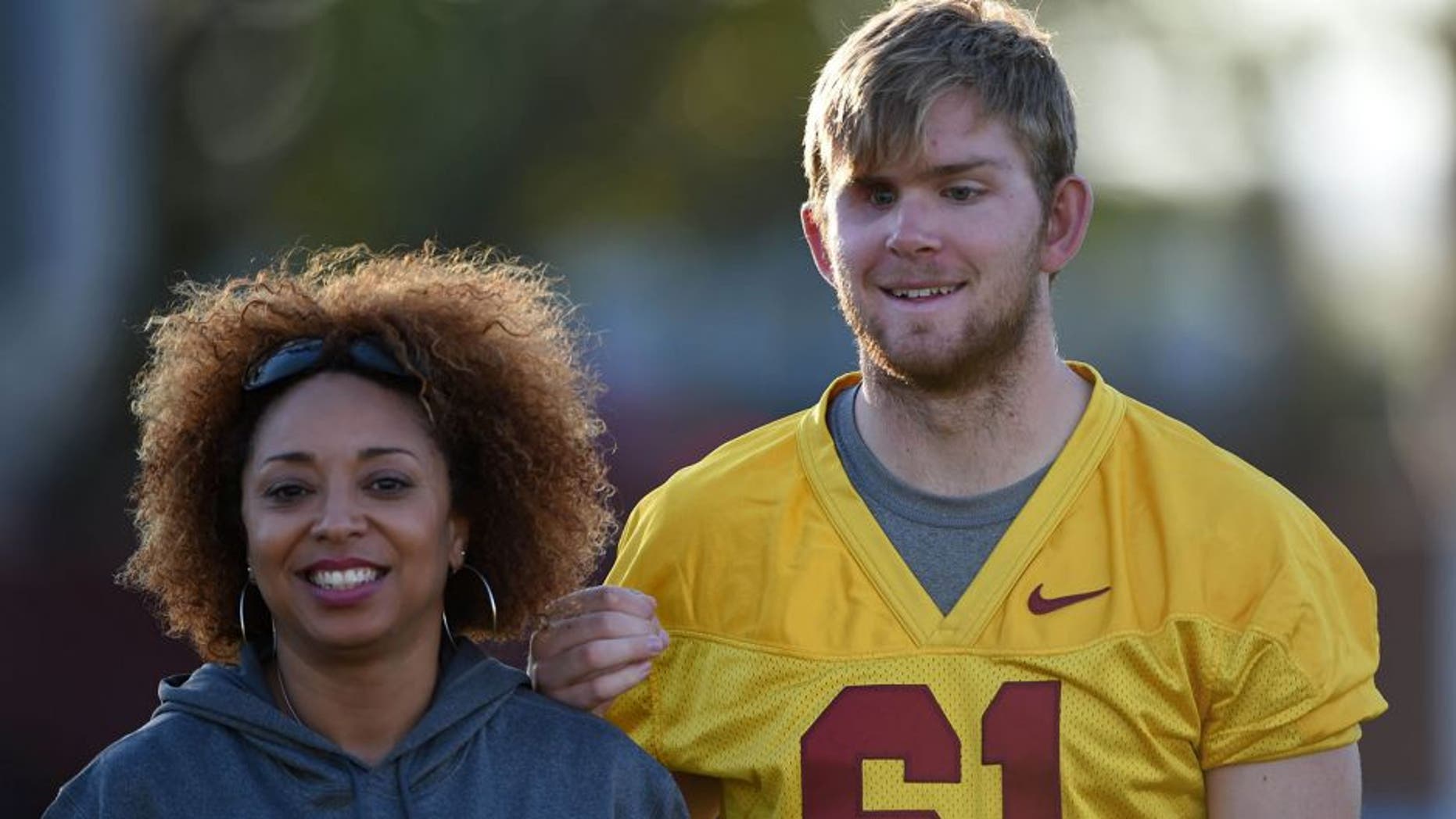 LOS ANGELES -- €" In a Saturday loaded with spring football games, the sweetest moment came at the LA Coliseum. USC was close to wrapping up the Trojans spring game when head coach Clay Helton announced to the crowd that Jake Olson was entering the game as the team's long snapper.
The crowd of about 20,000 rose to its feet and roared. They know Olson's amazing story. That he lost his left eye due to cancer of the retina before he turned 1 and then lost all of his vision at 12, but before then he'd become a part of the Trojans program, growing close to then-head coach Pete Carroll and several USC players, who were there before the surgery on his right eye and after. That story has been well-documented as has his stunning level of perseverance that led him to learn how to long snap and make his high school football team, and then make the USC team on a special scholarship last year.
On Saturday, after being announced into action, Olson delivered two solid snaps on field goal attempts.
"When I first heard coach announce it, truthfully, I had to fight back tears," Olson told FOX Sports. "It just was a real emotional moment, going out there and actually snapping on the Coliseum field. It's a great feeling with everything coming together, a lot of hard work went into it with me learning how to snap and honing it, but also with all of the specialists on my team. Them learning how to line me up and how the system works. It's awesome.
"It was definitely the most pressured situation, but that's great. Pressure creates diamonds. You just have to learn how to perform with it and stay within yourself, like you do every day at practice."
Olson knew his first snap Saturday wasn't perfect. He could just feel it, he said. "That first snap was a little low. Just with the situation, I was trying to be a little cautious. They'll tell you in a game you'd rather have a low snap than one that sails over the holder's head. But the second snap I was more comfortable."
I asked Helton what was going through his mind when he saw Olson trot onto the field to the roars of the Coliseum crowd. "Just how special a kid that young man is," Helton said.
"Can you imagine to walk out there in front of these fans and to say, 'You know what? I'm going to get the opportunity to snap in front of my Trojan family,' and to hit two dead on the money, how special a kid is he? You can tell the love that this team has for him."
Olson was led over to his place on the field where Trojan fans could get his autograph and the signatures of his teammates and coaches 20 minutes after the game wrapped up. That figured to be a pretty special scene, too.
"Knowing that I may be inspiring some people, in return inspires me," the 6-4, 195-pound 19-year-old business major said. "I'm just out there playing football, but it inspires me to keep going through my adversity and my struggles and just to continue doing something that I really love."
Former USC coach Steve Sarkisian repeatedly said he hoped to get Olson into a real game under the right circumstances later in his career. Sarkisian was fired last October, but Helton shares his former boss' hope to reward Olson at some point in the next few years.
Olson plans to spend his summer working toward his degree and his remaining football goals.
"Just getting better, getting bigger and stronger," Olson said about his offseason plans. "And then when we come into fall, just continuing to show the coaches that I'm more than capable of being a long snapper."
The Associated Press contributed to this report.