Embarrassing Sarkisian incident shows USC can't stop fumbling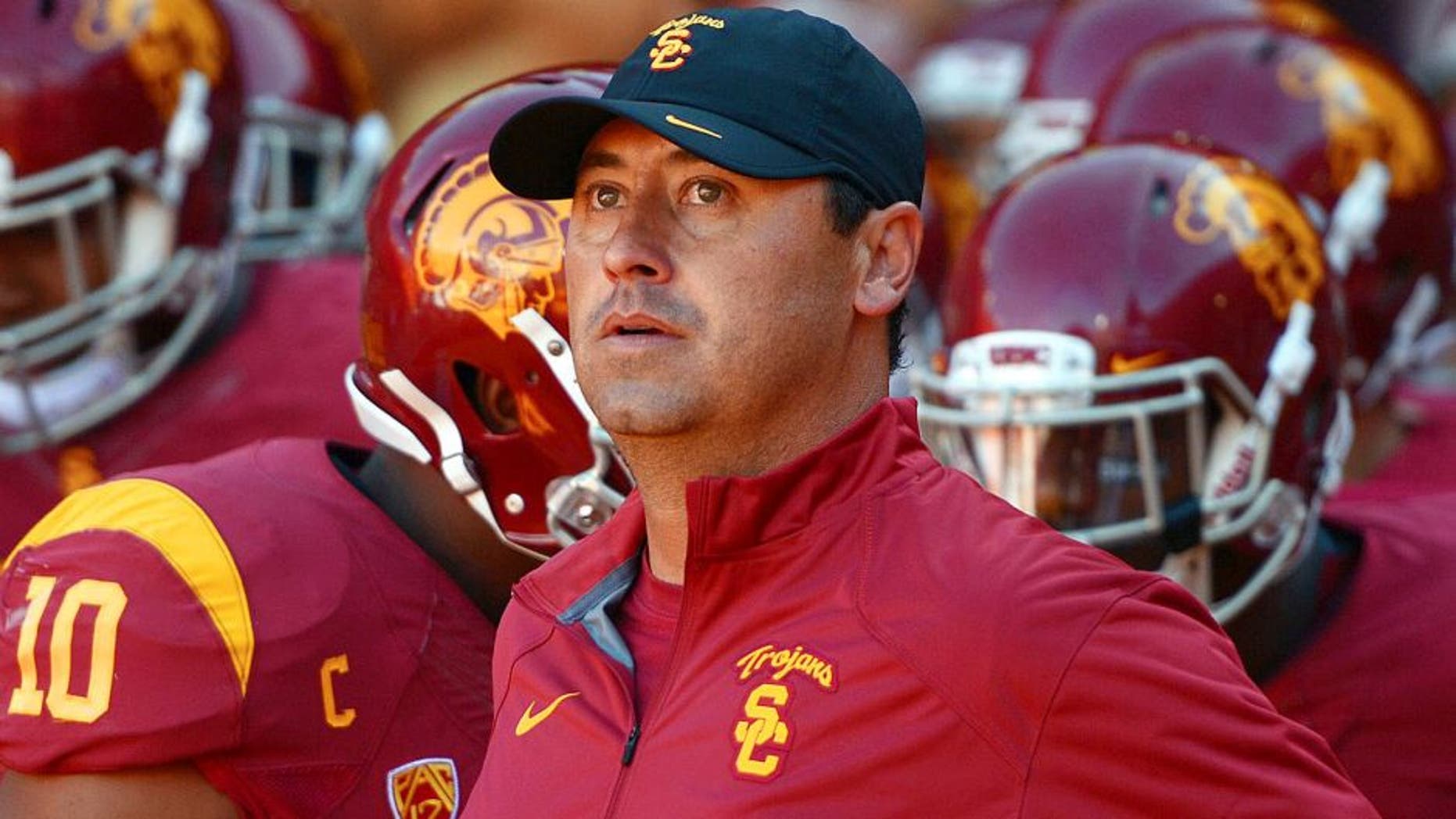 Imagine if the CEO of Verizon got up in front of a shareholders meeting, reportedly while clearly inebriated, and exclaimed that Sprint, AT&T and T-Mobile "all suck" -- and, channeling his company's slogan, urged his constituents to "Never F---ing Settle, baby!"
It's not an exact parallel, but it's pretty darn close to what USC coach Steve Sarkisian (CEO of one of college football's most iconic brands) is said to have pulled Saturday night at an event for Trojans boosters. Opinions may differ as to the severity of a college coach giving such an R-rated pep talk, but one thing few could dispute is that it's embarrassing for USC.
Unfortunately for USC football, "embarrassing" has become a common refrain over the past five years. And the program's inability to get out of its own way is preventing it from returning to the level of glory it aspires to.
To many of their fans, the Trojans' recent run of underwhelming seasons is the NCAA's fault. When the Committee on Infractions dropped its Draconian Reggie Bush-related sanctions in 2010 -- a punishment that with five years' hindsight seems unduly harsh and, as a recent lawsuit has suggested, vindictive -- it unquestionably doomed the Trojans to several years of mediocrity.
But at this point, it's hard to separate those hindrances from USC's ever-increasing list of self-made woes. Has any athletic department in the country had to issue more statements of apology over the past few years than USC?
Really, this all started five months before the NCAA decision when then-AD Mike Garrett responded to Pete Carroll's defection to the Seahawks by replacing him with walking P.R. headache Lane Kiffin. His three-and-a-half-year tenure is remembered less for that one glorious 10-2 campaign in 2011 than it is for overseeing the original Deflategate, making a mockery of the Sun Bowl (and losing the game), and other annoyances.
When his tenure finally ended, it did so in spectacularly L.A. soap opera style, with AD Pat Haden firing Kiffin in the middle of the night at an airport.
After achieving some measure of success the rest of that season under beloved interim coach Ed Orgeron, Haden -- a bright and accomplished businessman but questionably competent athletic director -- eschewed Orgeron for another former Carroll protege, Sarkisian. Rather than hire a hot name like James Franklin or Chris Petersen, Haden opted for a five-year Pac-12 coach at Washington who'd never gone better than 5-4 in league play.
Before Sarkisian even coached a game for USC, he dealt with his first public relations crisis when it was revealed that cornerback Josh Shaw had fabricated a story about jumping off a balcony to rescue a drowning nephew to explain away his ankle injury. That, along with a bizarre Week 2 moment against Stanford in which Sarkisian texted Haden to come down to the field and confront a ref (prompting an apology from Haden), set the tone for an underwhelming 9-4 debut season.
None of that dissuaded prognosticators from installing the Trojans as the 2015 Pac-12 favorite at conference media days and the No. 8 team in the country in Sunday's preseason AP poll. Pundits with every reason to be enamored of quarterback Cody Kessler and two-way extraordinaire Adoree' Jackson apparently had blind faith that Sarkisian, a career 43-33 coach, is capable of producing a championship squad.
A lot of folks are undoubtedly more skeptical now.
To be clear, Saturday night's debacle was more serious than just a coach using a curse word -- because it didn't occur in a vacuum. As sources told FOX Sports' Bruce Feldman, there has been concern about Sarkisian's off-field behavior for some time.
Sarkisian and Haden issued their respective statements Sunday morning as word (and eventually video) of the incident hit the Internet, but the aftermath assuredly did not end there. Less than two weeks before the opener, Sarkisian is asking an awful lot for fans and media to quickly forget the thing.
And then there are his players. "Our whole team is embarrassed," a source told ESPN.
The incident becomes yet another crisis for Haden to manage in a five-year tenure seemingly full of them. And it's a window into why the Trojans may continue struggling for the foreseeable future.
USC is one of the sport's all-time most fabled programs, and Carroll's near-decade of dominance remains recent enough that the sport falls into the trap of thinking the Trojans are always just one season away from getting it back. But no program can thrive amid a climate of perpetual dysfunction.
USC won't return to glory until its leaders stop doing things that merit apologies.