Eliot Marshall: Elevation Fight Team 'about the fighters', not the coaches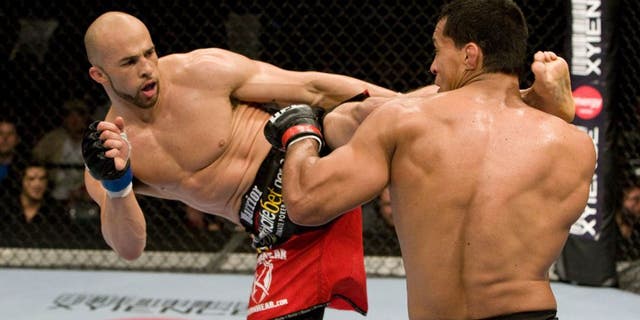 NEWYou can now listen to Fox News articles!
Elevation Fight Team in Denver has been around for more than two years, but just recently the spotlight fell on the mixed martial arts team after UFC bantamweight champion TJ Dillashaw joined them following his departure from Team Alpha Male in Sacramento.
While Dillashaw, along with UFC veterans Matt Brown and Clay Guida, are new additions to the team, the coaches at Elevation, including retired UFC fighter Eliot Marshall as well as Leister Bowling and striking coach Christian Allen, have been working together for quite some time.
Elevation has already been the home to fighters such as Neil Magny, Brandon Thatch and Cat Zingano, but now the team is multiplying in much greater numbers with several top-ranked fighters prepared to move to the Denver-based team.
Marshall says part of the success and growth of the team comes from the coaches, who are there solely to support the fighters as they train and prepare for upcoming bouts.
"All of sudden this all started coming together," Marshall said when speaking to FOX Sports. "It's not just recently but it's how we run the team and how we as the coaches kind of work together and the guys are great. The fighters come in, work hard and listen. It's just kind of going to be that way with coaching.
"It's going to be guys who were athletes and were fighters that moved on. The main coaches at Elevation are me, Leister Bowling, Christian Allen on the martial arts side and we have Loren Landow as our strength and conditioning coach. We were all athletes. So we understand what that side is like and we're just really focused on them."
A big part of what Marshall believes makes Elevation a unique landing spot for many of the sport's top fighters is the dynamic existing between all the coaches for the team.
There's no single "head coach" per se, according to Marshall, who believes Elevation Fight Team should live by the motto "it takes a nation" as opposed to a one-man army to get everyone ready for upcoming bouts.
"None of us are focused on the spotlight, which is what I think you see on how teams fall apart," Marshall said. "Somebody wants to be the head coach, but you tell me who is the head coach of our team. Different guys go with the fighters in the cage, sometimes it's me, sometimes it's Leister, he's talking, I'm talking, we don't care who gets the spotlight. It's about the fighters."
Over the last few weeks, a ton of top fighters have flocked to the gym, but Marshall says it's going to get even bigger in the coming months are more and more athletes join the Colorado-based team.
"We've got Neil Magny, Brandon Thatch, Tony Sims, Drew Dober, Clay Guida and Matt Brown showed up this week and they're doing their camps here," Marshall revealed. "He's not moving out here but he's going to do like every other week and we're working out the schedule and I'm coaching Donald 'Cowboy' (Cerrone) for his fight against (Rafael) dos Anjos. Obviously, TJ's moving out here."
Cerrone has worked with the Elevation Fight Team previously as he hails from Denver, but training there ahead of his title fight in December against champion Rafael dos Anjos is a big addition for the gym.
Actually, Elevation will lead three UFC main events between now and January with Brown set to face Kelvin Gastelum in a headliner on Nov. 21 before Cerrone faces dos Anjos in December and then Dillashaw defends his title on Jan. 17 against former champion Dominick Cruz.
Obviously, it cranks up the pressure on the coaches at Elevation to deliver, but Marshall is excited about the next few months and what it could mean to the future of the team.
"We're going to be involved in two title fights and another main event. Not a bad time to be here at all," Marshall said.
Marshall also said that Dillashaw, who traveled back to Denver on Monday, will be welcome to train with his striking coach Duane "Bang" Ludwig as often as he likes and that's just another dynamic that Elevation will feature to help their fighters. Marshall promises there are no egos in the gym and if Dillashaw believes Ludwig is the best person to help him prepare to face Cruz then that's what the team will do to support him.
"He came out here and he liked it obviously," Marshall said about Dillashaw. "He was out here working with Duane (Ludwig) but I think he saw how we run our practices and how intensive we are into the drilling and how intensive we are learning the technique and the understanding at how to do your best to make people better. We just gel, we just all get along."
If all goes well in the next few months, Elevation could be primed to become the next major team in MMA, but Marshall isn't looking at these upcoming fights with such gravity attached to them. He's just happy to be doing what he loves each and every day and hopefully the fighters he's working with will grow from training with him.
"You just get lucky," Marshall said. "You try to be a good person and coach the guys in an honorable way to help them get better."