Eli Manning: The reports are wrong; I never said any of that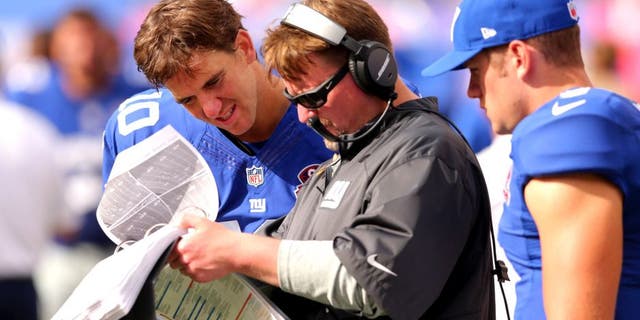 Earlier this week, a report surfaced that New York Giants quarterback Eli Manning wanted to be the highest paid quarterback in the NFL. Although Manning admits he laughed when he first heard the report, he clarified it's validity when speaking to reporters about it on Wednesday.
Manning first heard about the report when he received a voicemail from his father, Archie Manning. Archie wasn't exactly pleased with what he was hearing.
Manning confirmed that he never once told his agent or anyone else that he wants to be the highest paid player in the NFL.
A report surfaced late Tuesday night that although Manning wasn't neccesarily looking to become the highest paid player in the league, he was looking to get a contract similar to the ones that Ben Roethlisberger and Phillip Rivers just signed. Manning denied that report as well.
For the most part, Manning approached his meeting with reporters in a laid back fashion like anyone would who has nothing to hide. However, he wasn't completely fine with letting the false report slide. He called out whoever originally leaked the report for what Manning believes to be his or her true intentions.
In 2014, Manning set a career high in completion percentage and he accompanied it with an excellent 30:14 touchdown to interception ratio. Earlier this week, Giants co-owner John Mara confirmed that the team would like to sign Manning to a contract extension before the start of the 2015 season, but that they will also continue negotiations through the regular season if necessary.
(h/t @JordanRaanan, @RVacchianoNYDN)