Eli Manning: Confidence in offense not affected by preseason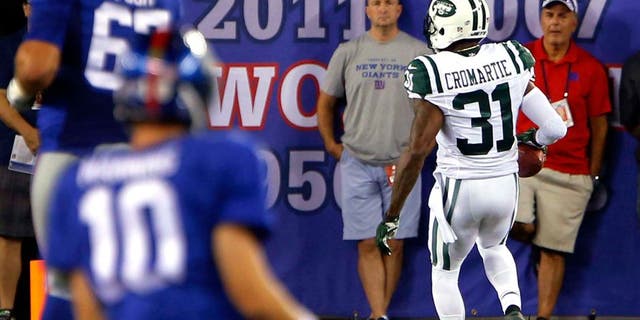 NEWYou can now listen to Fox News articles!
Just one day after New York Giants running back Rashad Jennings said that the offense wasn't showing their hand in the preseason, quarterback Eli Manning essentially confirmed that same thing. Despite the offense's slow start, Manning is not worried. Because quite frankly, this is the preseason we're talking about here.
"I think game planning is a big deal," Manning said per Big Blue Interactive. "A lot of times you're running your base plays. You'd like to be able to go out there, but you haven't looked a ton at defenses and what their schemes are or trying to run perfect plays versus what's going on."
Manning admits that he would like to score points any time he takes the field, preseason or not, but his lack of success during this time period has not effect on his confidence in his ability to perform when the real games get underway.
"For me, preseason is just trying to grow within the offense and get the timing of the game," Manning said, per the New York Daily News. "Obviously you'd like to go out there, have completions and score points, but it's not going to affect your confidence in any way."
Manning struggled during the preseason in 2014 before going to have one of his best statistical seasons in his career. Offensive coordinator Ben McAdoo broke out some of his true play designs during the Giants' long scoring drive against the Jets, but it looks like we won't see any more of that until the regular season gets underway. That's probably for the best from a strategic standpoint.
(h/t Big Blue Interactive)