Eli Manning and Davis Webb got off to a bad start after the rookie called him sir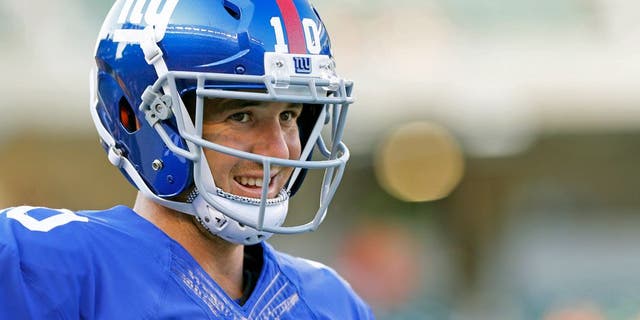 Eli Manning is going into his 14th season in the NFL, all of which have been with the Giants. Hes seen nearly 100 players get drafted by New York since the time he came into the league, and his response to just about all of them has largely been the same.
For the past six or seven years, Manning has tried to call or text every one of the Giants draft picks, welcoming them to the team. The fact that New York took his heir apparent last Friday didnt change his philosophy as he treated Davis Webb just the same.
Manning called Webb shortly after he was taken in the third round to make him feel comfortable, offering any assistance the rookie may need.
I just wanted to welcome him to the team, let him know if he has any questions or needs anything in the next few days, I was here for him, Manning said, via the team's official site. He responded to that with, Yes, sir. I told him we were off to a bad start. Please do not refer to me as sir. I appreciate the manners, but were teammates. I was always taught the same thing. Anyone older than me, I have to call them sir. But hopefully, we straightened that out.
AP/Copyright The Associated Press. All rights reserved.
Of course, Manning was probably half-joking about getting off to a bad start, but it just goes to show how great of a teammate he is. The fact that he tries to call every rookie when theyre drafted to make them feel comfortable is a testament to his leadership.
He did the same for Evan Engram the Giants first-round pick but couldnt reach him initially.
Ive been doing that the last five, six, seven years, he said. Try and get a few numbers, especially for a guy I know a little bit in Evan. I couldnt reach him by phone, so I sent him a text and congratulated him. Ill call him in the next few days and just catch up with him. Ill let him know if he needs anything, let me know.
Icon Sportswire (A Division of XML Team Solutions) All Rights Reserved contact: info@iconsportswire.com http://iconsportswire.c
Manning is familiar with Engram, a fellow Ole Miss Rebel, but he admitted to not knowing much about Webb. Thatll change in the next few months when the two hit the field together.
I really dont know much about Davis, Manning said. I know he started off at Texas Tech and transferred to Cal his senior year. I know hes a big kid and it sounds like he has a strong arm. I look forward to meeting Davis, welcoming him to the team and see if he needs any help from me. Im always happy to give it.
Webb figures to sit behind Manning for two to three years, as Jerry Reese said, potentially taking the reins when Eli retires. Considering Mannings durability and consistency over the past decade or so, no one should expect him to hang up his cleats due to physical concerns.