Eli hopes if Peyton Manning hangs it up, 'he goes out on top'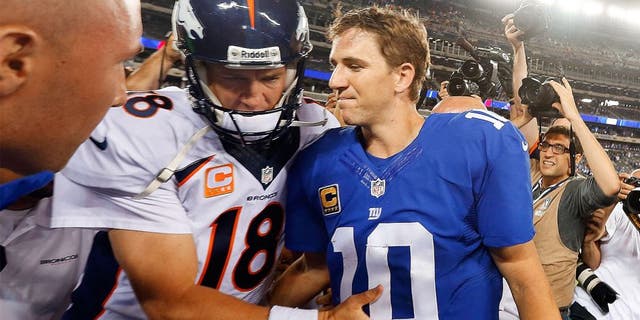 Only so many players can say the last game they played in was for a Super Bowl win.
Names like Ray Lewis, Michael Strahan, Jerome Bettis and John Elway have accomplished such feats.
Super Bowl 50 could very well be Broncos quarterback Peyton Manning's final game. Manning told Patriots head coach Bill Belichick after Sunday's AFC Championship Game that "this might be my last rodeo. So, it sure has been a pleasure.''
If it is Peyton's final game, Giants quarterback Eli Manning hopes his older brother goes out under confetti falling. Manning, of course, said he'll be in attendance.
Though a win would give Peyton Manning two Super Bowl rings, his legacy as one of the greatest QBs to ever line up under center has been determined. Winning one on his way out would cap a legendary career.